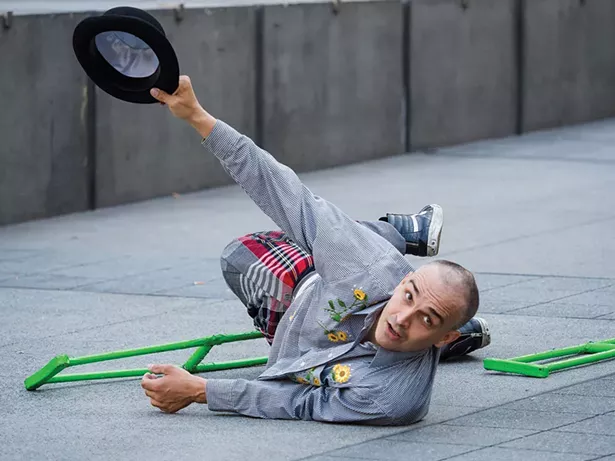 Bill Shannon will perform at PS21 in Chatham on August 10.
With big players like the American Dance Institute and the New York City Ballet setting up shop, upstate New York is becoming quite the destination for dance. World-class dancers in every genre from ballet to contemporary will be performing this summer at area venues like PS21, SPAC, and Hudson Hall. As part of our 2018 Summer Arts Preview, we've rounded up a handful of great shows to pencil into your calendar. (
Read our preview of the summer dance season at Jacob's Pillow >>
)
Dance Your Way into Summer with These Festivals

PS21 (June 2-August 24)

With an emphasis on dance, Columbia County's
PS21
has certainly grown from its humble 2009 beginnings beneath an open-air tent; recently, the facility relocated to a newly constructed state-of-the-art theater. On the dance card for its 13th season: Larry Keigwin and Nicole Wolcott in "Places Please" (June 2); Rory Block's Gospel & Blues Fest Weekend (July 20-22); West African Dance and Drum (July 27); Parsons Dance (August 3); Bill Shannon (August 10); Dusan Tynek Dance Theater (August 17); and more.
Lumberyard Contemporary Arts (June 29-September 2)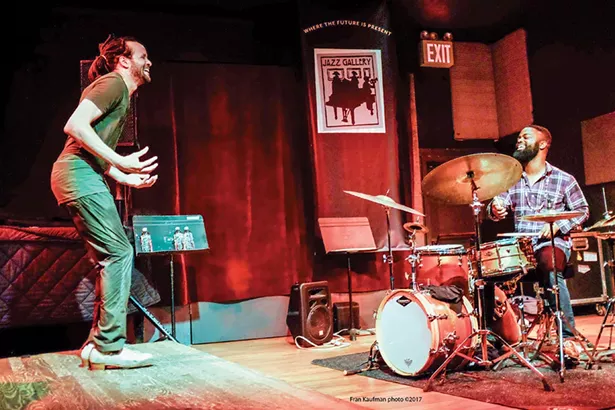 Savion Glover will perform featuring Marcus Gilmore September 1-2 as part of the Lumberyard's summer programming.
The biggest thing to hit Catskill since the years when Mike Tyson trained there,
Lumberyard
contemporary performing arts center is set to open later this summer and is staging a few of its inaugural events at nearby venues: Urban Bushwomen (June 29-July 1 at Club Helsinki, Hudson); STREB (July 6-8 at Lumberyard); Bridgman/Packer Dance (July 13-14 at Lumberyard); d. Sabela Grimes (July 27-29 at Bridge Street Theater, Catskill); Jodi Melnick (August 3-5 at Hudson Hall, Hudson); John Jasperse (August 17-19 at Hudson Hall, Hudson); Ishmael Houston-Jones and Miguel Guiterrez (August 24-26 at Hudson Hall, Hudson); Savion Glover featuring Marcus Gilmore (September 1-2). (Read our profile on Lumberyard >>)
Five Sense Festival (July 21-August 11)
Christopher Duggan
Pilobolus dance company will perform at the Five Sense Festival, which opens in July.
Sponsored by the renowned Pilobus dance company, the
Five Sense Festival
offers art, dance, food, technology, and nature for all ages in wooded Washington, Connecticut. The three-week, multidisciplinary event starts with the grand opening night ball and will feature sunrise-to-sunset programs and performances, and the closing ceremony will include a kids' show and the premiere of the new evening-length Pilobus show "Come to Your Senses." Live musical acts include Bela Fleck.
New York City Ballet at SPAC (July 17-21)

Every July, the revered New York City Ballet company returns to the
Saratoga Performing Arts Center (SPAC)
for its summer residency. The company's upstate stay always ends with a lawn party and a lavish gala, both of which this year will celebrate the centennials of composer Leonard Bernstein and choreographer Jerome Robbins. The 2018 schedule: "All Balancine" (July 17-18); "Romeo + Juliet" (July 19-21); "21st Century Choreographers" (July 19); "The Four Seasons: Robbins and Bernstein at 100" (July 21).
Hudson Hall Summer Season (July 6-August 12)

In addition to some exemplary live music, art exhibitions, readings, workshops, children's programming, and talks, the historic and beautifully restored
Hudson Hall
in Hudson—the site of appearances by Mark Twain, Susan B. Anthony, and others—has a number of appealing dance-related events set for the summer season, such as the Stephen Petronio Company (July 6-7); and three shows by the locally prominent Badilla family: Young Paris (July 20), "The Spirit of the River" (July 20-22), and Lady Moon (July 21). Concerts include Harmony Project Hudson's Summer Camp Finale (July 27) and violinist Tim Fain (September 15).