Mollie McKinley, Cholla Bag and Toe Hole Stocking, Reaching, 2018, archival inkjet print, part of the "Time Travelers" exhibit at the Dorsky Museum this summer.
Besides being blessed with some of the most beautiful geography in the natural world, the Hudson Valley has also long been home to some of the most vibrant arts activity on the planet. From the wood and stone carvings of the original Native American inhabitants to the fabled 19th-century Hudson River School painters, Byrdcliffe and Maverick arts colonies of the early 20th century, 1969 Woodstock Music Festival, and right up to today's thriving cultural renaissance, the region is always abuzz with resident and visiting artists who take joy and pride in expressing their creativity for themselves and those savor it—no matter whether the chosen medium is visual art, music, theater, dance, food, crafts, or some combination of any of these disciplines.
And, of course, the best time to experience this artistic activity is when the majority of it takes place: in the summer, when all are finally free from the frigid shackles of winter to doff their arctic layers and move about, mingle, and simultaneously partake of the inspirational scenery and inspired artistry that surrounds them. Besides the overwhelming saturation of arts-related events, there are the numerous street and county fairs and other singular seasonal happenings that could only take place right here in the Hudson Valley while the weather is warm. Taking it all in and boiling it all down to a few pages that cover some of the best summer pursuits the area has to offer for 2018 is a head-spinning, thankless job. But we've done it. And you can thank us later. For now: Get out there and enjoy.
This Summer's Can't-Miss Arts Exhibits
From Opus 40 to Storm King Arts Center to Wassair Project Summer Festival, there are some spectacular must-see visual art shows and displays around the Hudson Valley and the Berkshires this summer. Many of them have outdoor components so the warm months are a perfect time to visit and take in the beauty and creativity of the region's artists. (
Lest you think we forgot, we also covered "T" Space's Summer Season here >>
)
Berkshire Botanical Garden (Through October 8)
Stretching for over 15 lush acres in Stockbridge, Massachusetts, the
Berkshire Botanical Garden's
roots go back to 1934, making it one of the oldest public gardens in the Northeast. It stays open May 1 through Columbus Day—although of course the summer offers scenery, scents, and events unique to the season. Its Art/Garden exhibitions have installations by 10 contemporary artists (Alice Aycock, Wendell Castle, E.V. Day, Fitzhugh Karol, Mark Mennin, Ned Smith, Michele Oak Doner, Stephen Talasnik, Rob Wynne). On view at its Leonhart Galleries are plant lithographs by Ellsworth Kelly.
Storm King Art Center (Through November 25)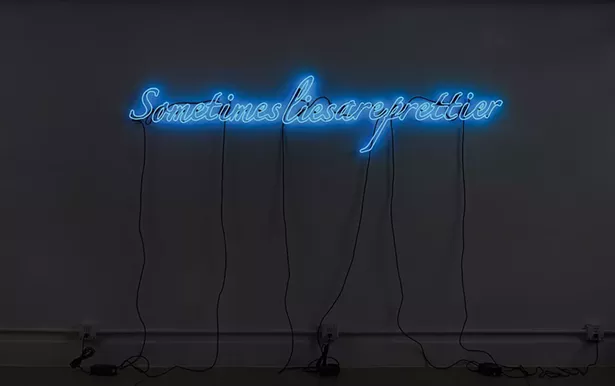 Photo by Tom Powel Imaging.
Sometimes Lies Are Prettier, a 2017 work by Tavares Strachan, showing at Storm King through November 25.
The Hudson Valley and New York Metro area are lucky to have the treasured destination that is
Storm King Art Center
. The sprawling sculpture park attracts visitors from all over the world yet never loses its tranquil, almost sacred charm. Storm King has two intriguing displays up now that run through the fall: "Indicators: Artists on Climate Change," which address the threats of our changing climate via works by over a dozen artists (through November 11), and "Outlooks," a new site-specific sculpture by Elaine Cameron-Weir.
Wassaic Project Summer Festival (August 4-5)
Hidden away in the Dutchess County hamlet of Wassaic is the former Maxon Mills compound, the site of the pan-disciplinary
Wassaic Project
arts complex. Since 2008, the striking space has been hosting exhibitions and resident artists from around the world. One a year, the Wassaic Project hosts this free summer festival of art, dance, music, and grown-up fun. Also of interest is the fifth edition of its wild Heather Metal Parking Lot event (July 21), which pays tribute to the cultural impact of heavy metal.
Opus 40 (Through October)
An upstate artistic jewel if ever there was, Saugerties sculpture park
Opus 40
was created by artist and local legend Harvey Fite in 1939. The rambling, 6.5-acre sculpture that gives the park its name was made on the site of one-time bluestone quarry and includes a rustic wooden house, also built by Fite, which now serves as a gallery space. Opus 40 is open from Memorial Day through October, Thursday through Sunday and holiday Mondays 11am to 5:30pm. The park hosts performances and events sporadically during the season.
Mount Tremper Arts (Through October 8)
Located just above Woodstock,
Mount Tremper Arts
was founded as an artists' incubator—its core program is known as the Watershed Laboratory—by visual artist Matthew Pokoik and choreographer Aynsley Vandenbroucke. Twenty-eighteen's Watershed Lab is packed with enticing performance art/multi-medium events: Boom Bat Gesture's "Spring Springs!" (June 16); Ugly Duckling Presse (July 28); Baira, the Illustrious Blacks, Courtney J. Cook, and Greg Purnell (August 11); Nicky Paraiso (August 25); and more.
Art Omi (Through September)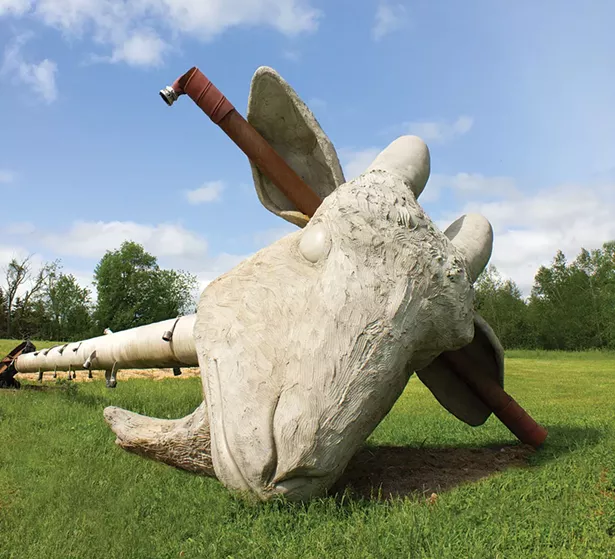 Nari Wood's Scapegoat, on view at The Fields Sculpture Park at Art Omi starting June 16.
Besides being home to the Fields at Omi, a must-see contemporary sculpture park with a collection of stunning permanent pieces,
Art Omi
is a nonprofit arts organization with public workshops and residencies and programs for visiting international artists, musicians, dancers, writers, and other creative voices. Open all year, the facility presents performances and other functions amid its changeable exhibits. Coming up" Fields Opening Day (June 16); Artists Open Weekend (July 7-8); drone project "The Aerial Actor" (July 28); a music concert (August 25); "Light into the Night" evening performance and benefit; and more.
Samuel Dorsky Museum of Art (June 16-November 11)
Curated by Anastasia James, the recently appointed curator of exhibitions and programs at the
Dorsky
, "Time Travelers: Hudson Valley Artists 2018" is the museum's annual show of regional artists. Ranging across artistic disciplines and media—including textiles, painting, installation, sculpture, performance, and photography—"Time Travelers" presents work that engages with the concept of time travel and the slippery notions of time. Many of the 11 participating artists will be well known to followers of the regional art scene: Michael Bernstein, Lynn Dreese Breslin, Kyle Cottier, Daniella Dooling, Harry Leigh, Mollie McKinley, Alison McNulty, Tony Moore, Yvonne Muller, Antonella Piemontese, and Greg Slick.