Theater
Matthew Wright of Fig Tree Photography
The 2011 production of "Hair" at the Woodstock Playhouse.
Woodstock Playhouse
On June 30, 1938, the Woodstock Playhouse opened with a production of (the now-forgotten) "Yes, My Darling Daughter." For the next 50 years, the Playhouse featured some big names in its summer stock season, including Lillian Gish, Karl Malden, Chevy Chase, and Diane Keaton. Then, just months shy of it's 50th anniversary, the theater burned down in 1988. In June of 2011, the playhouse re-opened as a fully enclosed, climate-controlled venue with a performance of "A Chorus Line." This season summer festival of theater features the Tony award-winning "Spring Awakening" (6/18-28), the adorable Chitty Chitty Bang Bang (7/9-7/19), the ingenious comedy romp "The Musical Murders of 1940," Rodgers and Hammerstein's "Oklahoma" (7/30-8/9), and Stephen Sondheim's devilishly tuneful "Sweeney Todd" (8/13-23). Woodstockplayhouse.org
Christopher Duggan
Pam Tanowitz Dance will perform as part of the 2015 Bard Summerscape.
Bard SummerScape
An outgrowth of the longstanding Bard Music Festival, Bard SummerScape is now in its 13th season of presenting world-class music, theater, dance, opera, and cabaret for eight weeks each summer. Mexican modernist composer Carlos Chávez (1899-1978) is the focus of this year's music festival, with performances of Chávez's work and that of his contemporaries by the American Symphony Orchestra. The rarely seen English-language opera "The Wreckers," by Ethel Smyth, about a village on the English seaside that makes its living by scavenging the remains of downed ships, will be staged. Other highlights include Pam Tanowitz Dance & Flux Quartet, director Daniel Fish's reimagination of Rodgers and Hammerstein's "Oklahoma," and Fernando Rubio's dreamlike installation/performance "Everything by My Side." And don't forget the Spiegeltent, that mirrored hall of entertainment hosted by cabaret legend Justin Vivian Bond. Highlights include performances by Kate Pierson, Martha Wainwright, Alan Cumming (probably already sold out, sorry), and the Wau Wau Sisters. Fishercenter.bard.edu
Kyra Sedgwick performing as part of the 2014 Powerhouse Theater season.
Powerhouse Theater
Vassar College and New York Stage and Film present another season of Powerhouse Theater, a season-long introduction of newly developed theatrical works on the Vassar campus in Poughkeepsie from July 1 to August 2. Nearly 250 professional artists and 50 apprentices will perform 25 brand new productions by both veterans and new additions to the world of theater. Ayad Akhtar and Anna Ziegler are presenting new works, and Powerhouse will be introducing theater-scene breakouts Michael John LaChiusa, Stephen Trask, Colman Domingo, and more. Of special note: "Noir," the latest collaboration between Kyle Jarrow and Duncan Sheik ("Spring Awakening"), a thriller/love story mash-up musical; and "Desire," six new plays based on stories by Tennessee Williams by dramaturgical heavyweights Elizabeth Egloff, Marcus Gardely, Rebecca Gilman, David Grimm, John Guare, and Beth Henley. The Powerhouse Theater acts as a stage to introduce new productions, producers, and players to the American theater scene through performances, readings, and workshops. Powerhouse.vassar.edu
Shadowland Theater
Ellenville's nonprofit professional theater is full-steam ahead since the major renovation of its Art Deco home in 2013. Its summer season promises comedy, drama, musical theater, and a love letter to an American folk icon. "Clybourne Park," the Tony award-winning homage to Lorraine Hansberry's "A Raisin in the Sun," charts race relations in 1959 Chicago (through 6/14). Playwright Donald Margulies's "Shipwrecked: An Entertainment" is a Rashomon-told story, with three actors and a foley artist exploring the high-sea adventures of the narratively unreliable Louis de Rougemont (6/19-7/5). A love letter to the American musical theater, "Moon Over Buffalo" follows a couple of fading never-weres as they make one last-ditch grasp at stardom (7/10-8/2). The songs of the folk icon come alive in "Woody Guthrie: American Song," a tribute to the troubadour who gave us "This Land is Your Land" (8/7-8/30). Shadowlandtheatre.org
AUNTS will perform at the 2015 Mount Tremper Arts festival.
Mount Tremper Arts
The avant-garde returns to the Catskills for 8th annual summer of Mount Tremper Arts from July 11 to August 22, featuring a variety of performance art, choreography, sculpture, music, and theater pieces. Festival highlights include AUNTS, a dance and performance troupe; the FLUX string quartet; the International Contemporary Ensemble performing David Lang's chamber piece "Whisper Opera"; and "Clouds/Cows," a theatrical exploration of the inner lives of bovines by Nat and Veronica.
Started by photographer Matthew Pokoik and choreographer Aynsley Vandenbroucke, MTA has become an upstate incubator for New York City-based experimental performance artists. At the start and close of the festival on July 11 and August 22, Mount Tremper Arts will be holding "Art-B-Qs," in which the audience has the chance to interact with the artists over dinner, prepared by Pokoik and the festival chef, Ethan Knechel, with both meat and vegetarian options available. All produce comes from the on-site garden and regional farms. Mounttremperarts.org
Hudson Valley Shakespeare Festival
The Hudson Valley Shakespeare Festival returns to Boscobel for a 28th season from June 9 through September 1. This year, the company will perform "The Winter's Tale," "A Midsummer Night's Dream," "The Tempest," and "The Arabian Nights." "An Iliad," a one-man interpretation of Homer's classic epic by Lisa Patterson and Denis O'Hare, will also be performed by Hudson Valley Shakespeare Festival veteran Kurt Rhoads. The performances are all outdoors with a scenic Hudson River backdrop, set in a theater tent that seats 540 audience members. Special events will be held throughout the summer, including Friday Night Prologues, with actor-director-scholar and guest artist-led pre-show discussions; and Teen Nights, with designated workshops and discussions for teens 13 and older. This year's guest directors include Eric Tucker, Lileana Blain-Cruz, Jim Calder, and Gaye Taylor Upchurch (directing "An Iliad", see sidebar). The festival is designed not only to showcase classic theater, but also to encourage conversation about Shakespeare's plays. Preshow picnicking on the beautifully landscaped grounds is encouraged, and catered picnic meals are available with advance purchase. Hvsf.org
Travis Mcgee
The cast of "A Midsummer Nights Dream,"performing at the 2015 Hudson Valley Shakespeare Festival.
"An Iliad"
Homer's classic, "The Iliad," gets a modern flourish at this year's Hudson Valley Shakespeare Festival at Boscobel. Lisa Patterson and Denis O'Hare's interpretation, appropriately titled "An Iliad," combines the ancient Greek prose with modern vernacular, a one-person cast, and a personal connection with the audience. Patterson and O'Hare's play, staged for only five performances, will be directed by Gaye Taylor Upchurch, best known for directing Simon Stephen's "Harper Regan" with the Atlantic Theater Company. The one-man show will star Kurt Rhoads, a Hudson Valley Shakespeare Festival veteran. Gaye Taylor Upchurch discusses the underlying themes of the adaptation, working with Kurt Rhoads, and the reason why the Trojan War is as relevant as ever. "An Iliad" will be staged on July 30 and August 3, 9, 21, and 24.As told to Kelly Seiz.
What's your connection/interpretation of "An Iliad" as a director?
One of the beauties of Lisa and Denis's adaptation is that it's wide open for another director to have their own take on the material. I am keeping the same format—it's still going to be a solo piece, and in this version, I'm working with Kurt Rhoads, who's an incredible actor and has done a lot with the Hudson Valley Shakespeare Festival.
What's the most exciting part of directing "An Iliad"?
Every time you have a new actor-director pair you're going to create something different. This particular version of the piece is that it's going to be outdoors, under the tent and we're going to have a composer and a live musician. Our plan is to create the score in the rehearsal room. The composer, in front of the room, will be there with them to collectively figure out [the staging]. So it'll all happen at once in the room.
Why is "An Iliad" so important at this point in time?
We are a country at war, and we have been now for a decade, and the new adaptation allows us to look at the Trojan War in a different way, and human interaction with war in a different way. The poem and this adaptation focus on the cost of war. I would say it also brings together humankind over the centuries—this adaptation really gives Homer a modern voice.
Why did Peterson and O'Hare decide to include modern vernacular with the classic prose?
I think the effect is one that collapses that distance of time and space, so it brings the Trojan War into the room under the tent with us.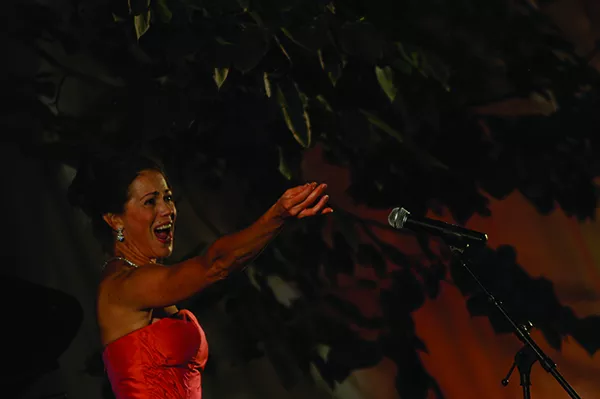 Elizabeth Futral performing at the Phoenicia International Festival of the Voice.
Phoenicia International Festival of the Voice
This year's Phoenicia International Festival of the Voice runs from July 29 to August 2, bringing a red-white-and-blue flourish with this year's theme: America. Stephen Sondheim's "A Little Night Music" and Carlisle Ford operatic take on Steinbeck's "Of Mice and Men" will be preformed, as will Menotti's "The Medium." The vocal festival also features workshops, theatrical productions, and musical discussions on topics from the operatic to a capella. The festival was founded when three internationally acclaimed, local opera singers put together an impromptu opera concert to raise money for playground equipment. More than 500 audience members flooded the town for "Opera Under the Stars," begging for an encore after the final scene. Six months later, the idea for an annual summer vocal festival solidified. Since its inception, the festival has grown from six events over three days in 2010 to this year's 50-plus performers participating in 29 events in five days at locations all over town. Phoeniciavoicefest.org
Lois Greenfield
Parsons Dance returns for its tenth season at PS21 Friday and Saturday, August 28 and 29 at 8pm.
PS21
Performance Spaces for the 21st Century (ps21) presents a festival of music, theater, variety, and dance performance each summer in Chatham. In June and July, the focus is on music—from around the world and throughtout history. This year's schedule includes the old-time folk of the Dom Flemons Trio, Indian classical master Steve Gorn, and the Mexican ensemble the Villalobos Brothers. This is followed by a series of music, live radio, and comedy performances from the end of June through July. The month of August is dedicated to the Chatham Dance Festival, featuring performances by widely celebrated contemporary dance companies. On July 3, Hudson Air Radio Theater presents classic and contemporary live radio theater on stage. On July 10, festivalgoers can enjoy an "evening of comic mayhem," with a variety of comedic performances by Nancy Rothman and Robert Zukerman, featuring musical guest Amanda Boyd. To wrap up July, the Bindlestiff Family Cirkus will perform a variety of big-top-inspired feats on the 24th. The Chatham Dance Festival opens with Brian Sanders's JUNK on August 7, followed by Gallim Dance on the 14th and both Keigwin + Company and works in progress by Dance Omi Alumni titled "So You Think You Don't Understand (Modern) Dance?" on the 21st. The festival concludes with the internationally renowned Parsons Dance Company returning for their 10th consecutive season. Ps21chatham.org