Page 5 of 6
What's the most exciting part of directing "An Iliad"?
Every time you have a new actor-director pair you're going to create something different. This particular version of the piece is that it's going to be outdoors, under the tent and we're going to have a composer and a live musician. Our plan is to create the score in the rehearsal room. The composer, in front of the room, will be there with them to collectively figure out [the staging]. So it'll all happen at once in the room.
Why is "An Iliad" so important at this point in time?
We are a country at war, and we have been now for a decade, and the new adaptation allows us to look at the Trojan War in a different way, and human interaction with war in a different way. The poem and this adaptation focus on the cost of war. I would say it also brings together humankind over the centuries—this adaptation really gives Homer a modern voice.
Why did Peterson and O'Hare decide to include modern vernacular with the classic prose?
I think the effect is one that collapses that distance of time and space, so it brings the Trojan War into the room under the tent with us.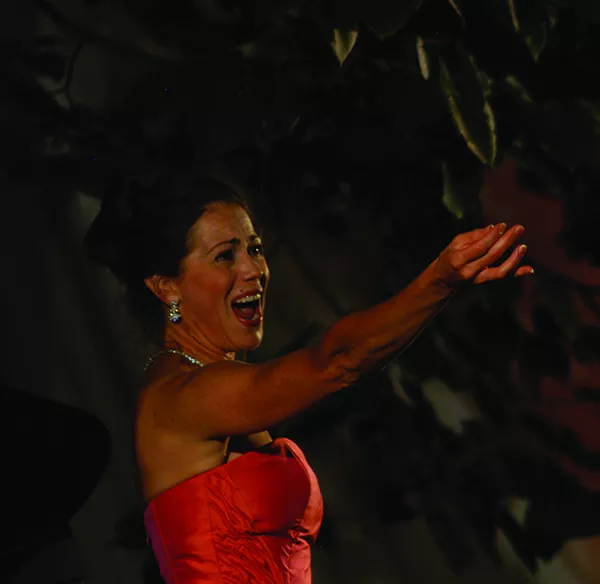 Elizabeth Futral performing at the Phoenicia International Festival of the Voice.
Phoenicia International Festival of the Voice
This year's Phoenicia International Festival of the Voice runs from July 29 to August 2, bringing a red-white-and-blue flourish with this year's theme: America. Stephen Sondheim's "A Little Night Music" and Carlisle Ford operatic take on Steinbeck's "Of Mice and Men" will be preformed, as will Menotti's "The Medium." The vocal festival also features workshops, theatrical productions, and musical discussions on topics from the operatic to a capella. The festival was founded when three internationally acclaimed, local opera singers put together an impromptu opera concert to raise money for playground equipment. More than 500 audience members flooded the town for "Opera Under the Stars," begging for an encore after the final scene. Six months later, the idea for an annual summer vocal festival solidified. Since its inception, the festival has grown from six events over three days in 2010 to this year's 50-plus performers participating in 29 events in five days at locations all over town. Phoeniciavoicefest.org
Lois Greenfield
Parsons Dance returns for its tenth season at PS21 Friday and Saturday, August 28 and 29 at 8pm.
PS21
Performance Spaces for the 21st Century (ps21) presents a festival of music, theater, variety, and dance performance each summer in Chatham. In June and July, the focus is on music—from around the world and throughtout history. This year's schedule includes the old-time folk of the Dom Flemons Trio, Indian classical master Steve Gorn, and the Mexican ensemble the Villalobos Brothers. This is followed by a series of music, live radio, and comedy performances from the end of June through July. The month of August is dedicated to the Chatham Dance Festival, featuring performances by widely celebrated contemporary dance companies. On July 3, Hudson Air Radio Theater presents classic and contemporary live radio theater on stage. On July 10, festivalgoers can enjoy an "evening of comic mayhem," with a variety of comedic performances by Nancy Rothman and Robert Zukerman, featuring musical guest Amanda Boyd. To wrap up July, the Bindlestiff Family Cirkus will perform a variety of big-top-inspired feats on the 24th. The Chatham Dance Festival opens with Brian Sanders's JUNK on August 7, followed by Gallim Dance on the 14th and both Keigwin + Company and works in progress by Dance Omi Alumni titled "So You Think You Don't Understand (Modern) Dance?" on the 21st. The festival concludes with the internationally renowned Parsons Dance Company returning for their 10th consecutive season. Ps21chatham.org
Visual Arts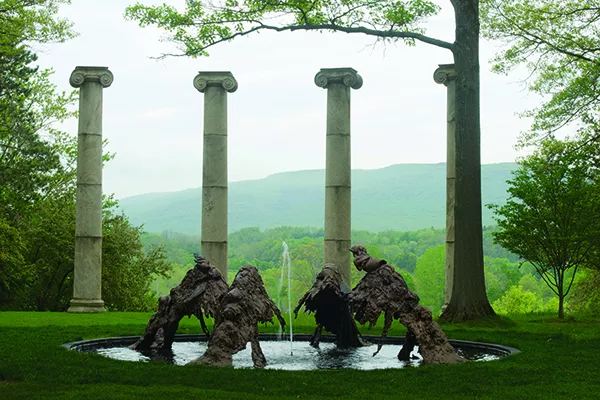 Jerry L. Thompson
Lynda Benglis, North South East West, cast bronze fountain and steel, 2009. Courtesy the artist; Cheim & Read, New York; and Locks Gallery, Philadelphia. © Lynda Benglis / Licensed by VAGA, New York.
Storm King Art Center
It's worth visiting Storm King Art Center just to amble alongside Andy Goldsworthy's landscape-responsive Five Men, Seventeen Days, Fifteen Boulders, One Wall, a fieldstone sculpture meandering between trees and through fields before sloping into a pond. The sculpture park's 500 acres are studded with over 100 similar delights, from the muscular I-beams of Mark DiSuvero to the undulating wave field of Maya Lin to Roy Lichenstein's whimsical Mermaid. This summer, Storm King features two special exhibitions: "Water Sources," a collection of Lynda Benglis's outdoor water fountains, and a,b,moon,d, a site-specific work by Luke Stettner that employs the archeological dig as a large-scale drawing tool to create oversize glyphs in the soil. In recent years, Storm King has pumped up its events programming, offering yoga, artist's talks, and concerts. Lee Ranaldo plays August 9. Stormking.org