Wassaic Project (July 31-August 2)
The 8th annual Wassaic Project, combining art exhibitions, film screenings, music, and dance, takes place at Maxon Mills in Wassaic, July 31-August 2. Wassaicproject.org
The Deluge, Adam Forrester, HD Video, 5:07 minutes, 2014
Music
By Peter Aaron
Solid Sound (June 26-28)
Since 2010, with a year off here and there to keep things from becoming a businesslike grind, the Wilco-curated gathering at Mass MoCA in North Adams, Massachusetts, has balanced timeless veteran acts with adventurously experimental ones. With two sets by the hosts, it boasts Real Estate, Parquet Courts, King Sunny Ade, Richard Thompson, Taj Mahal, Cibo Matto, the Expandable Brass band, the Charles Lloyd Quartet, NRBQ, Bill Frisell, comedy from John Hodgman, performances by sundry Wilco side projects, and more. Solidsoundfestival.com.
Tanglewood (June 19-August 29)
The Boston Symphony Orchestra's summer retreat in the Berkshires is back in business for its 79th season, bringing, as usual, a lawn-friendly mix of pop, classical, jazz, and Broadway. Holding forth from the magnificent Koussevitzky Music Shed in Stockbridge, Massachusetts, this year's lineup includes returning festival faves Garrison Keillor (6/27) and James Taylor (7/4) as well as Diana Krall (6/21), Huey Lewis and the News 6/28), Tony Bennett and Lady Gaga (6/30), the Piano Guys (8/28), and Idina Menzel (8/29). Bso.org
Disc Jam (June 11-14)
This newer fest is in the rural Rensselaer County burg of Stephentown. Billed as "four days of live music, camping, and disc golf," the jam-crammed soiree includes Lettuce, Electron, Dopapod, Twiddle, Kung Fu, Consider the Source, Cabinet, Phutureprimitive, Soul Monde, Pink Talking Fish, the Heavy Pets, Viral Sound, the Roots of Creation, Ikebe Shakedown, and more. Plus there's the Silent Disco, which forgoes the usual pumpin' PA for headphones worn by late-night dancers. Discjammusicfestival.com
Clearwater (June 20-21)
Also known as the Great Hudson River Revival and inspired by the conservationism of local legend Pete Seeger, Clearwater has been held since 1978 next to the river he held so dear. Once again taking place at Croton Point Park in Croton-on-Hudson, this installment offers another stacked roster: David Crosby, Citizen Cope, Neko Case, Guster, Ani DiFranco, Los Lobos, the Mavericks, Angelique Kidjo, the Blind Boys of Alabama, Kate Pierson, Betty LaVette, Shelby Lynne, the Felice Brothers, Todd Snider, the Lone Bellow, and more. Still staples of Clearwater are its numerous family-oriented attractions, storytellers, artisanal food and crafts, and sustainability/environmental components. Clearwaterfestival.org
Beacon Riverfest (June 28)
Back again after a one-year layoff, this daylong, indie-oriented, music-and-food festival happens at Beacon's newly named Pete and Toshi Seeger Riverfront Park (formerly Beacon Riverfront Park). Headlined by West African collective Sierra Leone's Refugee All Stars, the event's welcome return further promises the sounds of Tracy Bonham, Decora, Gato Loco,
Jenny Dee and the Deelinquents, Breakfast in Fur, What Moon Things, Schwervon!, Shana Falana, Sidewalk Chalk, the M Shanghai String Band, Simi Stone, and others. Beaconarts.org
Bethel Woods (June 19-September 19)
Keeping the classic rock alive on the spot that basically birthed the genre, the site of the original 1969 Woodstock festival, Bethel Woods once again offers a full plate of FM favorites, along with mainstream country acts, family fare, and even the Mormon Tabernacle Choir (6/27). Among the hot hitters this time around are Bryan Adams (6/19), Train (6/26), Neil Young (7/17), Brad Paisley (7/24), the Zac Brown Band (8/23), Chicago/Earth, Wind & Fire (9/1), Van Halen (9/6), and Jackson Browne (9/19). Bethelwoodscenter.org
Green River (July 10-12)
The 29-years-strong Greenfield, Massachusetts, fete mixes roots traditions with indie rock, kicking off for three days of top-tier acts next month. Set to appear for 2015 are Steve Earle and the Dukes, the Punch Brothers, tUnE-yArDs, the Preservation Hall Jazz Band, J Mascis, Booker T. Jones, Rubblebucket, Polaris, the Milk Carton Kids, Eilen Jewell, Antibalas, Tony Joe White, Langhorne Slim, the Wood Brothers, Sean Rowe, Marco Benevento, Heather Maloney, Lydia Loveless, Red Baraat, Parker Milsap, Chuchito Valdes, and lots more. Greenriverfestival.com
Grey Fox (July 16-19)
The Northeast's leading bluegrass festival, Grey Fox is alive and well at its second home, the Walsh Farm in Oak Hill. And, once more, bluegrass buffs couldn't ask for a better lineup: the Del McCoury Band, the Sam Bush Band, Bela Fleck and Abigail Washburn, the Infamous Stringdusters, the Gibson Brothers, the Peter Rowan Bluegrass Band, the SteelDrivers, Greensky Bluegrass, Chatham County Line, Hot Rize, the Steep Canyon Rangers, the Stray Birds, Jim Gaudet and the Railroad Boys, Bill Keith, host band Dry Branch Fire Squad, and many others. Greyfoxbluegrass.com
Hudson Valley Jazz Festival (August 27-30)
Still a only a few seasons young, this Orange County occurrence is a godsend for resident and visiting jazz lovers. Held at various venues in Warwick, Monroe, Sugar Loaf, and elsewhere, the series is organized by drummer Steve Rubin. Performers are still being added, but the list thus far includes Wallace Roney, Jeff Ciampa, the Bobatoon Collective, Bill Pernice, Jason Miles and Ingrid Jensen, and the Russ Kassoff Trio. Hudsonvalleyjazzfestival.org
100 Years of Maverick Concerts
He called it his "music chapel." No doubt the head-scratching locals, as well as many of the citified musicians he was hoping to attract, thought he was out of his mind. Chamber music in the middle of the woods? In Upstate New York? And yet there it is, still standing nestled amid the trees just outside of Woodstock: the rustic wooden hall built by Maverick Concerts founder Hervey White and his ragtag crew of devoted area music lovers/amateur carpenters not long after the turn of the last century. It's the site of the oldest continuous summer chamber music festival in the United States, which this month opens its 100th season.
"Three things have kept Maverick thriving for the last 100 years," says its music director, Alexander Platt. "Its utterly unique setting, the dedicated volunteers who have maintained and run the festival, and its emphasis on quality—to present 'the best of the best.'"
In many ways, the Hudson Valley has the bearded, flamboyantly dressing White, a writer and one of the founders of the nearby Byrdcliffe Art Colony, to thank for creating the climate that led to the 1969 Woodstock music festival and the other outdoor concert series we enjoy today. Described as "Bacchanalian and raucous," the early Maverick festivals drew throngs of costumed, proto-hippie revelers who are seen posing with flowers in their hair—both women and men—in period photos.
Fitting in with its founder's pioneer spirit and the Maverick name itself, the festival has hosted a number of musical premiers over the course of the last century, most notably the 1952 debut of composer John Cage's provocative 4'33". In keeping with this innovative tradition, for its centennial season Maverick will present the debuts of three specially commissioned new works by area composers: Peter Schickele's Percussion Sonata No. 3: "Maverick" in a season-opening performance by the percussion ensemble NEXUS (6/27); guitarist Frederic Hand's Four Pieces for Flute and Guitar performed by the composer and flutist Paula Robison (7/7); and George Tsontakis's String Quartet 7.5 (Maverick) performed by the American String Quartet (9/13). Further series highlights include pianists Simone Dinnerstein performing Bach's Goldberg Variations (7/3) and Adam Tendler performing Cowell and Cage—including 4'33" (7/4); the return of the Miro Quartet to play Beethoven and Schubert (8/8); Europe's fast-rising Danish String Quartet performing Nielsen, Ades, and Shostakovich (8/9); a solo set by jazz pianist Fred Hersch (7/1); and the popular, ongoing Young People's Concerts.
"We're constantly looking for new voices to present alongside the timeless music Maverick has always focused on," says Platt. "I think Hervey White is smiling down with great pride that his chapel is still resonating with wonderful music."
The Maverick Concert series begins with a preseason concert by Ars Choralis on June 13 and continues through September 13. Maverickconcerts.org.
Four Questions for Warren Haynes
It's hard to believe, but Mountain Jam clocked its 10th year at Hunter Mountain Ski Resort last year. Originally a one-day occasion held to celebrate the 25th anniversary of sponsor WDST/Radio Woodstock, this year's festival (June 4-7) features the Black Keys, Robert Plant and the Sensational Space Shifters, the Alabama Shakes, Grace Potter, moe., Lake Street Dive, Big Gigantic, Rusted Root, the Budos Band, Larry Campbell and Teresa Williams featuring Bill Payne of Little Feat, Railroad Earth, Amy Helm and the Handsome Strangers, and a long list of others that of course includes perennial returners Michael Franti and Spearhead and Gov't Mule (the latter performing a set of their own, as well as a Pink Floyd tribute set dubbed "Dark Side of the Mule"). For this year's summer festival round-up, Gov't Mule guitarist and festival cofounder Warren Haynes graciously answered a few questions.
You're a longtime repeat performer at Mountain Jam. For you as an artist, what is it that most distinguishes Mountain Jam from other music festivals?
In addition to the fact that we hand-pick the artists and bands to create a "Mountain Jam vibe," it's a beautiful, unique location and we've learned from each year how to make it more "fan-friendly." For example, several years ago we put the two stages side by side, sharing production. This way, the fans didn't have to walk back and forth between stages.
In what ways would you say the festival has changed and grown since you co-founded it with WDST in 2005? Any new features this year?
It has grown organically. It is important to us that we keep the spirit of the original concept, but it is also important to expand the musical direction each year. This includes adding acts that are appealing to potential new "Mountain Jammers."
What favorite memories do you have of past Mountain Jams? Any specific odd, special, or otherwise interesting anecdotes that come to mind?
Playing for Levon Helm's 70th birthday was a highlight for me—having Donald Fagen, Steve Earle, Alison Kraus, Ray LaMontagne, and others on stage for that made for a magical evening. Also, playing with the Allman Brothers and Phil Lesh and Friends were both great moments.
Which acts are you most looking forward to sharing the stage with at this year's festival? Anyone that's new to you or any faves you haven't seen play before, and why does their music appeal to you?
I'm really excited to have Railroad Earth there this year. We just finished recording an album together that I'm very proud of, and I'm looking forward to hearing them and to playing as much music together as our schedules will permit. Also psyched that we have Robert Plant, the Black Keys, and the Alabama Shakes—all for the first time. Mountainjam.com
Theater
Matthew Wright of Fig Tree Photography
The 2011 production of "Hair" at the Woodstock Playhouse.
Woodstock Playhouse
On June 30, 1938, the Woodstock Playhouse opened with a production of (the now-forgotten) "Yes, My Darling Daughter." For the next 50 years, the Playhouse featured some big names in its summer stock season, including Lillian Gish, Karl Malden, Chevy Chase, and Diane Keaton. Then, just months shy of it's 50th anniversary, the theater burned down in 1988. In June of 2011, the playhouse re-opened as a fully enclosed, climate-controlled venue with a performance of "A Chorus Line." This season summer festival of theater features the Tony award-winning "Spring Awakening" (6/18-28), the adorable Chitty Chitty Bang Bang (7/9-7/19), the ingenious comedy romp "The Musical Murders of 1940," Rodgers and Hammerstein's "Oklahoma" (7/30-8/9), and Stephen Sondheim's devilishly tuneful "Sweeney Todd" (8/13-23). Woodstockplayhouse.org
Christopher Duggan
Pam Tanowitz Dance will perform as part of the 2015 Bard Summerscape.
Bard SummerScape
An outgrowth of the longstanding Bard Music Festival, Bard SummerScape is now in its 13th season of presenting world-class music, theater, dance, opera, and cabaret for eight weeks each summer. Mexican modernist composer Carlos Chávez (1899-1978) is the focus of this year's music festival, with performances of Chávez's work and that of his contemporaries by the American Symphony Orchestra. The rarely seen English-language opera "The Wreckers," by Ethel Smyth, about a village on the English seaside that makes its living by scavenging the remains of downed ships, will be staged. Other highlights include Pam Tanowitz Dance & Flux Quartet, director Daniel Fish's reimagination of Rodgers and Hammerstein's "Oklahoma," and Fernando Rubio's dreamlike installation/performance "Everything by My Side." And don't forget the Spiegeltent, that mirrored hall of entertainment hosted by cabaret legend Justin Vivian Bond. Highlights include performances by Kate Pierson, Martha Wainwright, Alan Cumming (probably already sold out, sorry), and the Wau Wau Sisters. Fishercenter.bard.edu
Powerhouse Theater
Vassar College and New York Stage and Film present another season of Powerhouse Theater, a season-long introduction of newly developed theatrical works on the Vassar campus in Poughkeepsie from July 1 to August 2. Nearly 250 professional artists and 50 apprentices will perform 25 brand new productions by both veterans and new additions to the world of theater. Ayad Akhtar and Anna Ziegler are presenting new works, and Powerhouse will be introducing theater-scene breakouts Michael John LaChiusa, Stephen Trask, Colman Domingo, and more. Of special note: "Noir," the latest collaboration between Kyle Jarrow and Duncan Sheik ("Spring Awakening"), a thriller/love story mash-up musical; and "Desire," six new plays based on stories by Tennessee Williams by dramaturgical heavyweights Elizabeth Egloff, Marcus Gardely, Rebecca Gilman, David Grimm, John Guare, and Beth Henley. The Powerhouse Theater acts as a stage to introduce new productions, producers, and players to the American theater scene through performances, readings, and workshops. Powerhouse.vassar.edu
Shadowland Theater
Ellenville's nonprofit professional theater is full-steam ahead since the major renovation of its Art Deco home in 2013. Its summer season promises comedy, drama, musical theater, and a love letter to an American folk icon. "Clybourne Park," the Tony award-winning homage to Lorraine Hansberry's "A Raisin in the Sun," charts race relations in 1959 Chicago (through 6/14). Playwright Donald Margulies's "Shipwrecked: An Entertainment" is a Rashomon-told story, with three actors and a foley artist exploring the high-sea adventures of the narratively unreliable Louis de Rougemont (6/19-7/5). A love letter to the American musical theater, "Moon Over Buffalo" follows a couple of fading never-weres as they make one last-ditch grasp at stardom (7/10-8/2). The songs of the folk icon come alive in "Woody Guthrie: American Song," a tribute to the troubadour who gave us "This Land is Your Land" (8/7-8/30). Shadowlandtheatre.org
AUNTS will perform at the 2015 Mount Tremper Arts festival.
Mount Tremper Arts
The avant-garde returns to the Catskills for 8th annual summer of Mount Tremper Arts from July 11 to August 22, featuring a variety of performance art, choreography, sculpture, music, and theater pieces. Festival highlights include AUNTS, a dance and performance troupe; the FLUX string quartet; the International Contemporary Ensemble performing David Lang's chamber piece "Whisper Opera"; and "Clouds/Cows," a theatrical exploration of the inner lives of bovines by Nat and Veronica.
Started by photographer Matthew Pokoik and choreographer Aynsley Vandenbroucke, MTA has become an upstate incubator for New York City-based experimental performance artists. At the start and close of the festival on July 11 and August 22, Mount Tremper Arts will be holding "Art-B-Qs," in which the audience has the chance to interact with the artists over dinner, prepared by Pokoik and the festival chef, Ethan Knechel, with both meat and vegetarian options available. All produce comes from the on-site garden and regional farms. Mounttremperarts.org
Travis McGee
The cast of "A Midsummer Night's Dream," performing at the 2015 Hudson Valley Shakespeare Festival.
Hudson Valley Shakespeare Festival
The Hudson Valley Shakespeare Festival returns to Boscobel for a 28th season from June 9 through September 1. This year, the company will perform "The Winter's Tale," "A Midsummer Night's Dream," "The Tempest," and "The Arabian Nights." "An Iliad," a one-man interpretation of Homer's classic epic by Lisa Patterson and Denis O'Hare, will also be performed by Hudson Valley Shakespeare Festival veteran Kurt Rhoads. The performances are all outdoors with a scenic Hudson River backdrop, set in a theater tent that seats 540 audience members. Special events will be held throughout the summer, including Friday Night Prologues, with actor-director-scholar and guest artist-led pre-show discussions; and Teen Nights, with designated workshops and discussions for teens 13 and older. This year's guest directors include Eric Tucker, Lileana Blain-Cruz, Jim Calder, and Gaye Taylor Upchurch (directing "An Iliad", see sidebar). The festival is designed not only to showcase classic theater, but also to encourage conversation about Shakespeare's plays. Preshow picnicking on the beautifully landscaped grounds is encouraged, and catered picnic meals are available with advance purchase. Hvsf.org
"An Iliad"
Homer's classic, "The Iliad," gets a modern flourish at this year's Hudson Valley Shakespeare Festival at Boscobel. Lisa Patterson and Denis O'Hare's interpretation, appropriately titled "An Iliad," combines the ancient Greek prose with modern vernacular, a one-person cast, and a personal connection with the audience. Patterson and O'Hare's play, staged for only five performances, will be directed by Gaye Taylor Upchurch, best known for directing Simon Stephen's "Harper Regan" with the Atlantic Theater Company. The one-man show will star Kurt Rhoads, a Hudson Valley Shakespeare Festival veteran. Gaye Taylor Upchurch discusses the underlying themes of the adaptation, working with Kurt Rhoads, and the reason why the Trojan War is as relevant as ever. "An Iliad" will be staged on July 30 and August 3, 9, 21, and 24.As told to Kelly Seiz.
What's your connection/interpretation of "An Iliad" as a director?
One of the beauties of Lisa and Denis's adaptation is that it's wide open for another director to have their own take on the material. I am keeping the same format—it's still going to be a solo piece, and in this version, I'm working with Kurt Rhoads, who's an incredible actor and has done a lot with the Hudson Valley Shakespeare Festival.
What's the most exciting part of directing "An Iliad"?
Every time you have a new actor-director pair you're going to create something different. This particular version of the piece is that it's going to be outdoors, under the tent and we're going to have a composer and a live musician. Our plan is to create the score in the rehearsal room. The composer, in front of the room, will be there with them to collectively figure out [the staging]. So it'll all happen at once in the room.
Why is "An Iliad" so important at this point in time?
We are a country at war, and we have been now for a decade, and the new adaptation allows us to look at the Trojan War in a different way, and human interaction with war in a different way. The poem and this adaptation focus on the cost of war. I would say it also brings together humankind over the centuries—this adaptation really gives Homer a modern voice.
Why did Peterson and O'Hare decide to include modern vernacular with the classic prose?
I think the effect is one that collapses that distance of time and space, so it brings the Trojan War into the room under the tent with us.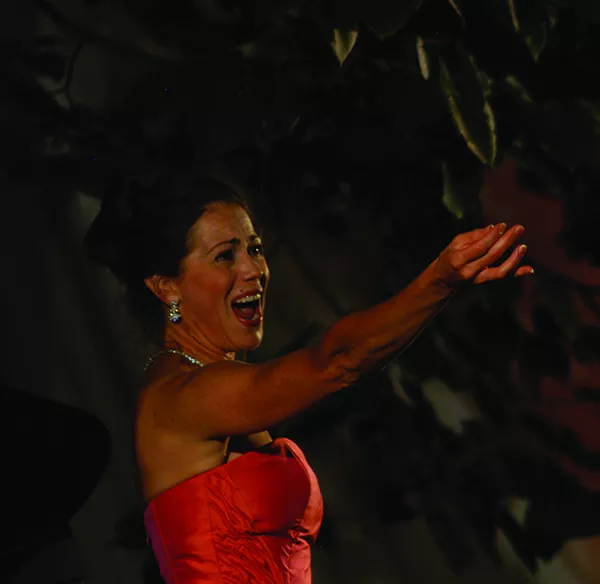 Elizabeth Futral performing at the Phoenicia International Festival of the Voice.
Phoenicia International Festival of the Voice
This year's Phoenicia International Festival of the Voice runs from July 29 to August 2, bringing a red-white-and-blue flourish with this year's theme: America. Stephen Sondheim's "A Little Night Music" and Carlisle Ford operatic take on Steinbeck's "Of Mice and Men" will be preformed, as will Menotti's "The Medium." The vocal festival also features workshops, theatrical productions, and musical discussions on topics from the operatic to a capella. The festival was founded when three internationally acclaimed, local opera singers put together an impromptu opera concert to raise money for playground equipment. More than 500 audience members flooded the town for "Opera Under the Stars," begging for an encore after the final scene. Six months later, the idea for an annual summer vocal festival solidified. Since its inception, the festival has grown from six events over three days in 2010 to this year's 50-plus performers participating in 29 events in five days at locations all over town. Phoeniciavoicefest.org
Lois Greenfield
Parsons Dance returns for its tenth season at PS21 Friday and Saturday, August 28 and 29 at 8pm.
PS21
Performance Spaces for the 21st Century (ps21) presents a festival of music, theater, variety, and dance performance each summer in Chatham. In June and July, the focus is on music—from around the world and throughtout history. This year's schedule includes the old-time folk of the Dom Flemons Trio, Indian classical master Steve Gorn, and the Mexican ensemble the Villalobos Brothers. This is followed by a series of music, live radio, and comedy performances from the end of June through July. The month of August is dedicated to the Chatham Dance Festival, featuring performances by widely celebrated contemporary dance companies. On July 3, Hudson Air Radio Theater presents classic and contemporary live radio theater on stage. On July 10, festivalgoers can enjoy an "evening of comic mayhem," with a variety of comedic performances by Nancy Rothman and Robert Zukerman, featuring musical guest Amanda Boyd. To wrap up July, the Bindlestiff Family Cirkus will perform a variety of big-top-inspired feats on the 24th. The Chatham Dance Festival opens with Brian Sanders's JUNK on August 7, followed by Gallim Dance on the 14th and both Keigwin + Company and works in progress by Dance Omi Alumni titled "So You Think You Don't Understand (Modern) Dance?" on the 21st. The festival concludes with the internationally renowned Parsons Dance Company returning for their 10th consecutive season. Ps21chatham.org
Visual Arts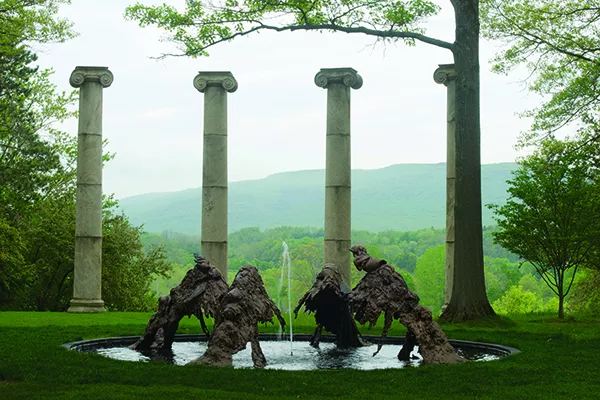 Jerry L. Thompson
Lynda Benglis, North South East West, cast bronze fountain and steel, 2009. Courtesy the artist; Cheim & Read, New York; and Locks Gallery, Philadelphia. © Lynda Benglis / Licensed by VAGA, New York.
Storm King Art Center
It's worth visiting Storm King Art Center just to amble alongside Andy Goldsworthy's landscape-responsive Five Men, Seventeen Days, Fifteen Boulders, One Wall, a fieldstone sculpture meandering between trees and through fields before sloping into a pond. The sculpture park's 500 acres are studded with over 100 similar delights, from the muscular I-beams of Mark DiSuvero to the undulating wave field of Maya Lin to Roy Lichenstein's whimsical Mermaid. This summer, Storm King features two special exhibitions: "Water Sources," a collection of Lynda Benglis's outdoor water fountains, and a,b,moon,d, a site-specific work by Luke Stettner that employs the archeological dig as a large-scale drawing tool to create oversize glyphs in the soil. In recent years, Storm King has pumped up its events programming, offering yoga, artist's talks, and concerts. Lee Ranaldo plays August 9. Stormking.org
August Arts Festival
The first annual august art festival, held by the internationally renowned Women's Studio Workshop (WSW), is coming to Rosendale this August, featuring a month of multidisciplinary art installations and related events. More than 20 local, national, and international artists will create contemporary videos, installations, performance art, and sculptures along the Wallkill Valley Rail Trail from August 7 to August 29, beginning with a video festival curated by Dani Leventhal at Rosendale Theatre and an afterparty at the Belltower on Main Street. Other artists confirmed thus far include Emily Speed, Barbara Westerman, and Melissa Jay Craig. This is the first year of what WSW hopes to be a longstanding tradition of bringing the arts, art lovers, and economic vitality to Rosendale for years to come. "WSW has a long tradition of presenting artists' work in nontraditional spaces," says Ann Kalmbach, Executive Director and co-founder of WSW. "august art festival is our most ambitious effort to date, celebrating artists, our fabulous town, and the newly opened Rail Trail connection between WSW and Main Street." WSW has brought more than 5,000 artists from around the world to Rosendale since 1974. Wsworkshop.org