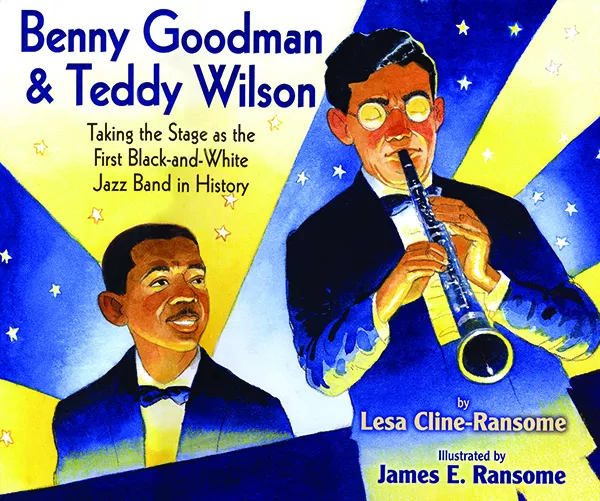 BENNY GOODMAN & TEDDY WILSON
Lesa Cline-Ransome, illustrated by James E. Ransome
Holiday House, 2014, $16.95
Young Benny learns clarinet in a Chicago synagogue marching band; Teddy studies classical piano in Tuskegee, Alabama. They meet in New York, sharing their love of jazz and becoming the first interracial band to perform onstage. With language that skitters like scat-singing and lush illustrations in midnight blues and moonglow golds, this collaboration by a Rhinebeck-based husband-and-wife team is a stunner. —NS
HI, KOO!
Jon J Muth
Scholastic, 2014, $17.99
Inspired by his twins' fascination with changing seasons, Caldecott medalist Muth's whimsical picture book places a gentle, jolly Panda named Koo alongside a boy and girl in situations both relatable and fantastic, from the joy of stomping snow to the surprise of a bird's nest on one's head. The haiku-inspired text is poetic and quietly potent, while the gorgeous illustrations convey both excitement and peace. —RBW
HOT DOG! ELEANOR ROOSEVELT THROWS A PICNIC
Leslie Kimmelman, illustrated by Victor Juhasz
Sleeping Bear Press, 2014, $16.99
For 150 years after the American Revolution, no British royals set foot on American soil. But on the eve of World War II, Franklin and Eleanor Roosevelt invited King George VI and Queen Elizabeth to their Hyde Park cottage. Instead of the usual formal dinner, the iconoclastic First Lady hosted an "all-American picnic" featuring her favorite food: the humble hot dog. Mustard-loving kids will cheer her on. —NS
NEVER SAY A MEAN WORD AGAIN
Jacqueline Jules, illustrated by Durga Yael Bernhard
Wisdom Tales, 2014, $16.95
When a Muslim and Jewish boy squabble, Samuel's father, the king's wise adviser, gives him permission to punish Hamza for his insulting words. Though Samuel tries again and again, his efforts ultimately create friendship instead of exacting revenge. Based on a medieval Spanish legend, this multicultural story of peaceful conflict resolution features rich gouache illustrations by Phoenicia resident Bernhard. —SK
SPARKY!
Jenny Offill, illustrated by Chris Appelhaus
Schwartz & Wade, 2014, $16.99
What's a girl to do when the only kind of pet her mother will let her have is one that doesn't need feeding, walking, or bathing? Enter Sparky the sloth—a creature that barely moves, eats leaves, and drinks dew. Who cares if playing dead is his only trick? This charmingly illustrated paean to alternative thinking and alternative pets was penned by an unslothful Dutchess County novelist (Dept. of Speculation) and mother. —SK
TAP TAP BOOM BOOM
Elizabeth Bluemle, illustrated by G. Brian Karas
Candlewick Press, 2014, $16.99
As a New York City thunderstorm soaked the sidewalks, author Bluemle ducked into a subway station and saw a lot of cool stuff, which she relates in whimsical verse in Tap Tap Boom Boom: strangers giving away umbrellas, friends huddling together, sharing pizza. Rhinebeck artist G. Brian Karas's vibrant illustrations transport us to the safety of the train platform, conveying the joy of community in chaos. —RBW
THE FORGOTTEN RABBIT
Nancy Furstinger, illustrated by Nancy Lane
The Gryphon Press, 2014, $15
A fuzzy bunny, bought as an impulse Easter gift, languishes in an outdoor cage until a compassionate girl named Rosalita rescues her, lavishing her "unforgettable" pet with love, salad greens, and agility exercise. Catskills animal lover Furstenberg's prose glints with fun verbs like "binkying" and "periscoped"; an afterword gives advice about house-rabbit care and adoption, furthering Gryphon Press's mission as "a voice for the voiceless." —NS
THE LONELY TYPEWRITER
Peter Ackerman, illustrated by Max Dalton
David R. Godine, 2014, $16.95
Who remembers the "clack-clack-clack ding" of the technology—gasp!—before computers? Luckily for procrastinating Pablo, when dad's desktop freezes mid-homework, that dusty manual typewriter in the attic can still do its thing. Vintage-toned graphics and a text studded with popping Ps make this multigenerational, multicultural tale a pleasure to share. Appearing 10/12 at noon, Oblong Books & Music, Rhinebeck. —NS
THREE BEARS IN A BOAT
David Soman
Dial Books for Young Readers, 2014, $17.99
When three bears break their mom's prized blue shell, they set sail to find another, but the sea is free of shells and loaded with misdirecting sailors, and the bears start to argue. It takes a scary storm to help them realize that, literally and figuratively, they all occupy the same tiny boat. Rosendale resident Soman (of the unstoppable Ladybug Girl series) creates a well-crafted and beautifully illustrated tale of carelessness and consequence. —SK
WHERE'S MOMMY?
Beverly Donofrio, illustrated by Barbara McClintock
Schwartz & Wade, 2014, $17.99
Acclaimed Woodstock memoirist Donofrio (Riding in Cars with Boys) revisits the tantalizing fantasy of secret human/mouse friendship in this sequel to Mary and the Mouse, the Mouse and Mary. This delightful daughter-mother tale gently explores anxiety, fear, and trust, with a surprising, satisfying payoff. McClintock's captivating illustrations transport us to quaint human and rodent worlds, not so different after all. —RBW