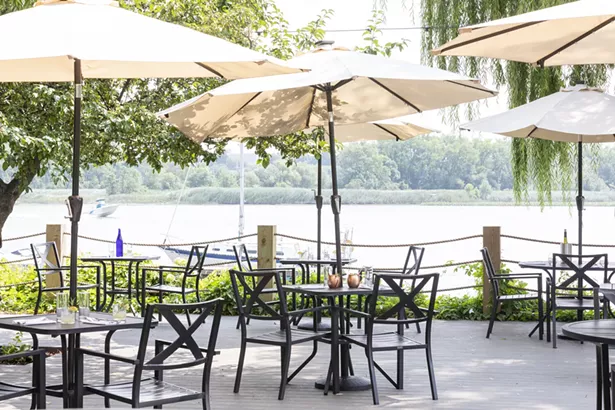 The River Grill at the Stewart House in Athens.
<!————StartFragment————>
On June 9, the Mid-Hudson Valley entered Phase Two of the four-part reopening process, bringing with it a return to outdoor dining, just in time for summer. Now is the time to explore the myriad beautiful outdoor dining spots in the Hudson Valley. From Beacon to New Paltz to Hudson, restaurants are getting their patios and porches ready for the public's return, with others spilling out onto sidewalks to accommodate both new and familiar faces.

This is by no means all the places offering outdoor dining in the Hudson Valley, but these are some of our tried and true faves that have confirmed they're reopening.
With a terrace directly overlooking the Esopus Falls, enjoy majestic al fresco lounging paired with a "daily menu celebrating the region's seasonal bounty paired alongside high-quality meats, fish, house-made pasta and breads." Share a Carnivore pizza, made with prosciutto, bacon, salami, pepperoni, sausage, and fresh mozzarella, or go with the Old School Caprese salad, dressed with local heirloom tomatoes, sliced mozzarella, torn basil, and a balsamic reduction.
This New American restaurant housed in a former 1825 Baptist church is a beloved icon of Rhinebeck's charming and busy Montgomery Street. "From far-flung origins, the world's most diverse flavors meet and mingle" at Terrapin, ranging from the Nashville hot chicken sandwich: a fried chicken breast with cayenne pepper sauce, slaw and pickles on brioche; to the braised beef and caramelized onion nachos, topped with Gruyere cheese, braised boneless beef short ribs, beef and onion gravy, caramelized onions, sour cream, and fresh scallions.
Essie's | Poughkeepsie
At Essie's, located at the heart of the Little Italy section of Poughkeepsie, Executive Chef and CIA graduate Brandon Walker is serving up delicious and locally sourced dishes that blend Caribbean and Southern culinary influences. Outdoor seating will be available on the sidewalk in front of Essie's. Go for the mouthwatering jerk ribs with a sherry-tamarind glaze, or split a combo like the buttermilk fried chicken with a group of 3-4 people.
Silvia | Woodstock

Silvia's spacious pergola-covered deck has enough room for the family date night outing you've been craving. Surrounded by lush foliage, start dinner off with the East Coast oysters with celery-sichuan mignonette, or reach for a veggie app. Try the patatas bravas with chickpea, coal-burnt paprika-cashew aioli, cilantro, and lime. For an entree, enjoy the steelhead trout with cauliflower puree, red onion, butter, caper, garlic, and grilled lemon, and don't forget to tack on a sweet dessert; have a taste of their Raw Cashew Key Lime Pie.
This American gastropub will put you at the center of the American culinary melting pot. Situated over a flowing creek, their deck allows you to enjoy a close-to-nature essence while you dine. From Southern buttermilk-brined fried chicken with a side of mashed potatoes and gravy to what American Glory calls the "proper basket" of fish and chips, made with flakey, beer-battered white fish and served with malt vinegar/tartar sauce, creamy coleslaw, hand-cut fries and house-brined pickles, this place has your taste buds covered.
This historic Beacon mill property overlooks a wide, rushing waterfall to elevate your dining experience. Go for the buttery lobster rolls with a side of Old Bay fries and a chilled glass of rosé, or a double-stack burger on a brioche bun with cheddar and RH Sauce alongside one of their signature cocktails like the barrel-aged Manhattan, made with Black Dirt rye, cocchi vermouth di torino, and barrel-aged bitters.
Schatzi's | Poughkeepsie and New Paltz
With two locations right off of the bustling Main Streets of New Paltz and Poughkeepsie, Schatzi's patios, with both picnic tables to fit the whole family, or smaller tables for two, offers an upbeat and yummy place to dine. Try their Burger of the Month or Wednesday night pierogies with a refreshing mug of beer. Cool off from the summer heat under the vibrant patio umbrellas with a cucumber cool mix, made with gin, cucumber, aloe water, cilantro, lime and cucumber soda.
For inn guests currently staying at the Hasbrouck House, this 18th-century mansion's bluestone patio is a romantic and serene setting for dinner plans. Try the ricotta and goat cheese dumplings, made with chestnuts, sage, and shaved black truffles, or the baby arugula salad with radish, baby carrots, and white balsamic vinaigrette. The menu is almost tempting enough to make us check into a room, but for now we'll keep waiting until they reopen Butterfield to the general public.
Alongside 10 rotating taps and specialty cocktails, paired with a locally sourced menu, Ms. Fairfax's dreamy patio is where you want to spend your relaxing Friday evening. Among overhanging string lights, and wooden picnic benches, try a grapefruit rose; or aim for their Thursday Night Tacos for their delicious fish or steak tacos.
Harvest on Hudson | Hudson

Serving up upscale Italian with a Mediterranean influence on the banks of the Hudson River, this elegant outside dining experience, surrounded by a flourishing vegetable and herb garden, is a great way to feel like you're on vacation. For lunch, try the cauliflower steak with baby spinach, quinoa, pistachio, gremolata, and for dinner, satisfy your tastebuds with the braised beef shoulder with harvest tomato sauce, hot Italian pepper, and heirloom polenta.
Huckleberry | New Paltz

Tucked away off New Paltz's Main Street, this restaurant's charming vintage character, with its Edison bulb string lights and numerous fire pits on the patio, is perfect for a cozy night out. Wind down with their house-made pub food, a craft beer, or a frozen rosé cocktail.
Backbar | Hudson

At the rear of an antique shop, this spacious and groovy bar is the hub for Malaysian dishes, slushy cocktails, and cold beer. Come rain or shine, Backbar has added a weather tent to ensure your outdoor dining experience with them is always accessible. Stop in for one of their favorites, like the double bb burger or the cumin spiced tots, alongside a frozé or a bottle of cider.
High Voltage Restaurant & Bar | Mountain Dale
The campsite-esque outdoor dining available in the yard behind High Voltage captures the warm and cozy essence of summer with its lush foliage, picnic benches, and firepit. Lounge by the fire and try the pan-seared scallops along with a cocktail and an added slice of key lime pie for dessert. They trailer creek bar is open for the season and serving drinks. Outdoor dining is available for dinner starting at 4 on Friday through Sunday and at 11am for brunch.
With its screened-in porch and beautifully landscaped garden of vibrant pink peonies and ornamental grasses, High Falls' The Spy offers a picturesque spot to spend an evening under the string lights and foliage with a lover or a group of friends. Sip on a glass of Portuguese Red or a Columbia Valley Sauvignon Blanc; and try their signature dish, "free range" tofu wings.
Brasserie 292 | Poughkeepsie
Nothing like pandemic-era regulations to light a fire under your ass. This week, French bistro Brasserie 292 debuted their new outdoor seating space. "Le Jardin" features a pole tent over a grassy yard next to the restaurant for all-weather fresh-air dining. Brasserie, which is currently open Tuesdays through Saturdays starting at 4pm, is also launching a revamped food and drink menu for summer. <!————EndFragment————>
<!————StartFragment————>
Outdoor dining returns to Twin Star Orchards, home of the Brooklyn Cider House, with their signature wood-fired burgers. Try their signature slam-dunk offering featuring Applewood smoked bacon, white cheddar, lemon, tomato, and onion, or the vegetarian portobello burger, made with a wood-fired Portobello cap, lettuce, tomato and onion. Satiate your sweet tooth craving with Twin Star Orchards' apple cider doughnuts, made fresh daily with their own cider. Open Friday & Saturday 12pm–8pm; and Sunday from 12pm–7pm, dine by the orchard's pond with the whole family.<!————EndFragment————>
The River Grill at the Stewart House | Athens
Dine in a postcard-worthy scene beneath graceful weeping willows on the banks of the Hudson River. The Stewart House may not be booking their swanky inn rooms yet, but the River Grill is open, and each weekend they are picking a different nonprofit to donate a portion of proceeds to. The grill is open Friday 3-9pm, Saturday 1-9pm, and Sunday 1-8pm, dishing up soups, salads, and burgers.