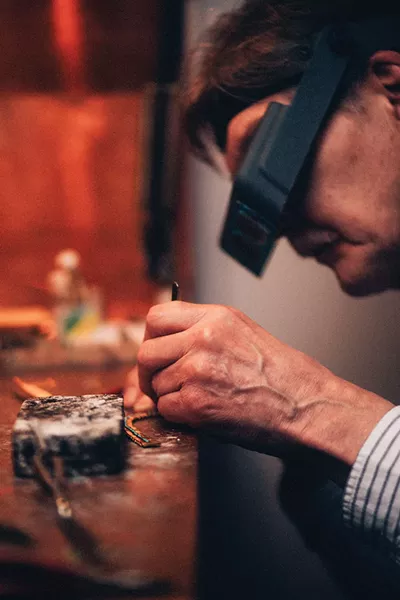 Sometimes the Perfect Ring is a Custom Thing
For a decision as personal as getting engaged, you need to find a ring that is the perfect expression of your love, and sometimes the ready-made choices just aren't quite right. Whether you want to create a bespoke engagement ring using elements from your family's heirloom jewelry or create a custom ring from scratch, there are talented jewelers throughout the Hudson Valley that can help make your dream come true. Below Bruce Lubman of Hummingbird Jewelers and David Walton of Hudson Valley Goldsmith offer tips for your project.

Bruce Lubman's Tips for Designing a Bespoke Ring


Hummingbird Jewelers
in Rhinebeck has been specializing in custom design and repurposing of family heirlooms since 1978. Master goldsmith Bruce Anderson and owner and gemologist Bruce Lubman work directly with customers in a fun, stress-free design process. Bruce Lubman says, "Of all the things we do as jewelers, custom engagement rings and wedding bands are the most gratifying pieces we create. Being a part of that legacy is a great gift for us as jewelers and artists."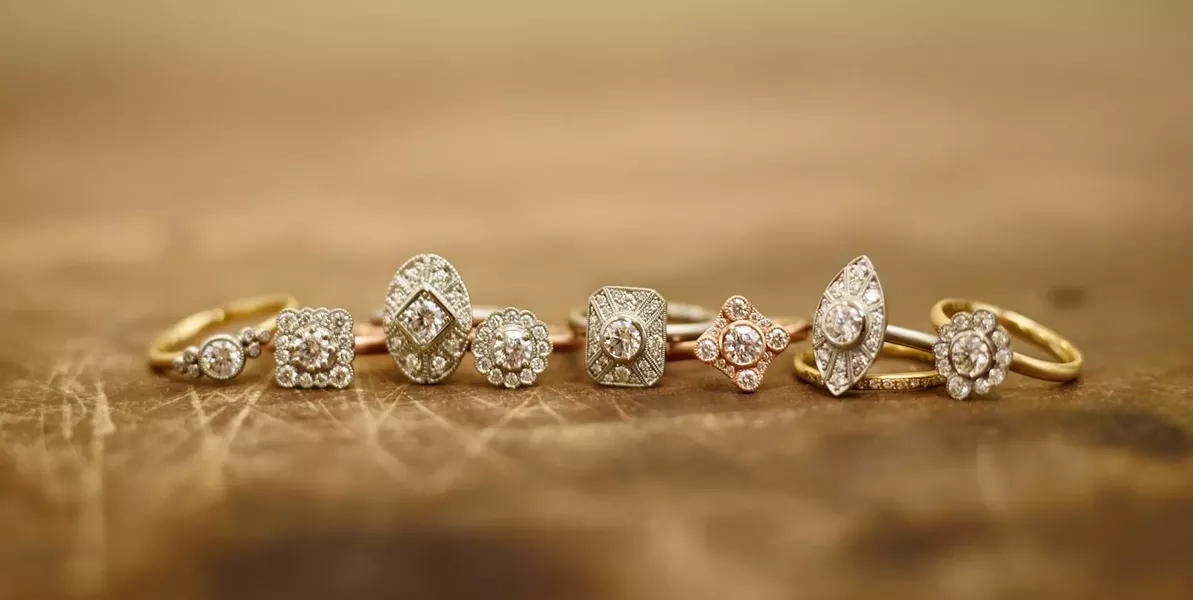 Built to Last. This ring will be worn every day, so design it with the recipient's daily activities in mind, including considerations to setting style, number of prongs, etc. Also choose stones that will withstand the test of everyday wear and tear. Poor choices include soft stones like opals and tanzanites, or hard and brittle stones like emeralds.
The First Flush. Engagement rings should be designed so that a wedding band can be worn flush and parallel. Alternatively, you can make a contour band to fit with it. Rings that don't fit together will wear into each other over time, becoming a maintenance problem in the future.
In Good Taste. If you are attempting to surprise your partner, make sure you have a good idea of their taste. Look at pictures together in magazines or on the internet, check out their Pinterest page, or go window shopping to make sure you create the ring that will make their heart sing. The more input the client can give, the more effective and rewarding the custom design process is.

Everyone Loves a Complement. Look at the other jewelry the intended recipient wears so the metal color works with other pieces worn every day and the color is flattering to their skin tone.

Perfect Fit. Get the ring size right. Covertly borrowing other rings or asking friends and family are good options for determining size. Some adjustments can be made after the ring is given.
David Walton's Custom Jewelry Advice
Hudson Valley Goldsmith
is a fine jewelry showroom, featuring artisans from around the country, and open workshop on Main Street in New Paltz, founded by David A. Walton. A graduate of SUNY New Paltz's Metals program, he worked for many years in New York City setting stones and designing jewelry for high end brands like Tiffany and Co., before deciding to move to the Hudson Valley with his family. Walton and his team use recycled precious metals and conflict free diamonds and gemstones to create their own stunning bridal line. They also specialize in custom jewelry. Read the story of the
custom engagement ring that Hudson Valley Goldsmith designed for Chronogram staffer Marie Doyon.
Start early.
Allow time for the process and any changes that might come up along the way. Depending on the complexity of the design, a custom ring could take 2 - 10 weeks
Gather inspiration.
This can include elements other rings you have looked at, images from Pinterest, things from nature, or even interests/hobbies. Get an idea of what style you like, or don't like. We can take inspiration form from many sources to design something unique just for you!
Bring materials
. Bring any existing jewelry and/or loose stones you might want to incorporate - sometimes couples want to use family heirlooms in making the new ring. This is a special way of having a one-of-a-kind and modern ring will still holding on to the sentimental value of Grandmas ring for example.
Make an appointment.
We want to have time set aside to give you our full attention, we will go over your ideas and sketch out some images and use our CAD program to make a 3D rendering. There are often follow up appointments to chose the stones, or approve a wax casting of the ring.
Relax and enjoy the experience!
This process will be exciting and together we will make sure the ring is one you will love and your family will cherish for generations.
Before you get started on your custom jewelry project, you'll want to make sure you have the perfect jeweler. Read Hudson fine jeweler
Geoffrey Good's tips for choosing a compatible jeweler for your custom project.