From emergent cardboard sculptures to contemporary photographs of trees to varations on the theme of "sanctuary," here are 10 must-see shows for the Hudson Valley art appreciator to see in November 2019.

Lightfield Arts "Photo + Synthesis" at Hudson Hall
Fall, a photograph by Christopher Griffith, part of Lightfield Arts "Photo + Synthesis" exhibition at Hudson Hall.
In the 19th century, Hudson River School artists saw our region's beauty as evidence of the Divine and worried about the industrialization and deforestation that had already begun. Lightfield Arts' exhibition takes an Anthropocene view of the valley through the work of seven artists illuminating our biome from new perspectives, including Sarah Bird and Tim Davis. Trees are the focus; viewed through the lens of contemporary photography, the science of tree ring research, and the art of data visualization. Works by historic Hudson River oil painters such as Asher B. Durand and a video by the Young Photographer's Workshop are also on view. Through December 21
"Shape of Light" at the Frances Lehman Loeb Art Center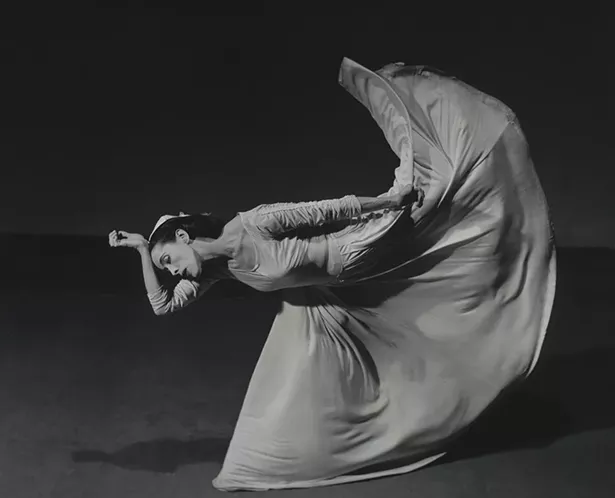 Barbara Morgan's 1940 photograph Martha Graham Letter to the World (Kick), part of the "Shape of Light" exhibition at the Frances Lehman Loeb Art Center at Vassar College through December 15.
"Shape of Light" celebrates contributions by the Vassar College Advisory Council for Photography to the growth of the Art Center's collection of nearly 4,500 photographs, 125 of which are on view. Given the deluge of photographic imagery engendered by the smartphone, curator Mary-Kay Lombino notes that "there is something to be said for seeing so many carefully selected works in one exhibition." Chosen are highlights from the beginnings of photography through the present day, including jewels from the likes of Margaret Bourke-White, Gordon Parks, Alfred Stieglitz, Harry Callahan, and Cindy Sherman.
Through December 15
Henry Klimowitz "Method for Proceeding" at Garrison Art Center
Not knowing what his finished piece will be is key to Henry Klimowitz's process of alchemizing cardboard into sculptures—one cut, bend, fold, or hot glue drop at a time. "Like a wasp," he says, incrementally accruing nested forms. Each emergent work begins with a germinating idea building from a single point to something natural looking but unclassifiable. Leading from one work to another at GAC: from the windows, where cardboard patterns of ovoid, leaf-like shapes filter light to accumulations that could be hanging vines or maybe not to fungi-esque configurations seemingly blossoming from the walls.
Through November 10
"Eustatia" at the Global Art Museum
Thinking globally and acting locally, a new art venue in Beacon is testing the waters of the Hudson Valley art scene. Five regional artists are featured in the Global Art Museum's inaugural offering. Emil Alzamora, Joseph Ayers, Matt Kinney, Liao Yibai, and Michael Zelehoski are presenting decidedly 21st-century works filling multiple rooms of Eustatia, a High Victorian-style mansion overlooking the river. Prime examples of contemporary sculpture, video, multimedia, and painting are on display. Through November, by appointment. (845) 309-9247
"Sanctuary" at Kingston City Hall
Works in this exhibition express over 40 artists' interpretations of sanctuary. Everyone needs sanctuary; especially in these times, and shelter from the storm comes in many forms, depending on the imperatives of those seeking it. Kingston became a sanctuary city in 2017 and its website notes that this exhibition of stylistically varied small works in a wide range of media "hopes to create a space for a nuanced interpretation of sanctuaries, and what they mean to Kingston." Artist, Isabel Cotarelo, whose piece is a colorful biomorphic abstraction, opines, "Sanctuary becomes real when kindness of mind/heart is present in a boundless energy to provoke change." Through December 20.
Robert Hite at 11 Jane Street
Raised in rural Virginia and a teenager there in the turbulent '60s, Robert Hite builds on memories of dirt roads, abandoned houses, and the people who lived in them. Over the arc of his career, Hite has evolved from being an abstract landscape painter to an artist who has mastered many other media including sculpture and photography. The rural house and what it entails remains at the center of it all. Along the way, Hite moved with his family to Esopus and won a Guggenheim. His most recent works–including examples of his detailed and distinctively crafted sculptures of houses as well as photographs of these evocative dwellings in natural settings—are on view as part of "In the Shallows" at 11 Jane Street in Saugerties. Through November 17
"UP NEXT" at Kleinert/James Center for the Arts
The Hudson Valley has been attracting young artists since Thomas Cole moved here at the age of 21. Arlene Shechet, whose own work has often been reviewed in the New York Times, Art Forum, and Hyperallergic, has curated "UP NEXT," which highlights pieces by 15 emerging talents. You may recognize some of the names: Daniel Giordano, whose quirky multimedia sculpture was recently shown in Mother Gallery's "Soft Temple" show, and Padma Rajendran, whose work was featured locally in a solo show at WAAM. Schechet imparts that the exhibition "reflects her vision and sense of how these artists speak to each other through their work." Through December 1
Franc Palaia and Brian Gillette at 40 Cannon Street Gallery
Two veteran artists are teamed up for "Urban Icons" at one of Poughkeepsie's newest art spaces; both paying homage to visual urbanity. Palaia, a well-known muralist, photographer, and sculptor, is installing what appear to be substantial chunks of graffiti-laden walls from around the globe. Look for "found imagery that is seemingly chaotic, random, humorous, and political." Gillette, a refugee from the wilds of advertising, utilizes multimedia skills honed there to create works that blend an "appreciation of a vintage past" and visions of "a radical future." Fans of art that transgresses the real estate of the world's metropolises will feel at home.
Ernest Shaw at Aaron Rezny Studio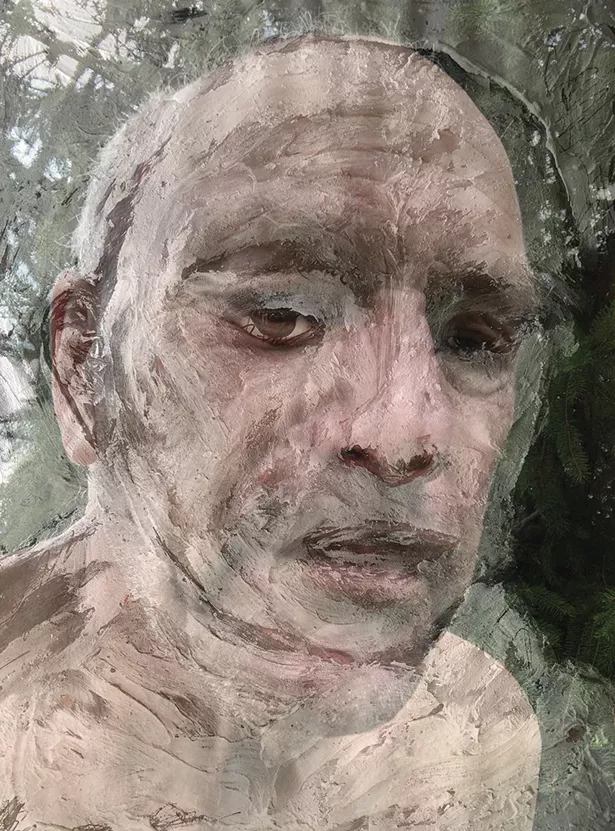 No-Self, Ernest Shaw, photodrawing, 2019.
Ernest Shaw's "No-Self
"
series conveys the mystery of personhood through self-portraits made by layering photography, ink, paint, and sculpture. The resulting facial montages never quite resolve, suggesting double or triple vision, yet attain a balance that evokes a singular presence. The frenetic line that chases after completion of the pictures also energizes. This holds true in Shaw's "Lifeline
"
series—also on view at Aaron Rezny Studio in Kingston—in which invigorating mark making brings life to photos of dead flora. Compassion is his unifying theme: "Reverence to the 'self' and 'not self,' to our hearts, to the leaves."
Shigeko Kubota at Mother Gallery

Photo: Tom Haar
Shigeko Kubota in her studio in 1972.
Kubota, who was married to Nam June Paik, was one of the key figures in the downtown video art scene of the 1970s. Exhibited at Mother will be works in Kubota's "Duchampiana" series including her video of Duchamp and John Cage playing Chess. According to curator David A. Ross, there are two meanings to the exhibition title "Restored in Beacon." First: the goal of the show at Mother Gallery (and that of the Shigeko Kubota Video Art Foundation) is to help re-establish Kubota as a major early innovator of video art. Secondly: the meticulous restoration of her work on view was accomplished by local Beacon artisans Jon Reichert and Kazumi Tanaka.
November 2–December 15