"Photography Now" at the Center for Photography at Woodstock
Derrick Woods-Morrow, Frederick on Lake Pontchartrain | After Lincoln Beach, 2019.
This year's annual survey of the current state of photography at CPW is considered through the critical gaze of distinguished curators Maurice Berger and Marvin Heiferman, in the work of eight photographers exploring identity. Martha Díaz-Adam focuses on the cross-cultural. Maureen R. Drennan envisages a 1951 cross-country journey taken by her stepfather. Nona Faustine digs into racial and gender stereotypes. Luther Konadu, Cynthia Bittengield, Sara Macel, Jean Sousa, and Derrick Woods-Morrow also contribute their distinctive takes on the parameters of personhood. Through January 19
Emil Alzamora and Richard Butler at BCB Art
An installation view of Richard Butler's exhibition of paintings, "amoamasamat," and Emil Alzamora's exhibition of sculpture, "On the Royal Road," at BCB Art in Hudson.
Two masters of figurative art are brought together for simultaneous exhibitions, each with its own title: "amoamasamat" for Butler and "On the Royal Road" for Alzamora. Dreams are the royal road to the unconscious, according to Freud, and the blindfolds on the women depicted in Alzamora's ceramic busts are a metaphor for looking inward—"a rugged journey, a quest to give shape to our current turmoil, and a search for justice." Butler (better known as the lead singer of the Psychedelic Furs) chose a title that runs together a Latin phrase meaning I love, you love, she/he loves. His paintings convey melancholia, anxiety, and anger in a manner hovering between representation and abstraction; a strategy that succeeds in transmitting human presence. Through January 20
At Queen City in Poughkeepsie, Elisa Pritzker is channeling the art of a lost indigenous people, the Selknam, of her native Argentina. In a time where valuative norms and truth itself are attacked daily, Pritzker interprets the visual language of shamanic objects to evoke "respect for the family, community, nature, and all cultures." Working with a stripped-down pallet of red, black, and white, and the fundamental materials of wood, fiber, hair, and bone, she creates ritualistic devices to weave her benevolent spell in "Sagrado (Sacred)." December 6–28
Looking back in order to look forward is the modus operandi of the International Society of Antiquaries, a league of five artists: Sarah Potter, Kyle Cottier, Olivia Baldwin, Elisa Pritzker, and Greg Slick. Their show at SUNY Ulster's Muroff-Kotler has works on paper, painting, sculpture, and installation speaking "to the importance of understanding our past in order to comprehend who we are as a species." Slick's small stone sculptures with primal drawings pecked into their surfaces—looking like finds from a particularly successful archeological dig—are a good place to begin your visit. Through December 13
"I do not make sculpture that consists of one thing." Instead Barry Le Va creates "an unspecified situation." Le Va, educated as an architect, is perhaps best known for his seemingly random but actually carefully planned scatter pieces: felt, aluminum bars, and ball bearings distributed on the floor. The viewer is tasked with moving around and through his work to make sense of it; or not. Le Va's art can be quite dramatic—look for meat cleavers stuck in walls—or incredibly beautiful, like his waves of powder wafting daylight through one of Dia's expansive galleries. On long-term view.
Curator Alan Goolman's palpable enthusiasm for color is on full display in this group show of 24 mid-career artists from New York City and the Hudson Valley in Kingston. Among the highlights are Andrew Lyght's Painting Structure, an abstraction dominated by an orange octangle marked with the artist's signature glyphs; David Provan's ink and watercolor meditation in muted rainbow colors somehow channeling Klee and Delauney simultaneously; and an oil-on-paper work by Angela Voulgarelis conjuring up the head and shoulders of a blue figure against golden yellow, who seems to return your gaze. Through January 4
Zeien is showing selected panel paintings that span a decade, realized in layer upon layer of acrylic; inspired by walls and billboards he has been photographing for years. The inspiration operates on the level of method rather than image. The works in "The Persistence of Memory" are abstract. "The painting on, scraping/tearing off, re-layering and redacting builds up a plastic surface related to the worked over, torn-down, and re-plastered walls, and re-posted kiosks," he says. The resulting variegated surface textures and surprising color juxtapositions are hypnotic. Be prepared to get lost in them. December 7-29
The ubiquitous cell phone camera has made photographs of scenic vistas way too simple. Point. Click. Forget. Many of us have gazillions of shots of the Hudson we never revisit. McElhinney's exhibition "Discover the Hudson Anew" offers an antidote: Instead of a smartphone, he uses watercolors and a pocket-sized notebook to record the beauty he sees along our river's banks. It takes more time, but the experience goes deeper by engaging mindfulness in the process. Ample evidence is on view in this exhibition of McElhinney's Hudson River notebooks. Through February 16
Barbara Masterson, Botti, pencil on illustration board, 2019.
A new series of large monochrome drawings by Barbara Masterson on view at Broadman Road Branch Library in Poughkeepsie, "Beyond the Harvest," continues her engagement with migrant workers here in the Hudson Valley. Eschewing her paints and color, she used a new tool, Wolff pencils, to focus on her favorite workers among those she has painted for many years. In one of these 20-by-30-inch works, she uses exaggerated foreshortening to emphasize the folded hands of her friend Botti, which, along with the subtle shading and sharp detail of her rendering, communicates a profound sense of mutual respect between the artist and her model. Through January 6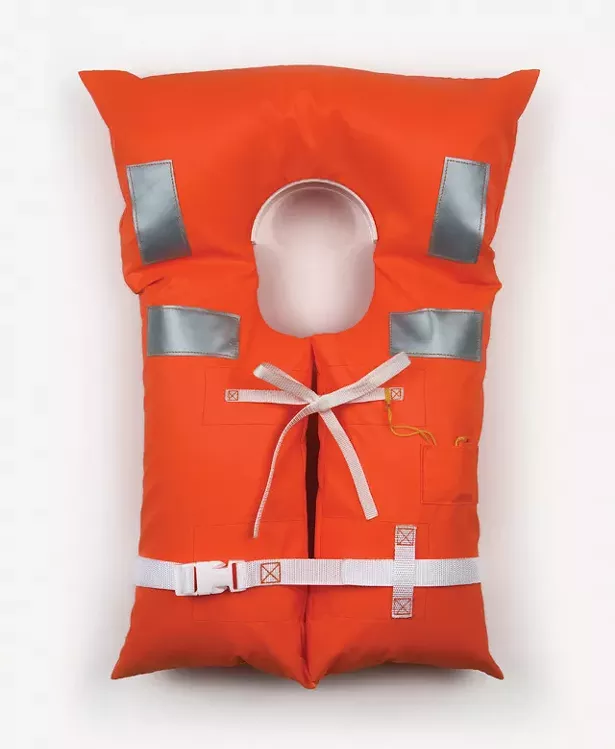 Zoë Sheehan Saldaña, Life Jackets, 2008-09.
Why would an artist make an edition of 500 perfect replicas of a wooden match—from scratch, starting with cutting down a tree—given the fact that utilizing the art for its original purpose would cause it to go up in flames? Sheehan Saldaña's match and approximately 50 other question-inducing works are on view at the Aldrich, where she reveals herself to be the master of the ready-remade. Beyond clever, her work touches on the anxiety implicit in the matter-of-factness of everyday objects in "There Must Be Some Way Out of Here." Through May 17