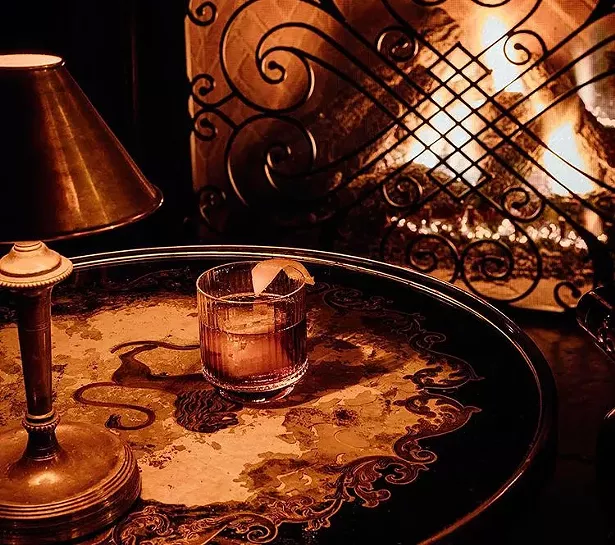 Courtesy of The Maker Lounge
Winter chill is knocking at the door. For those that don't have a wood stove at home to warm their bones, or for those who simply don't like to drink alone, we've rounded up some of our favorite Hudson Valley bars with fireplaces to help you stay cozy (and sauced) until spring finally arrives.


Traghaven Whiskey Pub (Tivoli)
Run by the Hurley family, which has owned/operated bars in the US and Ireland for a couple hundred years, this Dutchess County farm-to-table pub has the largest selection of Irish whiskey in this country. Which is perfect, because the warmth of Traghaven's real, wood burning fire, certainly calls for the complexity and comfort that only Irish whiskey can bring to a chilly night. Try the Jameson 18-year and elevate your opinion of an old favorite. You've grown more sophisticated since you did shots of its younger counterpart until you passed out, so, it's only fair you give its older sibling a try.
The 1850 House (Rosendale)
The tavern at The 1850 House is cozy and convivial and generally filled with a great mix of Rosendale locals and out-of-town hotel guests. If you can peel yourself away from the barroom banter, head through the double doors into the lavish sitting room with your cocktail and get transfixed by the blazing fire. The 1850 House's constantly changing cocktail menu always features fresh juices and herbs, allowing the bartenders' talent to shine. A recent favorite of ours is the Pear and Local Honey Margarita, garnished with rosemary, for just $9.
The Roundhouse (Beacon)
This boutique hotel, restaurant, and event space in Beacon also happens to contain the ideal winter lounge due in no small part to the gorgeous view of the well-lit waterfall outside and their expertly curated playlists. Open seven days a week and featuring some pretty inventive cocktails (toasted local marshmallows over Se Busca Mezcal, Black Walnut, Drambuie and Orgeat?!), The Roundhouse is a great place to relax and catch up with an old friend, a good book, or both. Try and score one of the coveted tables directly in front of their modern fireplace for maximum coziness.
Serevan (Amenia)
You've never been to Amenia? Serevan offers up a good reason to fix that. The 19th-century farmhouse's wide-open hearth welcomes you right into the space, whether it's to belly up at their intimate bar or take a seat and enjoy a full Mediterranean meal created by chef-owner Serge Madikians (who FLIES HIMSELF to Cape Cod weekly to procure the freshest ingredients for his menu). Their signature Serevan cocktail, featuring vodka, cucumber water, dill and pepper, is perfect for those cool nights that stick around long after the days have started to warm up.
Garvan's | New Paltz
Tucked into the woods of New Paltz, this gastropub is just a stone's throw from the Wallkill Valley Rail Trail. Head bartender Pete Miller has created some drinks that honor the classics, while still keeping things interesting. A perfect example is their Breakfast Manhattan, featuring Redemption bourbon, Solerno blood orange liqueur, smoked maple syrup, and curried bacon. We dare you to find a more relaxing day drink than this, enjoyed at a high top table in front of the roaring wood stove.
Copperfield's Irish Kildare Pub | Montgomery
A Montgomery staple, the warm red leather seats at Copperfield's Pub immediately invite you to grab a pint from their selection of local brews (Mill House Brewing is a big favorite here), and have a seat next to their brick fireplace. Happy Hour runs from Monday to Friday from 3pm to 6pm but we guarantee you'll find happiness no matter what hour you walk in the door.
West Kill Brewing | West Kill
Located on a 127-acre historic dairy farm, West Kill Brewing brews and pours some of the best suds in the Hudson Valley. Almost all of their ingredients are locally foraged and/or grown, creating more than a few great flavors in the process. Their Saphouse, a 5.8% brown ale is perfect for a nice afternoon by the fire, but you can make yourself feel really at home with a glass of their 10.8% Black Dome Barrel Aged Imperial Stout. Just leave your shoes on, please.
Iron Forge Inn | Warwick
Mount Peter visitors know this place as a favorite apres-ski spot, and everyone else knows them for their local seasonal menu, and comfy basement taproom. Located on the site of an historic forge in a Revolutionary-era home built in 1760, Iron Forge Inn's historic hearth provides the perfect backdrop for a nice chilly night, and their well-curated wine list features nearby Warwick wineries so you can drink local (even if you aren't).
The Maker | Hudson
If you're looking for the perfect leather-laden, mahogany bar with amber-tone lighting, The Maker Lounge is the spot. Their classic cocktail menu gives credit to the pioneers who popularized each recipe (and even includes the year it was invented so you can see just HOW classic it is). One of the newer (2014) classics featured is the Oaxacan Old Fashioned by Phil Ward of iconic craft cocktail bar Death and Co.. We won't give out the whole recipe, but the addition of smoky mezcal makes it the perfect tipple to sip on while scooching up to the roaring fire in one of the plush armchairs.
Darlings | Tillson

From the same owners as the beloved New Paltz hang out Huckleberry,
Darlings
offers up craft beer, approachable and tasty cocktails, and Southern-style comfort food in Tillson. The roadhouse is spacious with a bar section and an ample dining room which includes a woodstove that is roaring in the colder months. For a warming, toddy-like winter tipple try the steaming-hot Everything Nice with bourbon, dry curacao, blood orange honey, cinnamon, lemon, and cardamom. If you feel like a tropical escape, the Paradise in Tillson will have you hearing the surf with carrot, toasted coconut, pineapple, amaro, and blackstrap and Barbados rums. If you came with an appetite, you can't go wrong with the basket of buttermilk-dredged fried chicken or the pecan-crusted catfish.