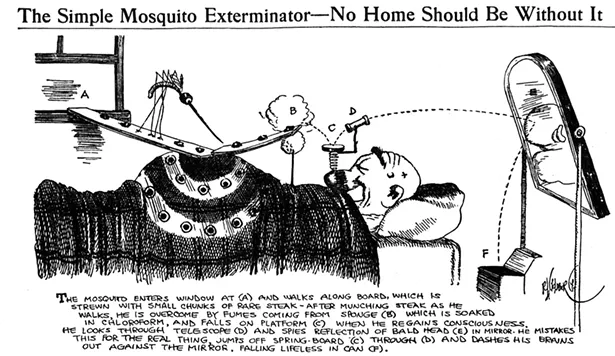 Rube Goldberg (1883-1970), The Simple Mosquito Exterminator, 1912. Syndicated nationally on July 17, 1912.
From the machinations of Rube Goldberg to Tom Slaughter's "Icon Alphabet" to Boogie Rez' lively fusion of high art and hip-hop, there is a lot to see this March in the Hudson Valley. Here are 10 exhibits to check out.
Goldberg (1883-1970), best known for his drawings of complicated gadgets performing simple tasks in convoluted ways, gets a retrospective at the Rockwell Museum that opens this month. "The Art and Wit of Rube Goldberg" offers a revealing look at Goldberg's creativity through original comic strips from the 1930s, as well as World War II-era political cartoons and instructional materials from the Famous Artists School, which are now part of the permanent collection of the Rockwell Museum. March 2-June 9.
Through March 31.
"Photowork 2019" at Barrett Art Center
Barrett's annual photography show is in its 32nd incarnation, juried this year by James A. Ganz, senior curator of photography at the Getty Museum. The exhibition includes artworks by photographers from the US and Italy, including several Hudson Valley artists: Poughkeepsie photographers Roberto Hull and Trevor Messersmith, Tad Philipp of Hyde Park, Susan Copich of Hillsdale, and Nancy Faulds of Putnam Valley.
Through March 23.
Through March 31.
Hernan Bas, Night Flight or Midnight Migration, or On My Merry Way, mixed media on canvas, 2008.
"Where is the Madness You Promised Me" at HVMoCA
This month at Peekskill's high temple to contemporary art, a selection of international painting that takes the post-apocalyptic landscape to the next level. Inspired by personal experience and real-life observations, the works in "Madness" imagine potential dire futures while remaining firmly rooted in present fears and anxieties. Artists include Hernan Bas, Tjebbe Beekman, Jonas Burgert, Nigel Cooke, Ian Davis, Tim Eitel, Sven Kroner, Marin Majic, Djordje Ozbolt, Daniel Pitin, Rick Prol, Michael Raedecker, Norbert Schwontkowski, and Anj Smith.
Through April 21.
Sienna Martz and Erica Hauser at CMA Gallery
At Mt. St. Mary College in Newburgh, "Explorations in Form," a two-person show with painter Erica Hauser and sculptor Sienna Martz. Hauser's photorealistic worked has wowed us in the past, and her work was featured on the cover of Chronogram in 2012. Her latest paintings are colorful, abstract blobs, like a 2-D version of a lava lamp. Martz, a sculptor who often works in fabric, was chosen recently for our "Emerging Artists to Watch Out For" feature. Through May 22
A detail from Marilyn Reynolds' Composition in the Round. Photo by Seth David Rubin.
Composition in the Round by Marilyn Reynolds
Housed in the old Stone Ridge Firehouse just off Route 209 in the village, Marilyn Reynold's massive painting
Composition in the Round
(1983) encircles the room. A mixed-media work, its 100' long and 8' high. Installed in the firehouse last year, the kaleidoscopic work demands to be reckoned with once the viewer steeps into the room . A self-described intuitive painter, the canvas reflects the preoccupations of Reynolds in a dreamlike fashion, from disturbing gun violence to heroic eagles in flight. Open by appointment:
Marilynreynoldsartist.com
.
Ongoing.
Tom Slaughter at MASS MoCA
"Icon Alphabet" celebrates the joyful imagery of Tom Slaughter (1955-2014), best known for his bold and vibrant paintings and prints, and represents a fascinating hybrid of fine art and commercial design. This exhibit brings together the varied work—paintings, prints, wallpaper, and billboards—that made Slaughter's minimalist style so recognizable. The exhibit, the first since his death, is designed by his daughters Hannah and Nell Jocelyn and son-in-law Jim Mezei. Through March 31.
Leslie Graff's Uncovered, an acrylic on canvas painting showing as part of the "Home Sweet Home" exhibit at Ann Street Gallery.
"Home Sweet Home" at Ann Street Gallery
This group show, curated by Virginia Walsh, explores the domestic space, from the purely decorative to alternative models of home life and gender roles in paintings, sculptures, and installations. Featured artists include Angela Alba, Daniel Bare, Mary Carson, Eileen Eder, Greg Climer, Phyllis Gorsen, Leslie Graff, Heidi Hankaniemi, Adrianne Lobel, Timo Rissanen, Abbey Rosko, Polly Shindler, Betts Vando, Lydia Viscardi, and Melissa Zexter. Through Saturday, March 23.
"The Art of Emily Cole" at Thomas Cole National Historic Site
Emily Cole (1843-1913) was the daughter of Hudson River School founder Thomas Cole. This project marks the first solo exhibition of Emily's artwork on both paper and porcelain, revealing her exquisitely painted botanicals. A contemporary newspaper review of an exhibition of Emily's porcelain calls her work "unrivalled" for its "delicacy, purity of color, and transparency." The exhibition— featuring 12 original sets of painted porcelain works c. 1900-1910, and 13 works on paper c. 1870-1880s—will be presented in the 1815 Main House, where both Thomas and Emily Cole lived and worked in Catskill.
March 2-July 7.