From top: Opening Day Parade in Wassaic.Photo by Anja Shutz; Ida Ten Eyck O'Keeffe, Creation, oil on canvas. Courtesy of Gerald Peters Gallery; Reb Ayse, Ali Feser, and Becky Riedman, Dusklist 2017. Photo by Argenis Apolinario
Wilderstein Outdoor Sculpture Biennial
Taking place every other year on the grounds of the Wilderstein Historic Site in Rhinebeck, the home of Franklin Delano Roosevelt's cousin and confidant Margaret "Daisy" Suckley, is this outdoor sculpture exhibit (June 2-October 31). The show features a collection of 25 pieces by a diverse group of regional Hudson Valley artists and is free to the public. Wilderstein is open daily from 9am to 4pm.
Wassaic Project
The year-round multi-arts complex at the reclaimed Maxon Mills in the Dutchess County hamlet of Wassaic fires it up annually with its Wassaic Project Summer Festival (August 3). Running from noon til late, the fest showcases emerging artists, bands, dancers, and filmmakers and promises lectures from artists taking part in the center's summer art exhibition, "Ad Astra Per Aspera" (through September 12). Participating artists were to be announced at the time of this writing, so check the website for details.
Magazzino Italian Art
This recently opened museum in Cold Spring is chiefly devoted to postwar and contemporary Italian art. Privately funded by Garrison/New York art collectors Giorgio Spanu and Nancy Olnick, the 20,000-square-foot space houses many of the more than 500 pieces the couple has collected over three decades among other works. Ongoing at Magazzino is a group show of artists from the Arte Povera movement, and the museum recently added the site-specific installation, "Note di San Lorenzo (New York City)," by multimedia artist Renato Leotta.
Dusklit
Held at Sugar Loaf's Seligmann Center every year is its
Dusklit interactive art festival
(July 20), which is presented as part of the Warwick Summer Art Festival. The one-night bazar at the 50-acre former homestead of Surrealist artist Kurt Seligmann brings together artists from the Hudson Valley and New York Metro areas to transform the site's landscape with visual art, music, dance, acting, poetry, performance art, fire manipulation, and other artistic styles from 5 to 9pm.
Opus 40 Sculpture Park and Museum
Created by sculptor Harvey Fite over 37 years beginning in 1939, this sprawling, six-and-a-half-acre outdoor stone environmental sculpture in Saugerties makes for an essential summer visit, whether you're a permanent Hudson Valley resident or just visiting the area. Built by Fite using bluestone he quarried himself nearby, the site of Opus 40, which also includes the Quarryman Museum, is open daily for the season from 10:30am to 5pm and often features performances and other events. Check website for updated listings.
The Clark Art Institute
Head over to Williamstown, Massachusetts, to check out the Sterling and Francine Clark Art Institute, commonly known as, simply, the Clark. Established in 1955, the museum is home to European and American art dating from the 14th to the early 20th century. On offer for summer 2019 are "The Forty Part Motet," a sound installation by Janet Cardiff (through September 15), "Renoir: The Body, the Senses" (June 8-September 22), and "Ida O'Keefe: Escaping Georgia's Shadow" (July 4-October 6).
Photo: Jerry L. Thompson
A view of Jean Shin's Outlooks installation at Storm King Art Center.
Storm King Art Center
Part of the landscape, literally, since 1960, the 500-acre
Storm King Art Center
in Mountainville (a hamlet of Cornwall) boasts perhaps the largest collection of contemporary outdoor sculpture in the entire country. Alongside its permanent collection of pieces by Alexander Calder, Richard Serra, David Smith, Isamu Noguchi, Henry Moore, Louise Nevelson, Sol Lewitt, and others, this summer, the center is presenting work by Jean Shin (through November 24) and Mark Dion (through November 11). Storm King also offers special exhibition and highlights tours, yoga, and occasional events.
Hudson Valley Museum of Contemporary Art
Until last year, Peekskill's
Hudson Valley Museum of Contemporary Art
(or Hudson Valley MoCA) was known as the Hudson Valley Center for Contemporary Art. But while the name may have changed, the mission—to bring world-class art and ideas to the region—has not. The museum's current exhibitions are "Greatest Love," an overview of works by fiber artist Anne Samat (through September 8) and "Death is Irrelevant: Selections from the Marc and Livia Straus Collection, 1975-2018" (through September 8).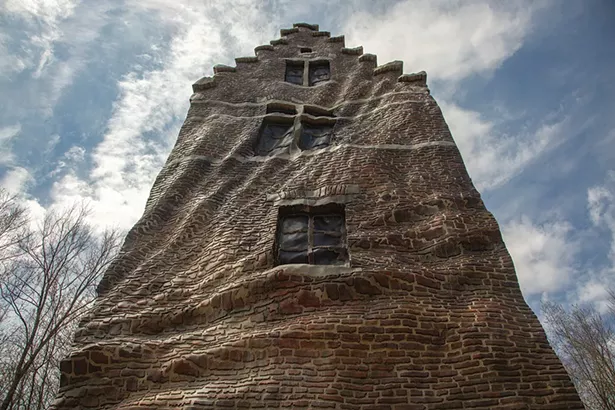 Photo: Bryan Zimmerman
Brian Tolle's Eureka at Art Omi.
Art Omi
Without doubt, one of Columbia County's A-list attractions is
Art Omi
, the contemporary art and sculpture park in Ghent. The free facility's summer season is already underway and promises workshops and children's activities, dance (July 20 and August 31), and live experimental music (August 24), in addition to the gloriously monolithic sculptures installed throughout its rambling landscape. Inside its Newmark Gallery are showings by artists David Shrigley (through July 21), Tschabalala Self (July 27-September 29), and others.