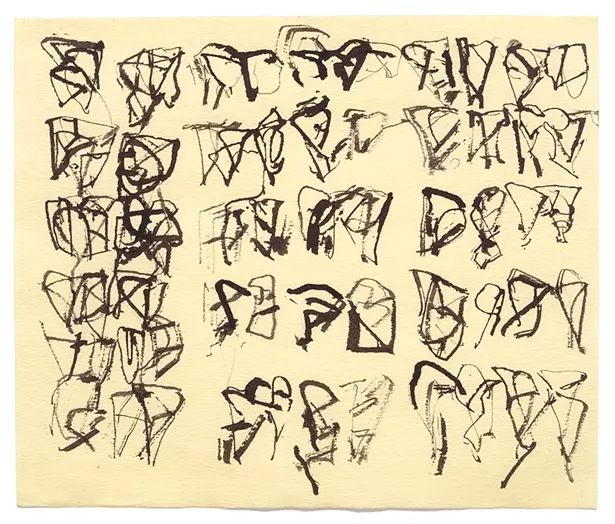 Brice Marden's Cold Mountain Studies 1, from the exhibition "Brice Marden: Cold Mountain Studies" at 'T' Space in Rhinebeck from June 9 to August 11.
Figurative artists draw inspiration from landscape; abstract artists are inspired by books. In the 1980s, artist Brice Marden discovered the Cold Mountain poems, classic Chinese verses composed by Han Shan, a semi-mythical hermit-poet who lived sometime between the 6th and 9th century AD (if he ever lived at all). Between 1988 and 1991, Marden produced a series of drawings based on these poems. The entire series, "Cold Mountain Studies," will be on view at 'T' Space in Rhinebeck beginning June 9.
Since I came to dwell up on Cold Mountain
how many ten thousands of years have gone by...
Accepting chance and change, I hid away by a
spring in a grove;
perched there, just watching, I was satisfied
wrote Han Shan. The Cold Mountain translation Marden found, by Red Pine, was bilingual; on one side were Chinese characters, on the other side, English.
Fascinated by both the poetry and the characters of the original writing, Marden began making drawings by dipping twigs in ink. (Most of the stems came from an ailanthus tree behind his studio on the Bowery.) There is no one-to-one correspondence between the drawings and the poems; each artwork "translates" all the poems at once. Though Marden does not practice Zen meditation, he approached these works with the daring spirit of a Zen calligrapher slashing at rice paper with an ink-soaked brush.
Sometimes in art, limitation can be freeing. Painting with twigs, rather than brushes, allowed unexpected flips and twists in the figures. These drawings have the happy, organic fluency of a collaboration between man and tree. "They're very musical to me: the rhythm, the repetitions, all the changes," remarks director/curator Susan Wides, of the 35 drawings. The "Cold Mountain Studies" are classic works of late 20th-century art, available for the first time in the Hudson Valley.
Though Marden's drawings are a series of performances, they also suggest visual imagery; I see mattresses, shirt collars, a bass drum, hats, seagulls, buttocks, arguing heads.
Brice Marden was born in Bronxville, New York, in 1938. He received an MFA from the Yale School of Art and Architecture in 1963, then went to work as a guard at the Jewish Museum. In 1966, Marden became the assistant to Robert Rauschenberg. That same year, he had his first solo exhibition. By the mid-'70s Marden's reputation was well established. The artist has a home in Tivoli.
'T' Space is a nonprofit gallery founded in 2010, which includes a 30-acre nature preserve, dotted with art installations. The 'T' refers to the shape of the gallery, which was designed by architect Steven Holl. Using windows and skylights, the gallery is lit by natural light. 'T' Space is open to the public only on Sundays.
—Sparrow