You've done the math and decided that you're ready to buy your dream home in the Hudson Valley. A loose image is forming of your rose-colored future life—veggie gardens and swimming holes, dinner parties and cozy weekends in front of the fireplace. You don't know where you'll find this dream house or exactly how you'll pay for it—yet—but you'll get there.
Since buying a home is one of the biggest life choices you'll make, even the early steps of the process can feel overwhelming. The team at Halter Associates Realty has helped countless people get from this crux decision point to a property they're thrilled with. They've shared their advice on exactly what legwork needs to be done before you can really start fantasizing about your future in that gorgeous Victorian fixer-upper or lakeside cottage you've been eyeing online.
Photo Courtesy of Halter Associates Realty
Assemble Your Team
For Lisa Halter, principal broker and owner of Halter Associates Realty, the natural first step is to find your agent. This person will be your ride-or-die in your buying journey, and beyond house hunt support, they'll ideally come with a list of trustworthy state-licensed home inspectors, mortgage brokers, and contractors that you can adopt as part of your crew.
"It's critical that your agent have local knowledge about the area that you've decided to look," Halter adds. "They should also be associated with a company that has a brick-and-mortar office in the area and full-time support staff."
Find A Local Lender
"Shop local" isn't just an altruistic community platitude. In real estate, there's a real benefit to getting a prequalification from a local lender to help you navigate the competitive market.
"We've found that the local banks and brokers have competitive rates and a great team of appraisers, underwriters, and bank attorneys who can turn around a loan in a very short period of time," Halter says. "When using a national lender, they may send an appraiser from a completely different part of the state where home values are different."
Understand the Market
When doing your research, Halter notes that it's essential to understand the competition in your market, especially in the Hudson Valley, and to not assume that "any offer is welcome."
"If you really love a home, you'll want to make a reasonable offer and expect that the sellers will probably counter," Halter says. "If there are competing bids, you'll almost certainly have to pay full price or more. This is where having an experienced agent is incredibly valuable. Your agent can advise you on the best price to offer and refine the offer terms so they are most attractive to the seller."
Research Potential Communities
Okay, this part is a lot of fun. Zeroing in on the right Hudson Valley home means finding the right Hudson Valley community to fit your needs, wants, and lifestyle. Are you the outdoorsy type who wants hiking trails just minutes from your door? Do you love the arts, music, and culinary offerings of a place like Woodstock or Kingston? Or maybe you're looking for a way to launch your kayak from your backyard?
This is not only a great step for visualizing the kind of life you want to lead and the home to match, but also a great way to be an informed buyer and give your agent plenty of background information. "Even though it is a competitive market, it's still a great time to look," Halter says. "There are plenty of hidden gems, and it's worth the effort."
For more information on finding your dream Hudson Valley home, reach out to Halter Associates Realty.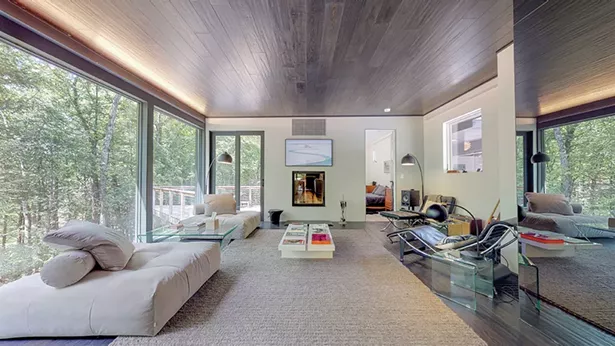 Photo Courtesy of Halter Associates Realty
The Halter Associates team is in love with this streamside Woodstock modern, with huge floor-to-ceiling custom windows overlooking the forest and stream. The super private location really calls out to them, packing a lotof amenities into three acres. There's a guest house, and a detached studio that will have artists and makers drooling. The main house has four bedrooms and three and a half baths' worth of space guaranteed to get your creative juices flowing. With custom-dyed wide-board hickory floors and ceilings, sleek, highend fixtures and appliances, you get all the outdoorsy vibes of being in the wilderness without sacrificing a single creature comfort. Added bonus: a solar array and a vegetable garden!