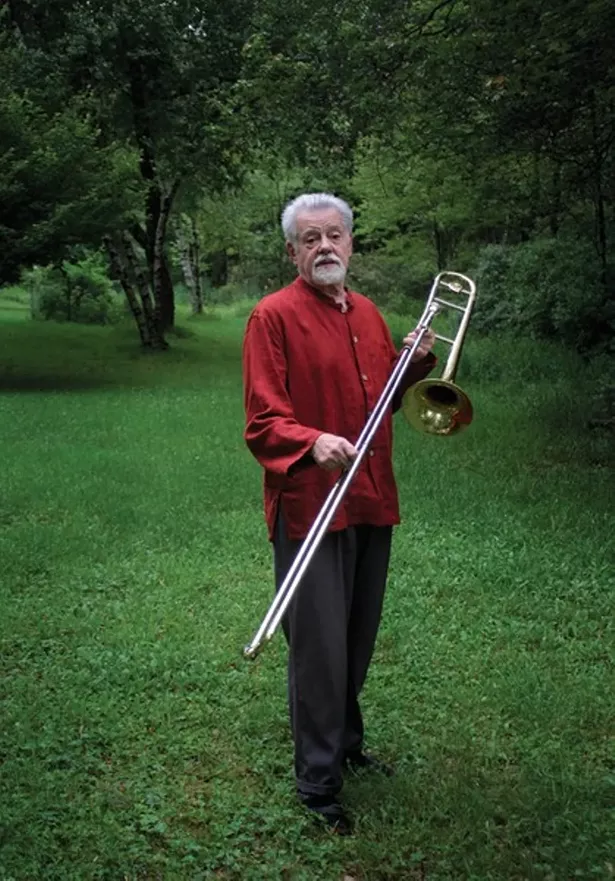 Fionn Reilly
Roswell Rudd
The news has certainly been depressing enough lately, so I'm sad to bring more as a parting shot to this largely lousy year, but here goes: Last Thursday the great trombonist, composer, and Kerhonkson resident Roswell Rudd lost a long battle with prostate cancer.
Rudd, 82, was the leading and most influential trombonist of the early free jazz movement that developed in New York during the early 1960s. His name-making work from this heady era includes the albums he made with saxophonist Archie Shepp for the Impulse! label; 1964's ESP-Disk debut by the New York Art Quartet and New York Eye and Ear Control film soundtrack; and numerous collaboration with Steve Lacy, Cecil Taylor, Carla Bley, Charlie Haden, Pharoah Sanders, Gato Barbieri, Larry Coryell, the Jazz Composer's Orchestra, and others. In addition to being a trailblazer on his instrument, the one-time Bard College educator and Alan Lomax assistant was a pioneer of world/Western music fusion, a practice he explored on his later albums as a leader, such as 2002's MALIcool and 2005's stunning Blue Mongol. His most recent release was this year's Embrace.
Besides being an intrepid musical explorer, Rudd was easily one of the warmest and sweetest souls I've encountered in my years as a Hudson Valley music journalist. In 2009 I profiled him for Chronogram.
Here he is in collaboration with Sonic Youth circa 2006 on a version of the traditional "Dry Bones" for a Hal Wilner-curated Harry Smith Project concert in New York:
Rudd is survived by his life partner, the producer and ethnomusicologist Verna Gillis; and his two sons from prior partners, Christopher and Greg Rudd. Chronogram's condolences go out to all of them and the rest of the late musician's friends and other relations.
To find out about more events in the Hudson Valley, subscribe to our weekly newsletter 8-Day Week.