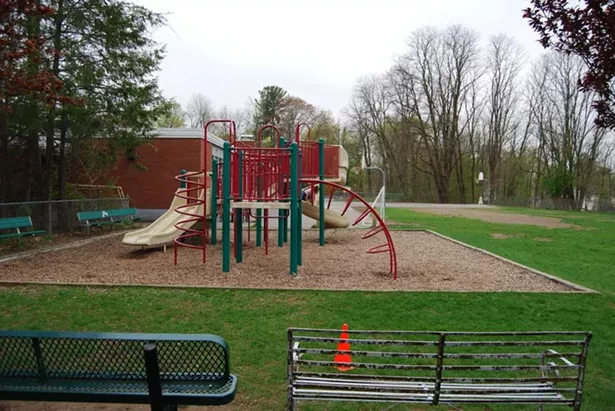 The single piece of playground equipment at Edson Elementary
It's recess at Harry L. Edson School in Kingston, and students are lining up. Someone goes across the monkey bars, jumps down, and then climbs back up to wait on line for another turn. Two more lines wait for a turn on the two slides. Another line of kids wait for a turn to kick or throw a ball. There are five grades, kindergarten through fourth, at the elementary school, each with about five homeroom classes. As each grade goes out to recess, about 100 kids swarm the playground: a half court blacktop, a field, and a single climbing structure. It's a crowded situation, at best. So Edson's PTO (parent teacher organization), a 501(c) non-profit, started a fund four years ago to buy more playground equipment for the kids to use. $25,000 later, they're about ready to buy a bank of swings, and have their sights set on a second climbing structure with two more sets of monkey bars and a ropes course. So on Friday, December 8th, the Edson PTO is hosting their first auction to bring the goal closer.
Dubbed The Monkey Bars, the auction is a community date night where people can nibble on Hickory BBQ's most popular hors d'eouvres, enjoy craft beer from Keegan Ales, and get some holiday shopping done. "Some great gift certificates for Bounce, Wild Earth, Excel Gymnastics, ceramic classes at Kingston Ceramic Studio, art classes by With Flying Colors, pilates, yoga, tickets for NYCFC game, the Nutcracker, champagne sailing cruise for two, 3 month family membership to the YMCA, ski tickets, dinners made by your favorite Edson teachers.... and so much more!" writes Edson PTO President Andrea Littleton. There are also items like jewelry from Plural Studios, baskets of booze from Bacardi and make-your-own-margaritas from the Armadillo, a Stockade FC jersey signed by the 2017 team roster, and pie from Bread Alone. An alumna of Edson herself, Littleton says the climbing structure on the playground now is the one she played on as a little girl. Yet, when Edson absorbed the Rondout's Sophie Finn School community some years ago, the school grew to become the largest in the Kingston City School District.
The auction will be held at The Hot Spot Yoga in the Kingston Plaza. Owner Stephanie Nystrom is on the Edson PTO playground committee and says, "We also got a house band donation from the T. McCann Band--traditional Irish music!  That's a $750 value!" Because it's an auction, winning bids could mean deals on local favorites like Kingston Wine Co's wine share, a Bardavon/UPAC membership, and gift certificates to the Golden Notebook in Woodstock and restaurants like Dallas Hot Weiners, Kovo Rotisserie, Duo Bistro, and Papi's Pizza and Wings. Inside a cocktail party atmosphere, The Monkey Bars will be host to excitement.
The Monkey Bars autumn auction to raise money for Harry L. Edson School's playground fund at The Hot Spot Yoga at 218 Plaza Road in Kingston: Friday, December 8th, 7-11p; $10 suggested admission and unlimited auction bidding. See The Monkey Bars on Facebook for the auction invite, complete auction item listings, and for more info.