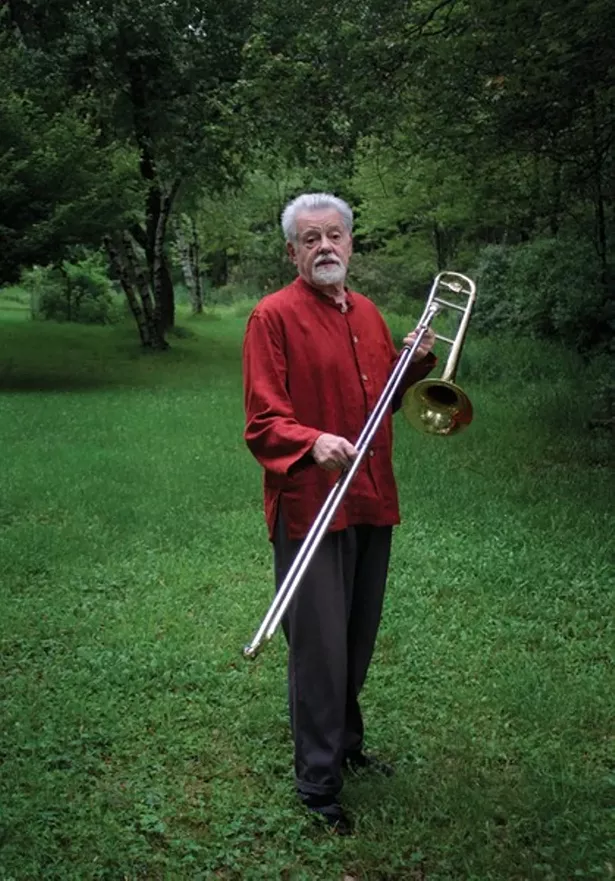 Fionn Reilly
Roswell Rudd
Pioneering free jazz trombonist and Kerhonkson resident Roswell Rudd has been bravely battling a cancer diagnosis since 2014, making music when he's been able to while continuing to touch the world with his gregarious warmth and inspiring light. This Thursday, in celebration of that music, warmth, and light—not to mention Rudd's 82nd birthday and Friday's release of his new album,
Embrace
—Dizzy's Club Coca-Cola in New York will host an all-star evening dedicated to the one they call the Incredible Honk.
Although unfortunately the guest of honor isn't quite feeling up to performing, he'll be in attendance to enjoy the festivities, which will feature performances by saxophonist Archie Shepp, vocalist Fay Victor, pianist Lafayette Harris, and bassist Ken Filiano; NRBQ pianist Terry Adams; vocalists Sheila Jordan and Heather Masse; Sexmob with trumpeter Steven Bernstein, alto saxophonist Briggan Krauss, vocalist Reggie Bennett, guitarist Rolf Sturm, drummer Kenny Wolleson, and bassist Mark Helia; and Trombone Tribe with Josh Roseman, Art Baron, Greg Glassman, Ray Anderson, Deborah Weisz, Steve Swell, and Bob Stewart.
Here's Rudd jamming the gospel folk standard "Dry Bones" with Sonic Youth at the 1999 Harry Smith Project concert in New York:
"Embrace: A Musical Celebration of Friends and Collaborators of the Incredible Honk, Roswell Rudd" will take place at Jazz at Lincoln Center's Dizzy's Club Coca-Cola in New York on November 16 at 7:30pm. Tickets are $40. For more information, call (212) 258-9595 or visit http://www.jazz.org/dizzys/.
To find out about more events in the Hudson Valley, subscribe to our weekly newsletter 8-Day Week.