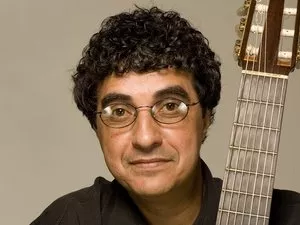 Award-winning traditional Brazilian guitarist, composer, arranger, and teacher Rogerio Souza has recorded with other top Brazilian artists such as Baden Powell, Sivuca, and traditional choro band Epoca De Ouro. Souza has performed at prestigious venues around the world, including the Festival Villa Lobos in Brazil, the International Jazz Festival in Denmark, the Stadgarden Festival in Germany, and the Kennedy Center in Washington, DC. On November 5, he'll bring his exotic sounds to our region when he visits Jazz Forum.
Souza is a master of choro, a Brazilian popular and instrumental music genre that can be traced the arrival of the Portuguese Royal Family in Rio de Janeiro in 1808. With the Portuguese influx, Brazilian musicians, already strongly influenced by African rhythms, were suddenly more exposed to European musical styles; choro is the lush result of this musical merger.
In this 2014 video, Souza and accompanists play "Retrato Brasileiro":
Rogerio Souza will perform at Jazz Forum in Tarrytown, New York, on November 5 at 6pm. Tickets are $10 and $15. For more information, call (914) 631-1000 or visit http://jazzforumarts.org/.