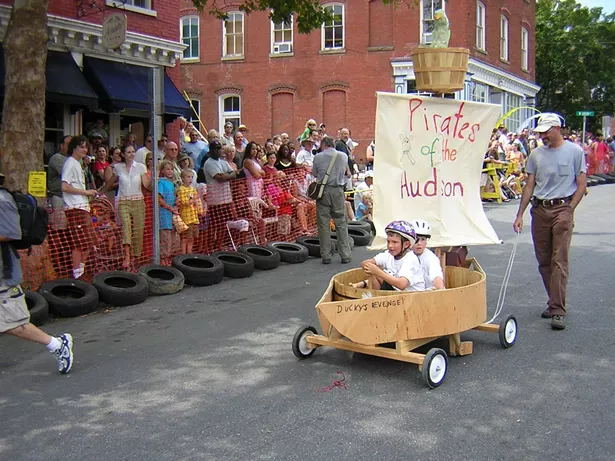 courtesy of the Kingston Artist Soapbox Derby
For twenty years, the Kingston Artist Soapbox Derby has been a staple of the Kingston arts scene. Every August, the parade of gravity-run, kinetic sculptures roll, scootch, and waddle down Broadway, from Spring Street towards the waterfront, one at a time, as spectators cheer, laugh, and, in recent years, vote online, from their perches behind a protective barrier of tires that line the curb. The homemade entries may fall apart or run askew during the "race" but, prized for ingenuity and creativity, whatever happens as the cars make their way down Broadway, it's all part of the fun. The contest culminates in a rally-style lineup and a wacky awards ceremony with one-of-kind artist-designed trophies. Now, with a fresh pair of organizers who affectionately call themselves the Derby Directors of Chaos, the family-friendly arts happening takes place this year on Sunday, August 20th, on the Rondout.
After the one-two-punch of urban renewal and IBM's departure left the once bustling community of the Rondout desolated, the arts community moved in to do what it does best: revitalize. Attracted by the remaining historic structures, with their Kingston-made brick, grand entryways, and life-size windows, a couple of forward-thinking artists, who had a particular eye for beauty and history, began to attract a current of other artists, museum-builders, small business developers, and restauranteurs. One night in 1995, over margaritas and blue corn tortillas, they devised a way to really jump-start the re-discovered waterfront neighborhood: with an arts festival designed to attract a fun-loving community to enjoy the Rondout's renewal.
Through 22 years of ups and downs, the Kingston Artist Soapbox Derby has recently come under new management, in consultation with the original organizers. Sarah Bissonnette-Adler and Sarah Olivieri (the latter is owner of the co-working and event space and cafe,
PivotGround
, on lower Broadway) are breathing new energy into the Derby with larger prizes and rebooted categories. There's a 13 and under Youth Category, a themed category, and the Rondout Reject, where entrants compete for last place. The grand prize People's Choice Award was recently increased to $1000. It all serves to achieve the Derby's mission of "giving money to artists for making art."
Beyond the day of the event, the Derby sponsors workshops for entrants who need some extra help, and encourages local community organizations to join in the fun and build a soapbox car as a team. Two nearby early childhood programs,
Hillside Nursery
and
Livingston Street Early Childhood Community
, have been joining little forces to build a Derby car every year since 2015. "As two early childhood programs located on the Rondout, it's vital to take part in the fabric of our community by engaging with the multitude of wonderful resources and people in our neighborhood," says the programs' owner and director, respectively, Cheryl Demuth. "The soapbox derby is a great way to do just that!"
courtesy of the Kingston Artist Soapbox Derby
Since last winter, Bissonnette-Adler and Olivieri have worked within the local community to foster relationships and excitement for the Derby with several fundraiser dinners that have been hosted at volunteers' homes. With very little overhead needed to facilitate the event, 95% of the money raised goes back into the community in the form of prize money. Co-Chair Bissonnette-Adler says it's more about creating community, supporting community, and making connections, admitting, "There wouldn't be a Derby without the community."
The Kingston Artist Soapbox Derby on lower Broadway between Spring Street and Gallo Park in Kingston: Sunday, August 20th, check in and assembly at 10a in front of the Arts Society of Kingston (ASK), cars roll at noon; entries are $45, or $35 for kids category, and free to watch! Local restaurants and shops will be open. For more info see the Derby website and check their Facebook page for updates.