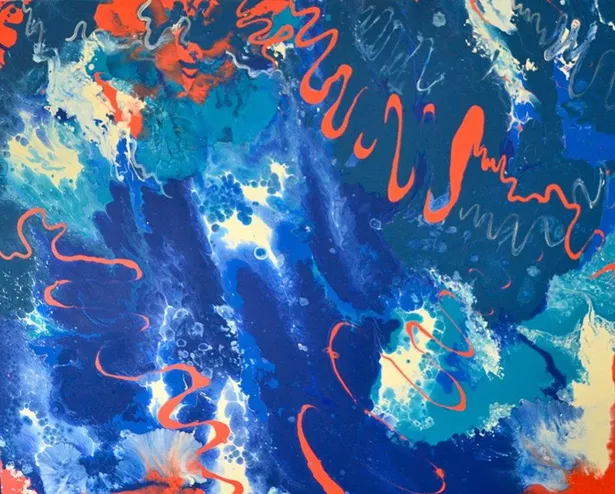 Tara Bach's "Coral Rivers"
Combining fluid abstractions by Tara Bach, colorful representative collage by Lois Cremmins, intricately designed insects by Cassiopeia Ottulich, three-dimensional clay forms by Kelli Sillik, and abstracted natural forms by Claudia Waruch and Patti Gibbons, the unifying theme in
Ulster Alums
, a new exhibition at Wired Gallery in High Falls, is the educational background of the exhibiting artists. All practicing artists who graduated from the Visual Arts program at SUNY Ulster in Stone Ridge, the exhibition showcases the stylistic diversity and variety of media at play in the school's art department. Ultimately, it's a conversation among peers on the nature of inspired collaboration.
Over twenty years old, the Visual Arts program at SUNY Ulster offers a variety of classes in which aspiring artists can develop technique, critical thinking, visual literacy, and a knowledge of art history and artistic traditions under the tutelage of
contemporary artists
. Chaired by practicing artist
Iain Machell
, the Art Department connects students with artists like Josephine Bloodgood, the painter and Director and Curator of the Permanent Collection at the Woodstock Artists Association and Museum, and Elizabeth Unterman, the photographer, curator, and former Education Coordinator at The Center for Photography at Woodstock (CPW).
For the curator of Ulster Alums, Cheyenne Rossler, an alumna herself, the Visual Arts program at SUNY Ulster was a launching pad. Working with the faculty on her own experimental abstract paintings (which are being exhibited), she was also a studio assistant at the school's Muroff-Kotler Visual Arts Gallery, and ultimately developed a concentration in gallery and museum work. Now, an aspiring curator pursuing a bachelor's degree in Art History at SUNY New Paltz, Rossler partnered with Wired Gallery on
Ulster Alums
to showcase the school's contributions to the local arts community.
Wired Gallery
is the project of curator Sevan Melikyan, a marketing professional and artist. Its program focuses on showcasing contemporary artists from the Mid-Hudson Valley with particular attention to Ulster County artists. The gallery achieves that mission by mounting exhibitions in its High Falls location, as well as at pop-up art spaces, fairs, festivals, and resorts. Melikyan's work in the local arts scene has been touted by Art Society of Kingston, Ulster County Executive Mike Hein, and Hudson Valley Magazine which awarded its Gunks Art Trail project "Best of" for New Arts Initiative.
Lois Cremmins's "98 and Humid"
Ulster Alums will be on display at Wired Gallery, 11 Mohonk Road in High Falls, from September 2nd-24th, with an artists' reception sponsored by Stone Ridge Wines and Spirits on Saturday, September 2nd, from 5-7p. For more information, visit the Facebook event page.