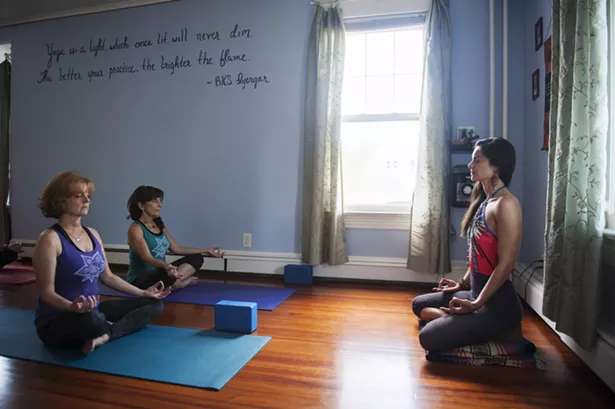 The Yoga House in Kingston is about to spread its wings. Quickly outgrowing its quaint space on Crown Street in Uptown Kingston (the classes were "bursting at the seams," say the founders, Leigha Butler and Jacqui Nash), the studio will be opening a second location this weekend at 474 Broadway in Midtown Kingston.
To celebrate the grand opening of the Broadway studio, The Yoga House will be offering free classes all day at both studios on Saturday, May 13. There will be a total of 16 free classes to choose from, many of them just 40 minutes long, offering a Whitman's sampler of yoga styles and tempos - from Ashtanga and AcroYoga to Slow Flow and Restorative.
The new, larger space on Broadway will hold most of the classes currently on the menu at The Yoga House (such as Flying Flow and Yoga Basics), while a selection of specialty classes will now occupy the Crown Street location (such as Prenatal Yoga and Yoga en Espanol). Students who purchase class cards will be able to use them at both studio locations.
Coinciding with its physical expansion, The Yoga House is also adding a few new classes to its schedule. Kundalini Yoga, Meditation, and Gong will be led by HariPrakaash; Baby & Me will be taught by Amy Reed; and Aroma RESTorative, featuring a combination of aromatherapy with gentle poses and relaxation, will be led by Mel Toth.
Visit the studio website for a schedule of free opening day classes on May 13. Or take a look at the new schedule for both studios beginning May 14.