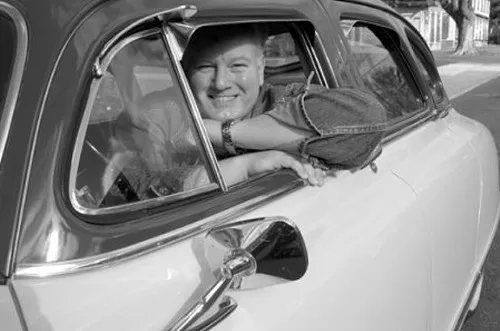 F-Stop Fitzgerald
Rich Conaty
After a year filled with what seemed like almost daily deaths in the music and entertainment fields, last Friday came the similarly sad news of one more loss for 2016. Rich Conaty, a Hudson resident and for 45 years the host of New York-area radio program "The Big Broadcast," passed away at the age of 63, a victim of cancer.
Rich's show, heard mainly on WFUV for most its four-plus decades, was a haven for the jazz and pop music of the 1920s and 1930s. I admit I'd had a passing awareness of this music before I heard "The Big Broadcast," but encountering the program literally changed my life. All it took for one to become a fan was to hear Rich's show but once, so contagious was his unstoppable enthusiasm for the music. Suddenly the door into a whole universe of fun, beautiful music, which I came to understand and appreciate as the rock 'n' roll of its day, was fully open. And, of course, the tunes themselves—the crème de la crème of the Great American Songbook—were great. It was fascinating to hear them interpreted variously via Rich's deep, formidable collection of 78s. When he borrowed one of mine to include on one of his Big Broadcast compilation CDs, I was beyond proud.
Here's a great short interview with Rich from 2014:
I consider myself lucky to have become friends with Rich, who came across on the air as one of the warmest, sweetest, most gregarious humans to ever live—and, as anyone else who ever met him will tell you, that's exactly how he was away from the microphone as well. Never once did I see him in anything less than a happy mood. Lamentably, even though I lived in Hudson myself for five years, during that time Rich and I didn't get to hang out as much as I would have liked. I'd occasionally see him behind the wheel of the stunning 1950 Nash Ambassador that was his pride and joy. But, as it happens when we let our existences consume us, life seemed to get in the way.
The last time I ran into Rich was just before I heard he was sick, when we were both on line at the post office and I was the midst of moving from one apartment to the next. I told him I was bummed I hadn't had him over to see the old place. He shrugged it off, smiled, and said, "Well, I hope you took pictures." I did, but he never got to see those either.
Rich, thank you for the pictures you left behind. The ones that have kept the great music of the past alive for so many years and will continue to do so by inspiring future generations to explore it. The song is ended, but the melody lingers on.
Here's a link to the profile of Rich Conaty I wrote for the December 2006 issue of Chronogram:
http://www.chronogram.com/hudsonvalley/tales-of-the-jazz-age/Content?oid=2193238