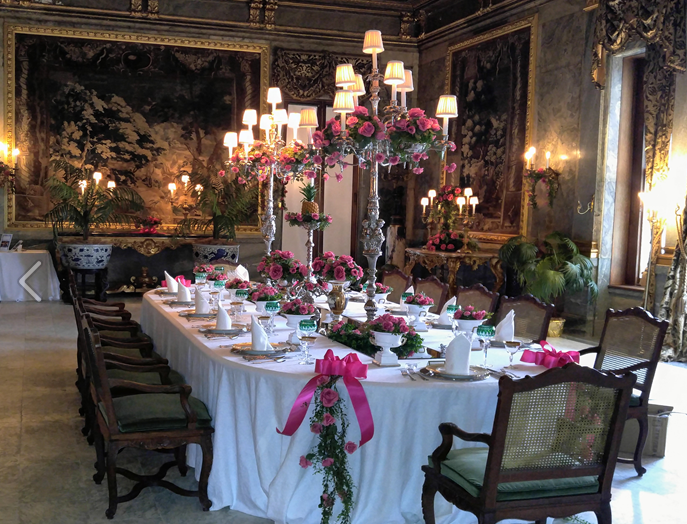 Ribbons, lights, and other festive arrangements deck the halls of the Beaux-Arts style mansion at Staatsburgh State Historic Site during the return of their annual holiday event, "A Gilded Age Christmas."
Owned by New York socialite and "Four Hundred" member Ruth Livingston Mills and her financier and philanthropist husband Ogden Mills, this Gilded Age glory is a testament to a lifestyle that centered around entertainment and opulence. A 1895 renovation by McKim, Mead, and White expanded the structure to its now monolithic 79-room size, a transformation that inspired their close friends and neighbors in Hyde Park to do the same—The Vanderbilts.
The site will hold special evening hours Friday, December 9 from 6 to 8pm, with live music, costumed tours by interpreters, and seasonal shopping in the museum gift shop. Walk through oak, marble, and silk-damask lined rooms and imagine yourself as a guest of the family, enjoying a piece of history with a holiday touch.
Staatsburgh will open for their holiday season Friday, November 25. Take a tour Thursdays through Sundays from noon to 4pm (last entry at 3:30pm) through December 31. The site will close Christmas Eve and Christmas day.
The site will reopen for extended after Christmas tour hours Monday through Saturday in the last week of December from noon to 4pm.
For the kids, the annual Holiday Whodunit program is back, a fun way to explore the site every Saturday (except for Christmas) beginning on November 27 from 1 to 4 pm. Imagine the mystery game Clue, but in a real life holiday setting.
Another fun and interactive program for kids is the mansion's mouse house craft workshop. This crafting activity allows participants to get creative. The completed projects will be on display, hidden throughout the mansion for the holiday season. Tuesday, December 27 through Friday, December 30 beginning at 10 am. Tickets are $8 per child, $15 per family (up to three children). Reservations are required, and children must be accompanied by an adult.
Site admission is $8 for adults, $6 for seniors, free for children 12 and under. For more information, visit their site or call (845) 889-8851. The mansion is located on Old Post Road in Staatsburg, off Route 9 between Rhinebeck and Hyde Park.