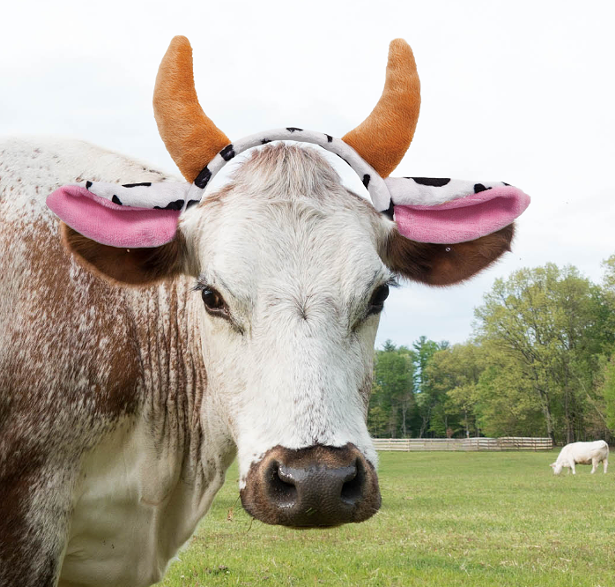 courtesy of the Woodstock Farm Sanctuary
Maybelle
What is it about Halloween that your kids love so much? If your answer is costumes, candy, and playing outside, more than all the scary stuff, then you're in for a real Halloween treat. On Sunday, October 30th, the Woodstock Farm Sanctuary is marking the last day of their season with a not-so-spooky fall festival at their new location in High Falls.
The Woodstock Farm Sanctuary provides shelter to cows, pigs, chickens, turkeys, ducks, sheep, goats, and rabbits who have been rescued from cases of abuse, neglect, and abandonment. Started in 2004 with an abandoned rooster and a flock of chickens rescued from a factory farm, the sanctuary opened in the empty, unfenced hay field of Jenny Brown and Doug Abel in Woodstock. It grew quickly and is now situated in High Falls, where they host visitors on the weekends, volunteers to help care for the animals, and regional school group field trips. Tours educate people about farmed animals, with separate tours tailored to children available. "We try to make it a great learning experience for kids," says Ashley Nester, the Marketing and Communications Manager for the Sanctuary. "Kids at a young age often do have that love for animals, so we encourage people to come here and hear about where food comes from."
At HalloWoodstock, there won't be any formal tours, but families can do a self-guided tour around the Sanctuary. There will be staff on hand at the barns, so people can ask questions, hear stories about the animals, and learn more about veganism. Or take the sanctuary on your own terms and just enjoy the animals, go on a hayride, paint pumpkins, and snack on desserts, candies, hot chocolate, and other eats from vegan food vendors. Wear a costume for trick-or-treating in the animal barns! (Boots might also be a good idea.)
HalloWoodstock
at the Woodstock Farm Sanctuary, 2 Rescue Road in High Falls: Sunday, October 30th, 2016, rain or shine; 11a-4p; $10 adults/$5 kids in advance or $15 adults/$10 kids day of. Wear a costume at the event for $5 off day-of admission. Event proceeds directly benefit the Sanctuary's rescue, shelter, and outreach work for farmed animals. For more information and to purchase tickets, visit
their website
or call (845) 247-5700.