On Saturday, July 23 four artists' work will be exhibited throughout the John Davis Gallery. The show, which features an eclectic combination of sculpture, paintings and photography, will be on display through August 14. Each artist has a unique style that translates into their work, regardless of the different mediums.
Yi Zhang
Yi Zhang's sculptures will be on display in the Main Galleries.
Yi Zhang, a sculptor draws inspiration from unique materials and collage construction as well physical sensations, like the movement of the body. "Different substances, connected together, communicate and share their innate life producing new emotions and revealing their potential inner natures. The actions performed, the process, emanate from my emotion and reaction to the possible combination of forms," Zhang says.
Willard Boepple
Willard Boepple's sculptures will be exhibited in the Sculpture Garden and the ground floor of the Carriage House.
The other sculptor, Willard Boepple, specializes in creating abstract pieces that are "driven purely by the visual experience." Boepple wants his work "to speak directly without narrative or message other than that which is created by the sculpture's own form and presence," as he says.
John Dugdale
Dugdale's blue photographs will be exhibited on the second and fourth floor of the Carriage House.
John Dugdale's medium differs from Zhang and Boepple: photography. After losing his sight, Dugdale turned to languages and techniques from the mid-19th century to express himself. His pieces are created using a process invented in 1842, cyanotype, which gives them the ethereal blue color.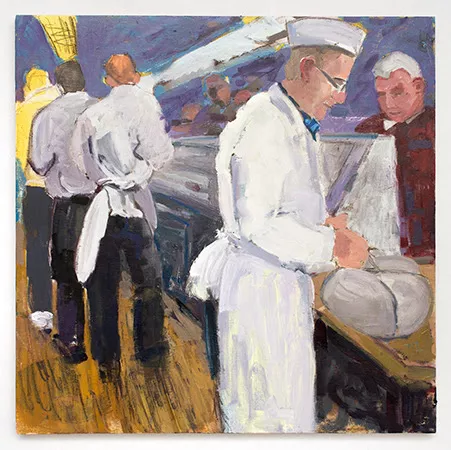 Mark Tambella
Tambella's paintings will be shown on the third floor of the Carriage House.
Similarly, painter Mark Tambella combines stolen, imagined, remembered imagery with expressionistic, still life and portrait techniques to produce colorful paintings. His paintings transport the viewer to scenes of the past— pizza parlors, casinos, etc.—and invite the viewer to go beyond the images.
The opening for the artists will be on Saturday, July 23 from 6pm to 8pm. For additional information about the exhibition and the artists please visit Johndavisgallery.com.