Hudson Valley Comedy Festival poster
Get ready for three days of laughs—Hudson Valley Comedy Festival kicks off June 30. The festival features comedians and filmmakers from throughout the US. More than 50 comedians are participating including: Hari Kondabolu ("Totally Biased with W. Kamau Bell," "Conan," Comedy Central), David Gborie ("Flophouse" on Viceland), and Ken Reid ("TV Guidance Counselor," "Nerdist," "Risk!," "The Moth"). The three-day festival presents 60 films with filmmaker Q&A's and 30 stand-up comedy showcases. The events are being held at The Center for Performing Arts in Rhinebeck, BSP and Seven 21 Media Center in Kingston, and Oddfellows Temple in Saugerties, among other venues.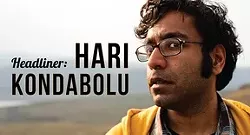 Hari Kondabolu, Hudson Valley Comedy Festival headliner.
The Hudson Valley Comedy Festival helps expand the growing arts community in the area and revitalize the comedy scene.
The festival takes place from June 30 to July 3. The feature films, short blocks and comedic showcases are all included in the $59 admission fee. For more information and to order tickets visit their website. Hudsonvalleycomedy.com