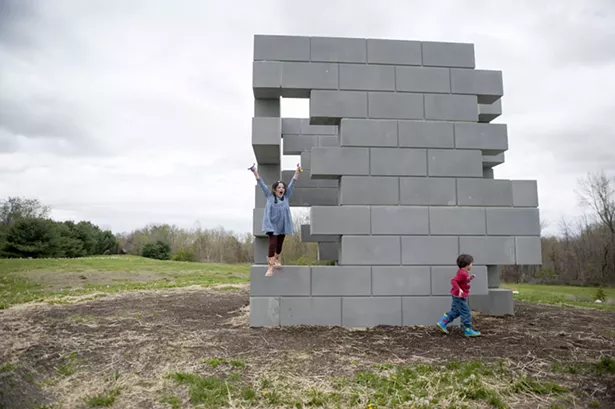 Hillary Harvey
Kids play on Iran do Espírito Santo's cast concrete Playground, an interactive monumental sculpture created in 2013
Walking through the woods, the children stop beside a pond to notice the shapes in the water. They had worked on a free-form, collaborative drawing before their walk, so they were attuned to seeing with an artist's eye. It wasn't a hard point of view to maintain since they kept meeting large-scale sculptures in the bucolic landscape at The Fields Sculpture Park. These were sculptures they were invited to touch and, in some cases, even climb. Next, they would go inside for a hands-on project that uses the artwork on display as a point of departure, and share it with the group. This is the Saturday Workshop for kids ages 4 ½ through 12 at Omi International Arts Center in Ghent, which focuses on contemporary art practices and takes place every week at the sculpture park.
Omi has an appealing sense of discovery about it that feels unique. Finding it is itself an experience, as you travel country roads past apple orchards and picturesque landscapes. Even the expansive 300 acres campus of rolling farmland offer intimate moments. With a rotation of artwork that changes each season, the sculpture park is a relaxing space to explore. Parents sit in the café with laptops, enjoying the delicious offerings and free wi-fi, or wander the grounds themselves waving to the kids across the pond. A drop-off program, the Saturday Workshops allow each member of the family to enjoy the park while the kids have their own experience. Says Education Director Sasha Sicurella, "You can walk your dog in the park or cross country ski in the winter [Omi is open with free entry year-round], and it's that intersection of uses where accessibility to the arts happens."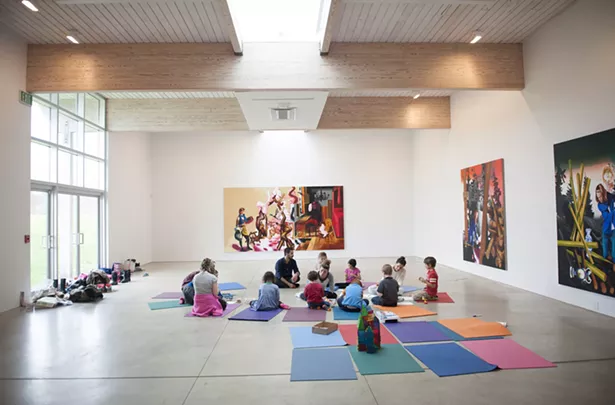 Hillary Harvey
Children in the Saturday Workshop explore art-making in the Newmark Gallery at the Charles B. Benenson Visitors Center, surrounded by the work of Susanne Kühn
It all fits with Omi's mission to foster an environment of creative exploration and exchange, professional opportunity and exposure, and a stylistically and culturally diverse community for creative artists from around the world. They do that through artist residencies (with guest houses on the grounds), and events which showcase works in progress or improvisations. And in May teens entered that experience first-hand with Omi's new teen public sculpture program, also on Saturdays, for ages 12+. The teens are working on the first student sculpture that will be displayed at the education pavilion, and Memorial Day weekend is the last weekend visitors can watch it evolve before it is revealed. "We want to pull back the curtain on the artist's process," Sicurella says.
Omi International Arts Center Saturday Children's Workshops at The Field Sculpture Park, 1405 County Route 22 in Ghent: Saturdays through June 4th; 10a-12p; $12 or two children for $20; ages 4 1/2–12. New this year to the Saturday workshops is a summer session from July 2-August 6, with the year-round session resuming September 10th. Meet at the Charles B. Benenson Visitors Center. No pre-registration required. Dress for time spent outdoors. Please note that children are expected to attend the full workshop independently. Check out their website for more details.
Café Omi is located in the Visitors Center, and offers a weekly rotating menu with ingredients sourced locally in Columbia County. There's a well-priced kids menu and giant cookies!
Don't miss the weekly events, artist talks, parties, salons, and open studios happening at Omi. Ask about Omi's teen workshops, school programs, summer camp, and Wednesday morning toddler playgroup.