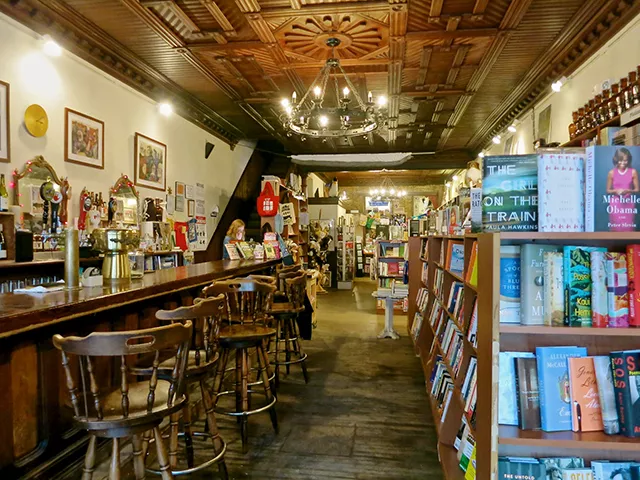 The Spotty Dog Books & Ale in Hudson
Between 2000 and 2007, 1,000 independent bookstores closed in the US. Big-box bookstores like Barnes & Noble and Borders forced smaller, independent booksellers out of business. Chain bookstores were pressured by the demands of the market, pushing them to grow and expand. In 2001, Borders sold its online distribution to Amazon. Barnes & Noble created the Nook to compete with Amazon's Kindle. The results: a competition based on profit and market demand rather than on reading and literary appreciation. And now the big-box bookstores themselves are facing trouble in the wake of Amazon's dominance online. (And, in a bit of a twist, Amazon has opened a brick-and-mortar store.)
Since independent bookstores can't compete with expensive technology created by larger chains, bookstore owners have chosen to get creative, mixing beer with books, or using their bookstores as event spaces for music and/or parties.
Independent Bookstore Day is a nationwide celebration of all things literary. With independent bookstores, readers can find kindred spirits walking among the aisles, as well as within the pages. The experience of being in an independent bookstore is a process of discovery and excitement—time mysteriously slows down and seems to disappear while roaming amid a myriad of books.
On April 30, participating independent bookstores will have exclusive offers, merchandise, and discounts available. Here is a list of Hudson Valley area bookstores that are participating:
The Spotty Dog Books & Ale
The Golden Notebook
Oblong Books & Music (in Rhinebeck & Millerton)
Merritt Bookstore
For more information,
visit here
.