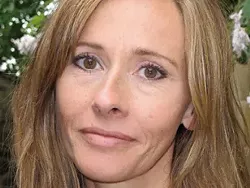 Andrea Wulf, author of
The Invention of Nature: Alexander von Humboldt's New World,
spoke at Hudson Senior High School, in Hudson, on Saturday, April 9.
Who is Alexander von Humboldt? The most famous Victorian you've never heard of. His work directly inspired Darwin – and also Simon Bolivar, the South American revolutionary! Walt Whitman composed
Leaves of Grass
under Humboldt's influence, and after reading this German naturalist, Henry David Thoreau tore up
Walden
and rewrote it. Humboldt directly influenced John Muir, and the first environmentalists. Our local artist Frederic Church replicated Humboldt's eccentric voyages through Ecuador, Colombia and Mexico, then fulfilled Humboldt's dream of a scientifically-accurate yet incantatory landscape painting in his epic canvas "The Heart of the Andes."
Humboldt (1769-1859) was a Prussian aristocrat who traveled extensively through Latin America and Russia, collecting specimens, drawing maps, making botanical sketches, and keeping extensive journals on the interconnectedness of all life forms. Humboldt prophesied the dangers of global warming in the 1850s. In contemporary terms, he'd be a combination of Neil Armstrong, Carl Sagan, Mr. Wizard, Al Gore, Naomi Klein and the Dalai Lama.
Why was Humboldt forgotten? In part because he made no one particular discovery to which his name could be attached. Also, World War I inspired American educators to erase all evidence of German achievement.
Andrea Wulf is like a 19th century character herself, traveling from city to city delivering inspiring lectures.
The Invention of Nature
is a passionate work of intellectual advocacy.
Wulf's enthusiasm for Von Humboldt is contagious. I want to
be
the new Von Humboldt, unifying aesthetics, adventure & Science, inspiring all of humanity to band together and save the earth, out of fervent love for our gently breathing galaxy. (Oh yes, the event was sponsored by Olana, which will launch an exhibition entitled
Capturing the Cosmos,
about Humboldt's influence on Church, on May 15. For more information: http://www.olana.org/hours-and-admission/)