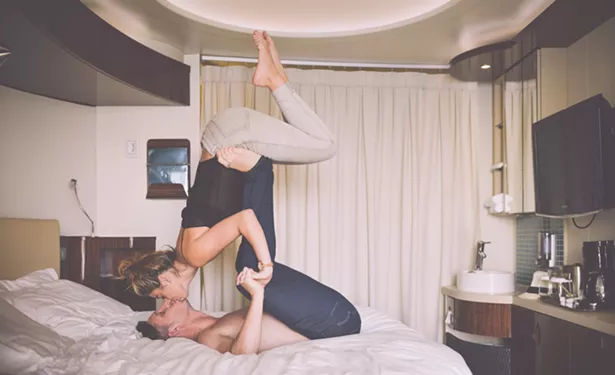 Photo provided by Connectfulness
Rebecca Wong is pragmatic. "If people are not feeling emotionally safe, it's going to be really hard for them to be more playful in the bedroom," says the New Paltz-based relationship therapist and developer of
Connectfulness
, an online resource that helps couples re-spark their relationships and forge lasting connections through meaning, mindfulness, and play. She encourages non-sex-sex: caressing, card games, dancing. "It could be anything where you have that same kind of sensual intimacy without it being about the sex," she says. "And the more we practice those things, the hotter things get everywhere else in our lives."
You know that feeling you get when you dance close with your partner? When you want to touch them or kiss them, but you can't because you're out in public? On Valentine's Day, couples can play with those feelings, with help from Wong and Richard Ferrono. Bridging Ferrono's experience in athletic training with Wong's expertise in untangling the complicated issues that couples face, they're offering a half-day mini-retreat that promises to be a blast. Using improv, lifts, contact, and fun, couples will physically play with the bigger themes, like trust, attunement, and ritual, at work in their partnerships. Dabble in parkour and circus arts, and use rules, invitations, and responses to retain your own rich, private insight on a deeper, cellular level.
Valentine's Day is maybe the one day when we allow ourselves to think just of our romantic relationship. Parents often feel that they need to put their relationship needs on the back burner in order to be there for the kids. But Wong likes to turn that upside down. "You need to be focused on yourself and your relationship before you focus on your kids," she says. "If you refocus on making your life and your relationship feel really secure, your kids are going to thrive in that security. That's what they need more than anything: they need to feel secure."
As Wong puts it, relationships take a lot of work, but they also require a lot of play. And trying something new together is just about as playful as you can get. The mini-retreat promises to leave you feeling invigorated, connected, and tingling with an experimental mood. Take Wong's advice and book a babysitter for the day.
FOR PLAY: a half-day mini couples retreat, Sunday, February 14th, 12-3p, at Yoga Iris, 238-1 Towpath Road in Accord, $200 per couple. Use the coupon code "CHRONOGRAM" to receive a special discount! Class is LGBTQ-couple-friendly. All levels of fitness welcome.