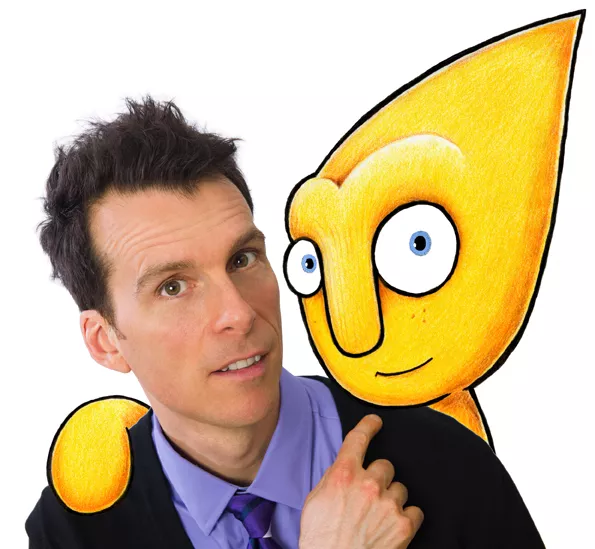 It's in Morgan Taylor's nature to write catchy pop songs. Blend that with a passion for art and humor, and Kingston-based Taylor happened upon a lucky formula. In his multi-media creation, Gustafer Yellowgold (a guy from the sun who landed in the Minnesota woods) lives out totally relatable adventures to family-friendly tunes. "I didn't know it was going to be for children," he says. "But that's why people reacted to it so strongly when we put out the first album." So Taylor stays the course while also experimenting and pushing boundaries. Recently, that landed the new album,
Dark Pie Concerns
, with a Grammy nomination for Best Children's Album.
When a reviewer, in an otherwise positive review, remarked that there was a lot of food wasted by Gustafer, Taylor was struck by that idea. "I thought that was funny because they're colored pencil drawings of food," Taylor laughs. "But that stuck with me. How far can I take the whole food thing?" A couple years ago, he teamed up with
local producer, Dean Jones
, to do
Rock Mellon
, a Gustafer single about a mischievous pet who lobs melon balls. Then followed
Cakenstein
(where Gustafer bakes a robot cake who turns out to have a surprising personality) and the beginnings of a new album. All ten songs on
Dark Pie Concerns
are about food, and the various ways we don't eat it.
Produced in Rosendale,
Dark Pie Concerns
is the first album where Taylor worked with an outside producer. "Working at home is almost like a vacuum. Having someone to apply their taste and vibe to it, we got great results." Jones knew that Taylor's approach isn't through the child filter. He's working to create something that he can play to his heroes. Honored by the Grammy stamp of approval, Taylor says, "This is a game changer for an independent artist." He's especially jazzed by the idea that it might broaden his appeal. "I think there are a lot of Gustafer fans out there who don't know they're fans yet."
To Taylor, Gustafer is more than a character. "He represents all aspects of my creative life and sound." Taylor likes to think that Gustafer was nominated for the Grammy. "It takes the pressure off. Gustafer just has to be Gustafer; I just have to steer."
Gustafer Yellowgold's Dark Pie Concerns with ten hand-drawn, animated music videos, $20 at Gustafer's website.
Don't miss them at the Fourth Annual Winter Hoot, January 29th-31st, 2016.