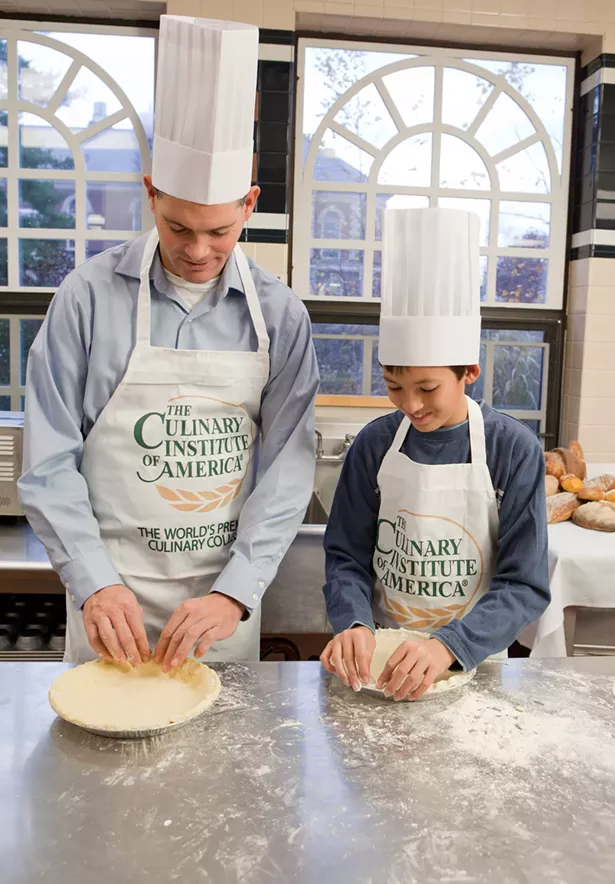 Keith Ferris courtesy of the CIA
We all know that teens can really pack it in. Our grocery bills skyrocket when those little buggers hit puberty. But can they dish it out, too? You could help turn their love of eating into a love of the culinary arts. On November 7th, the Culinary Institute of America (CIA) in Hyde Park, that foodie haven which trains some of the best chefs and bakers in the country, not to mention many of the restaurateurs in the Hudson Valley, is throwing open its doors to parents and teens who want to take their kitchen skills up a notch.
From basic cooking methods, ingredient selection, and plating techniques while exploring some of the CIA's favorite recipes
(CIA Favorites)
to creating professional-quality desserts under the tutelage of accomplished pastry-chef instructors
(Baking at Home – the Desserts)
, the courses offer helpful hints for making beautiful food at home. Explore global flavors and fresh, whole foods
(Healthy Cooking at Home)
, or how to make gorgeous birthday cakes
(Cake Decorating)
. Taste the diversity and rich flavor profiles of Italian and Mediterranean cooking
(Italian Cooking at Home
and
Mediterranean Cooking)
, and bring home fool-proof, go-to recipes
(Gourmet Meals in Minutes
and
Creative Cupcakes)
.
As many cultures hold true, when you share food, you share love. By collaborating on delicious dishes and then eating them,
Parent and Teen Day at the CIA
offers some fun bonding time for parents and their teens.
Parent and Teen Day at the CIA, Culinary Institute of America, 1946 Campus Drive in Hyde Park: November 7th; all classes run 9:30a-2:30p; $500 per parent-teen pair; register online. Wear long pants, long sleeves, and closed toe shoes. Parents are responsible for teen supervision. Enjoy lunch, receive a CIA logo apron, and take home the CIA Masters Collection kitchen utensil.