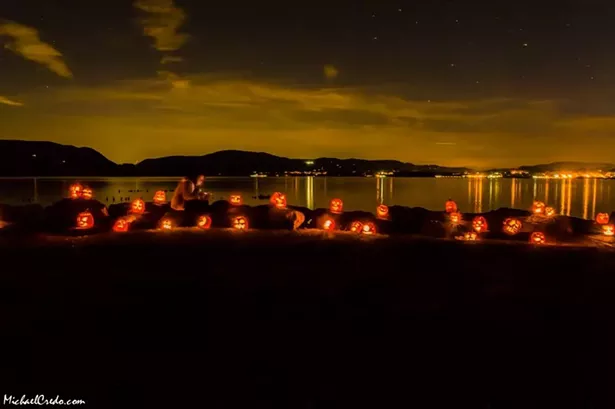 When it comes to family-friendly Halloween happenings, all Hudson Valley parents really need do in order to hit one is leave the house. From
Boo at the Zoo
in Kingston on Friday, October 30th, to
St. James' Historic Graveyard Tours
in Hyde Park every weekend through Saturday, October 24th, there are parties like the
Dia de los Muertos Celebration
in Tivoli on Saturday, October 24th, haunted historic houses like on
Hugenot Street
in New Paltz every weekend through Halloween, and organized trick-or-treating parades (most often on October 24th, 25th, or 31st) in pretty much every Hudson Valley town around. But when it comes to pumpkins, Beacon has it made. They're handing out free ones at Long Dock Park. Bring your young carvers to the River Center, and help them create a masterpiece to be displayed on Halloween Eve.
Long Dock Park is a waterfront park with views of Newburgh across the Hudson River. It was remediated and reopened in 2009 by Scenic Hudson, the organization that works to protect and restore the Hudson River and its landscape, touting it as an irreplaceable national treasure and a vital resource for residents and visitors. With more than 65 parks, preserves, and historic sites touched by their care, Scenic Hudson has been a crusader for the Hudson Valley since 1963. And their "Pumpkins in the Park" Jack-o'-Lantern Lighting Event on Friday, October 30th, is just a little ploy to provide a fun Halloween event in a beautiful spot and encourage people to enjoy the park. "The jack-o'-lanterns look awesome in front of the lights of Newburgh," says Scenic Hudson Parks Event and Volunteer Coordinator, Anthony Coneski. "We keep the park dark, so everything glows." After the event, kids can come back to pick up their pumpkins and bring them home.
"Pumpkins in the Park" Jack-o'-Lantern Lighting Event, Friday, October 30th, 2015, 6-8p, at Scenic Hudson's Long Dock Park at 8 Long Dock Road in Beacon.
Pumpkin carving at the River Center is Tuesday, October 27th-Friday, October 30th, 3-6p, and open to all ages with parent chaperone. This event is free and open to the public! Contact Scenic Hudson Parks Event and Volunteer Coordinator Anthony Coneski with any questions: aconeski@scenichudson.org, 845-473-4440, ext. 273.
While you're heading to Beacon, catch the Hocus Pocus Kids' Parade on Saturday, October 25th. The parade kicks off at 1p, but there are events scheduled all morning, so you can make a day of it.
This post has been updated to correct the date for Boo at the Zoo at Forsyth Nature Center. It's on Friday, October 30th.