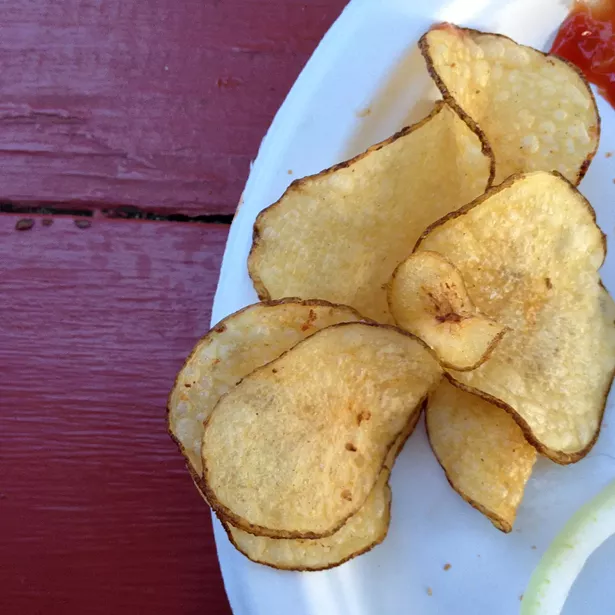 Hillary Harvey
Homemade skin-on chips at The Matchbox Cafe
Quick! Name your favorite restaurant where you can get yummy, locally sourced food. In the Hudson Valley that list will go on and on. But at how many of those tables do you want to be sitting, course after course, with the kids? Depending on your kids' ages, you were probably hoping for a date night. Not surprisingly, there are quite a few local gems which feature delicious, clean food at a good price in a summery space that's truly kid-friendly.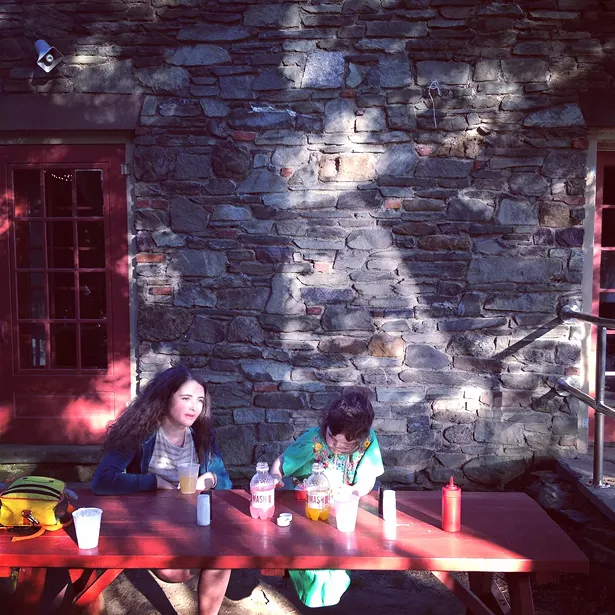 Hillary Harvey
Outdoor seating at The Matchbox Cafe
The Roadside Attraction: The Matchbox Café, 6242 Route 9 in Rhinebeck, (845) 876-3911, open everyday except Tuesday, 9:30a-8p. Come for gourmet-tasting picnic food, stay for the sense of fun.
Just outside Rhinebeck on Route 9 is a burger joint that's especially suited for food-loving families. The aptly named Matchbox Café (it has a small dining room) features an outdoor picnic area set near enough the road (and the neighboring auto repair shop) to interest kids who love vehicles, but secluded enough to enjoy a picturesque meal where you don't have to apologize for the kids' restlessness. The menu is simple, which is ideal for kids, and specializes in well-crafted comfort foods, freshly made, with delicious tweaks. The burgers are prepared from local, grass-fed, grain-finished beef and come with a side of hand cut, double-cooked, Belgian-style fries for $8.50. Sandwiches and hotdogs come with a side of homemade skin-on chips. It's all served on a paper plate for that picnic feel. Known for their sweets, The Matchbox Café won the "Best Dessert" award at Taste of Rhinebeck two times, and that makes sense since the baked goods hail from the owners' Dessert Delivery in NYC. When their tasty cookies team up with local favorite, Jane's Ice Cream, it makes for a crazy good sandwich that'll spin your kids' heads for $5.25. And maybe family-friendliest of all, you can call in your order ahead of time, if your kids really just can't wait. The picnic area "closes only in your imagination," says co-owner, Joann Cohen. "If you want to sit outside in winter, you can be our guest."
Hillary Harvey
The Rail Trail Cafe
Adventure Eating: the Rail Trail Café in Rosendale, 310 River Road Extension New Paltz (look for Parking Lot A), (845) 399-5450, open Friday 5-8p, Saturday and Sunday 9a-8p (and later on event nights), except in inclement weather. Getting real with farm-to-table eating.
Just getting to the Rail Trail Café seems rather literal. Head outside the town of Rosendale, into a suburban-looking neighborhood, down a dusty farm road, and into the woods where you park in a clearing, then take a short walk up a path to the Food Cart. It's like traveling the farm-to-table route backwards, and landing a table, trailside at the farm. Some of the outdoor café seating is even made from tree stumps. But there's an outdoor oven making delicious wood-fired, individual-sized pizzas with crushed tomatoes and caramelized onion ($8) or with farm greens ($10). The Kids' Simple ($7) is the same size as the regular, so perfect to share. There's live music most weekends, and the rail trail running beside the café spot is perfect for fidgety little legs. One mom and son couple had come for dinner from New Jersey for the second time in two weeks. "There's just nothing else like this," the mom said. As the kids explored, and the acoustic musician played to rapt diners, co-creator Tara Johannessen looked around and sighed "This is exactly what I was hoping it would be."
There's more! Grazin' in Hudson, with a classic diner setting, is the first Animal Welfare Approved restaurant in the world with meats sourced from the owners' own synergistic farm in Ghent. Save room for fresh baked concoctions like salted caramel donuts for dessert. And give Breakfast on the Farm a try at Rogowski Farm in Warwick, where you sit down to a hearty farm breakfast, just like you're one of the family.