Dave Kraus, KrausGrafix.com
Racers in the GNH Lumber Kids' Race
When you look at a worldwide audience, soccer is the biggest sport. And, perhaps, little did you know, mountain bike racing is second. Living in the Catskills, we might take our amazing mountain bicycling opportunities for granted. But there's fat chance of that during the first week in August when Windham Mountain hosts the UCI (Union Cycliste Internationale) Mountain Bike World Cup. There are lots of reasons to attend with your family: to cheer American athletes up close, to try your hand at the sport, and to celebrate the Hudson Valley at Windham Mountain, which remains the only U.S. stop on the UCI Mountain Bike World Cup circuit. But there's even more to it than that.
Within the sport of mountain biking, there are variations and different race styles, and it all comes down to two divisions: cross-country (XCO) and downhill (DHI). In the endurance test that is cross-country, racers start at the bottom of the mountain and work their way up, then back down again in long stretches and big climbs. There are opportunities to pass each other, but racers have to be strategic. Based on their gender and age, there's a certain number of laps to complete. In downhill, racers are lifted to the top of mountain, and then race down, over obstacles, at 45-50 MPH. Taking place outside on a gorgeous Hudson Valley mountain, among thousands of international mountain bicycle enthusiasts, it's an amazing and sometimes death-defying spectacle for families to enjoy, and might just inspire your little cyclist in wonderful ways.
Around the professional races, a festival has built up, which at Windham Mountain lasts four days. Starting Thursday night, August 6th, with a big block party, it includes all kinds of entertainment: stunt bikes, magic shows, fire stunts, mechanical bulls, music, food trucks, and fireworks. There's an expo where riders can get expert advice on safety gear and equipment. With the opening of the Windham Bike Park on July 10th, offering trails for experienced riders, lessons, a skills park, and staff to help riders of all stages build confidence, there are now more opportunities to get your feet wet with mountain biking.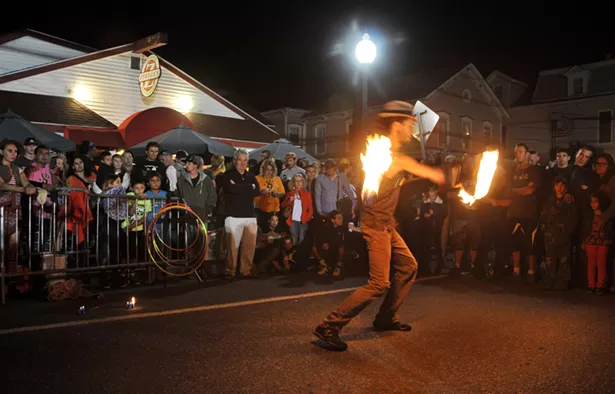 Dave Kraus, KrausGrafix.com
Crowds at the Windham World Cup Block Party enjoy the fire stunt performer, Lyca on Fire
It's as easy as riding a bike, but the World Cup takes mountain bicycling to the next level of athleticism. Interspersed throughout the UCI races, there are kids' races for children twelve and under, who compete in heats based on age and skill. Many of the kids are really serious about their cycling, which is a fun thing to see. They do the course, get prizes, and spectators can check out the next generation of mountain bikers.
It's all thanks to a plucky group from the mountain bike community who pulled together volunteers, donations, local hoteliers, and food providers, and put together a bid to host the World Cup back in 2010. They not only won, but won the especial honor of hosting the final race that year. Throughout the season, racers accrue points based on their performance. So the final race is the best of the best. This year, Windham's fifth time hosting, it's the penultimate race, the 8th of nine, before the World Cup travels on to finals in Italy.
The UCI Mountain Bike World Cup at Windham Mountain at 19 Resort Drive in Windham: August 6-9th; $10 day pass, $15 day pass plus Sky Ride, weekend and VIP packages available, children 12 and under are free.
Register for races online at
Bike Reg
. Check out
the website
for a full schedule of races and activities. Don't miss the Night Ride on Saturday - a group ride where you get to experience the mountain and the fireworks in a different way.
Catch the UCI Mountain Bike World Cup this year because it won't be back in 2016.