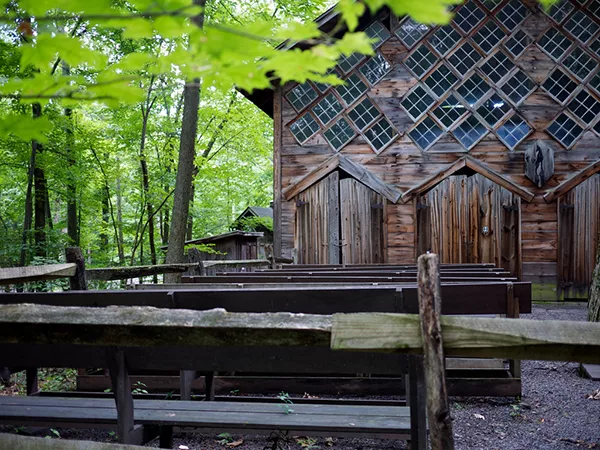 Woodstock is synonymous with music, and was even before the beatniks thronged to the area in 1969.
Artistic spirit has thrived in the Hudson Valley for hundreds of years; Hudson River School painters captured and preserved regional landscapes in the mid-19 century, Washington Irving diffused local legend through writing in 1819, and numerous farmsteads have been converted to performance spaces throughout the years. Now the upcoming centennial celebration, "Music in the Woods: One Hundred Years of Maverick Concerts," further cements Woodstock's place in music history. Founded in 1916 by visionary rebel Hervey White, Maverick Concerts is the oldest ongoing summer chamber music festival in the US, nestled in vibrant, winking pine woods.
"Music in the Woods" features paintings, sculptures, photographs, drawings, prints, and memorabilia evocative of Woodstock's early history as a place for free spirits to thrive.
The exhibition features: a recently commissioned bronze maquette of White by Wan Jida; sculptures by John Flannagan; painted and photographic portraits of White by Bolton Brown, Harry Gottlieb, Konrad Cramer, Peggy Bacon, and others; portraits of musicians by Robert Chanler, Antonio Borone, and George Bellows; sketches of musicians performing by John Fenton, Andrée Ruellan, Julia Santos Solomon, and others; drawings and prints by Woodstock artists; and vintage photographic portraits of musicians, some as early as 1919 who played at Maverick Concerts.
Curated by Susana Torruella Leval of Woodstock, "Music in the Woods" gleaned its pieces from private and public collections—Maverick Concerts, Woodstock Artist Association & Museum (WAAM), Alf Evers Archive of the Woodstock Byrdcliffe Guild, Woodstock Public Library, and Historical Society of Woodstock.
This joint opening exhibition with Byrdcliffe Kleinert/James Center for the Arts and WAAM, on July 25 from 5 to 7 pm at 28 and 36 Tinker Street and in Woodstock, also features a talk considering the notion of the "Maverick Spirit" at WAAM on Sunday, July 26 at 2pm.