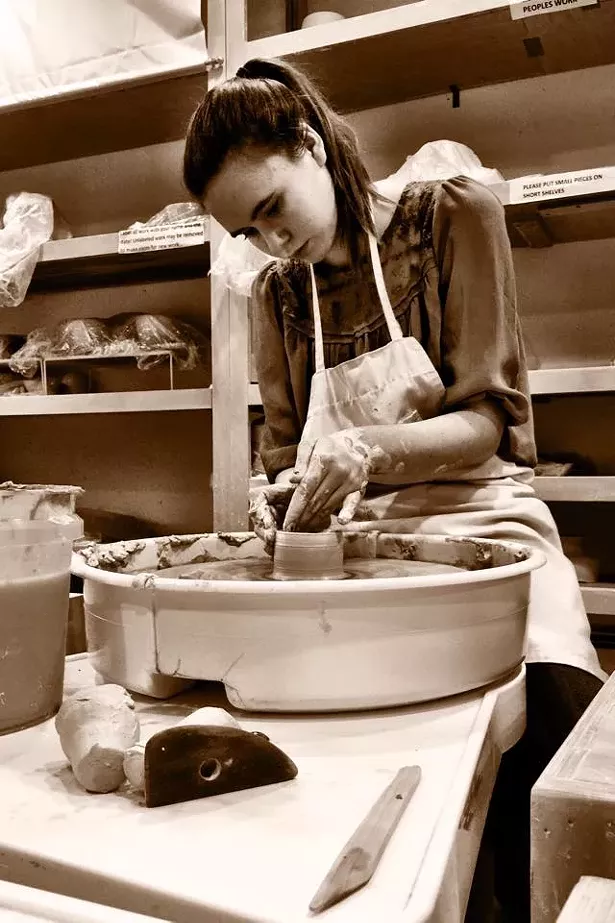 Judi Esmond
A student at the wheel at Hudson Valley Pottery.
Your mom still has that ceramic ashtray you pinched into being during ceramics class as a kid, doesn't she? Even though she didn't smoke, right? I bet you still remember carving your initials in its bottom with a toothpick before it was fired. And how it sat on the coffee table or mantle, empty, for years, and you would protect it with your life when your sibling started throwing stuff. Because you loved that you made that warped little thing and could give it to your mom. Well, now, with multiple wheels for throwing, racks of sophisticated glaze colors, and professional artist teachers, kids' ceramics classes have come a long way, baby.
Hudson Valley Pottery in Rhinebeck is a place to experiment, make wobbly efforts and mistakes, and ultimately learn the craft of manipulating clay. Owner, Judi Esmond, says, "It's a safe playground here." The
Kids & Teen
and
Kids & Family
classes that happen weekly on Fridays and Saturdays are project-based instruction with a focus on developing basic skills and learning about surface and form. But because they're small groups, instruction is geared towards individual goals and levels as teachers respond to each student's pace and interests. In the
Family
class, caregivers are welcome to stay to support the child or make things alongside him for some bonding time. Or get your own groove with
Adult Classes
, private lessons, and special events. There's even a
Sip and Spin Event
where adults can enjoy 2.5 hours of tactile fun in a party-BYOB atmosphere on Friday or Saturday nights.
This summer, Hudson Valley Pottery is offering a
Summer Clay Camp
for kids aged 6-16, where Esmond, a NYS certified art teacher, works with no more than 8 kids in a relaxed setting to develop basic ceramic skills. With a half-day of art-making and a snack break, campers can delve into wheel throwing and hand-building a body of work in a social, collaborative environment. It's a unique camp experience for creatively focused kids.
Hudson Valley Pottery, 18 Garden Street, Rhinebeck:
Teens/Kids/Family Classes
, 6 weeks for $210 (firing fees included) or $40 per drop-in class;
Summer Clay Camp
, Monday-Friday, 9a-1p, ages 6-16, $325/week, includes whole-food snack and bottled water (also offering sibling discounts). Check them out
online
.
Want more? Check out Sally Rothchild's studio in Bearsville, ArtCentro in Poughkeepsie, and Pottery-on-Hudson in Dobbs Ferry.