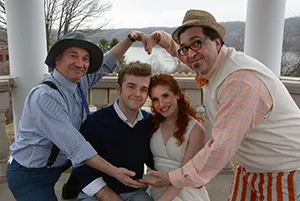 The world's longest-running musical comes to Hyde Park for the opening of the Half Moon Theatre's spring season.
"The Fantasticks" tells the story of two teenaged neighbors divided by a wall, and the manipulation conducted by their fathers to make them fall in love. A fake feud, a staged kidnapping, and a drop of resentment combine in a recipe for an unforgettable performance.
Director Michael Schiralli has loved "The Fantasticks" since first seeing it in the early 80`s in Greenwich Village. "Its deceptively simple plot of first love and self-discovery is as poignant today as when it opened in 1960," he says.
The cast includes Michael Padgett (El Gallo), Emily Wexler (Luisa), Andrew Joseph Martin (Matt), Paul Kassel* (Hucklebee), David Simpatico* (Bellomy), Roger Hendricks Simon* (Henry, the old actor), Wayne Pyle* (Mortimer), and Deborah Coconis* (The Mute).
In conjunction with the performances, the CIA will be opening the Caterina de' Medici on Saturday nights. A new spring menu for "family-style" dining will be offered on April 25 and May 2, with antipastas, salads, pastas, and dessert for $39 per person. On May 9, the same $39 per person deal will be available from the regular menu.
"The Fantasticks" will be showing from April 24-May 10 on the weekends. A postperfomance celebration will take place with the cast and crew on April 25, complete with a signature cocktail. A pre-show talk with the director will take place before the April 26 performance at 1:20pm. On May 1, a pre-show discussion with Chef Theodore Roe about the new CIA "pop-up" restaurant, Pangea, will occur.
* = Half Moon Theatre company member