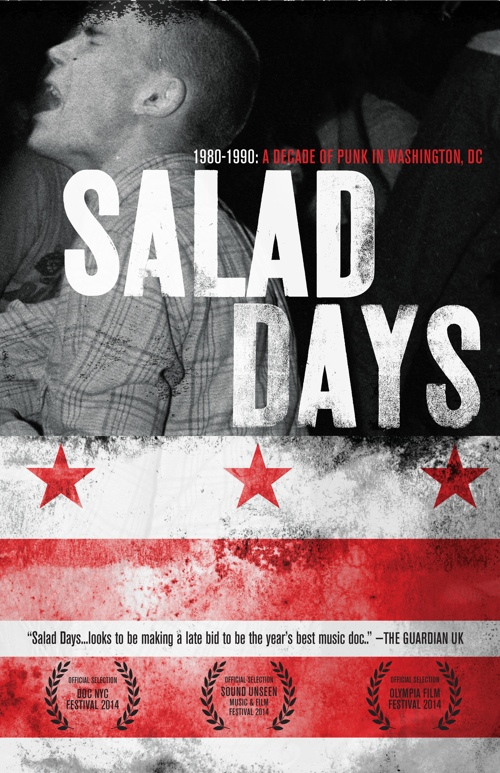 We may be old now, but we were around for some amazing stuff. In high school at the dawn of the '80s, we heard the brutally tough, hyper-manic sounds—sounds that matched our own bored suburban angst—come crashing across the airwaves via Tim Sommer's "Noise the Show" on WNYU. We saw the ads for the seven-inches on "Dischord HARD.C.ORECORDS" in the back of Trouser Press—TEEN IDLES, S.O.A., MINOR THREAT, YOUTH BRIGADE, GOVERNMENT ISSUE—and we sent in our $2.50 (postpaid!). L.A. and New York were the other big towns for early hardcore punk, but the Washington, DC, scene seemed to have a combination of intelligence, sincerity, and basement rawness all its own. That scene is the focus of
Salad Days: A Decade of Punk in Washington, DC (1980-90)
, a new documentary that screens this Saturday at BSP Lounge in Kingston.
Written and directed by Scott Crawford, the film examines the scene that produced the Bad Brains, Minor Threat, Scream, Void, Faith, Rites of Spring, Marginal Man, Fugazi, and other bands that released their own records, booked their own shows and tours, and shaped the underground infrastructure and D.I.Y. music and arts aesthetic that continues to thrive today. Salad Days, which reached its Kickstarter goal in six days, features never-before-seen photographs and performance footage of dozens of DC punk bands; interviews with Ian MacKaye, Henry Rollins, Government Issue's John Stabb, Thurston Moore, Dave Grohl, and others; and an original score by guitarist Michael Hampton (SOA, Faith, Embrace, One Last Wish).
Here's the trailer:

Salad Days: A Decade of Punk in Washington, DC (1980-90) will screen at BSP Lounge in Kingston, New York, on April 18 at 7pm. The showing will be followed with a Q&A with the film's director of photography, Jim Saah. Tickets are $8 in advance and $10 at the door. For more information, call (845) 554-3809 or visit http://bspkingston.com/.