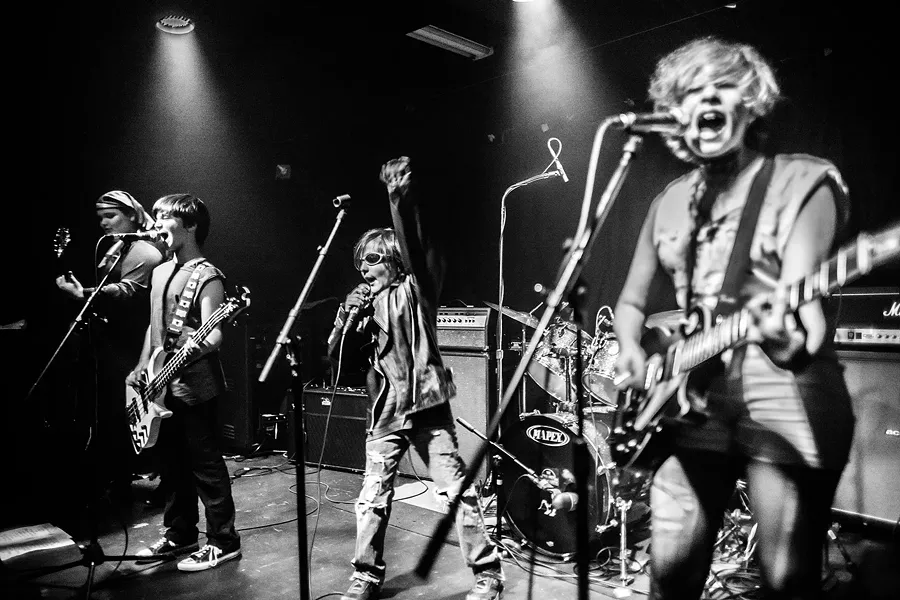 When advanced students from
the Paul Green Rock Academy
took the stage this time last year, the 300+ seats at the Woodstock Playhouse theater was over-filled. Frank Zappa fans, who go to all the tribute shows, said
The Paul Green Rock Academy Presents: The Music of Frank Zappa
show was as good as any they'd seen.
"We don't want to do recitals. We want to do concerts," says Paul Green, the director and namesake of the Rock Academy. They put on 4-5 shows per season, all at real rock venues like Utopia Soundstage at Radio Woodstock and Levon Helm Studios. Performances at the Playhouse are their "professional" concerts, showcasing senior students, as well as new students committed to do the hard work, and this January 16th and 17th, they'll be back to play
A Tribute to Radiohead
at 7pm.
The lead-up to each concert is the Rock Academy's season, and there are three of them each year. With over 100 currently-enrolled students and a teaching staff of 9 professional musicians, including Aaron Freeman of Ween and celebrated local, Simi Stone, each season consists of weekly one-on-one lessons, group rehearsals and access to rehearsal space and equipment. In between shows, they're working on musical theory, the value of hard work, and teamwork within a creative environment, and it translates into the performances. "The shows are to teach the fundamentals," says Green. "Not instead of."
The Rock Academy has a great track record for quickly getting kids to play music well. Regardless of experience, Green says, "Any kid, age 8-18, can walk in the door and be ready for a show, if they're willing to practice. You can feel good about yourself in 10 weeks, and then it's a lifetime of mastering."
At $300/month, each season is a $1200 commitment, and performers are also expected to sell tickets for their shows, to learn how to promote their art. Growing up in a single-parent home, that's not something Green himself could have afforded to do as a child. So the Rock Academy gives away more in scholarships than they take in. Of their student body, at least a third are on scholarship, and of those, at least a third are on full scholarship.
At the close of every season, there's a Best Of Season show at the Bearsville Theater in Woodstock, this year held on January 31st at 7pm. Featuring the top 4-5 songs per show that season, it celebrates those students (all of whom perform) and feeds the scholarship program. Between ticket sales and the raffle (this year, they've got a $1000 Bob Dylan package including signed Elliot Landy photos and a rare edition of Dylan lyrics), the Best of Season show is their big fundraiser.
If you've been itching to re-live your old concert-going days and share that passion for live music with the kids without having to deal with the spilled beer and cursing crowds, the Rock Academy shows are great for that. Aside from helping a bunch of music-loving kids get their start, it's also a chance to witness small triumphs. Green tells his students, "Try getting over your fear and laziness for three months, and see how loud people will clap for you." And that's what audiences come to the concerts to see. "Kids have so much to say, and nowhere to say it. Here, we stick a bass in their hand or a mic in their face, and it gets them out of their shell a little bit," Green continues. "Emily the Shy Girl becomes Emily the Bassist. That's a big shift. It's magical." Seeing something unexpected is what makes the shows special.
A Tribute to Radiohead
plays January 16th & 17th at 7pm at the Woodstock Playhouse.
General admission
is $20. Or get your tickets free at
Chronogram's ticket give-away
! Doors open at 6:15pm.
Best of Season
(celebrating the Fall 2014 season) is January 31st at 7pm at The Bearsville Theater in Woodstock.