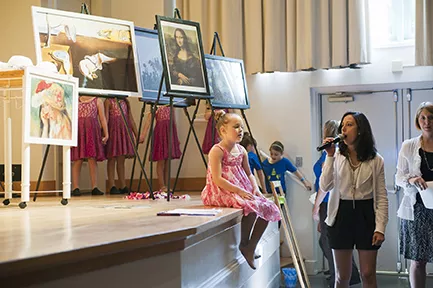 Hillary Harvey Photography
Lauren Grady (center with mic) and Beth Anspach (far right)
On December 13th, doors open at
The Arts Oasis
, a multi-arts center in Red Hook. It promises to be a gathering place for students and teachers, and an opportunity to leave the arid pull of competition behind and take refuge in connection. "I wanted dancers to feel free to come do a workshop, and not feel like they were studio hopping," explains Lauren Grady, the founder. And with free classes from 10a-4p in movement, fine art and writing, along with special opportunities for parents,
The Arts Oasis
' grand opening is the perfect place to spend the day with the kids.
Through the yoga basics of movement, breath and mindfulness, yogis and even non-yogis can bring the effects to other areas in their lives at
The Arts Oasis
grand opening. At 10a, there's a chance for parents and teens to strengthen family ties through a shared practice of mixed level yoga. And at 11a, yoga postures are sequenced specifically for equestrians. Building this kind of interdisciplinary perspective is what Grady wants to cultivate regularly at
The Arts Oasis
. "When you look at other arts and intertwine them, it can open your mind to possibilities," she says. "If someone's interested in ballet, and pulls from that passion into the paintbrush stroke, that's really fun."
In the spirit of partnership, Poughkeepsie's
Mill Street Loft
is offering a drop-in papermaking activity from 12-4p, and Brooklyn's
Writopia Lab
will present a class on writing family memoir at 2p. Other options in movement include African dance, Modern technique and even hula hooping! For the littlest ones, there's Story Time with a Twist. All offered for free, it's an opportunity for arts organizations and local teachers to promote their winter schedules and, in some cases, make available discounts on winter registrations.
There's also special programming for parents. A homeschool information session gives the inside scoop on learning at home. All day, people can enjoy juice samples from
Get Juiced
, chair massages from
Flair Skin Care and Body Studio
, and a free book exchange. In the mid-afternoon, adults can explore new perspectives on dieting and discipline. At 2p, Melissa Bierstock will present an energizing nutrition program that can transform di-et into live-it by offering innovative solutions for weight loss, healthy ageing, supportive kids' nutrition, increasing athletic performance, and changing overall health for the better. And at 2:55p, Beth Anspach will offer an introductory class in Conscious Discipline, designed for parents and teachers, faced with the overwhelming challenge of raising and teaching children, to discover easy ways to transform their caregiving. During this time, the Vibe Dance Team will keep the little ones busy with crafts and a dance party so their parents can enjoy nourishing their own spirits.
It all culminates in wine and hors d'oeuvres from 4:30-6:30p to celebrate the grand opening of what Grady says will be a single spot for quality classes and open-minded instructors who are supportive of personal goals.
Registration begins for The Arts Oasis grand opening classes at 9:30am on Saturday, December 13th, at 31 West Market Street in Red Hook. Sign up for one workshop or design your own day of inspired collaboration and individual pursuits. Visit
The Arts Oasis
to learn more.