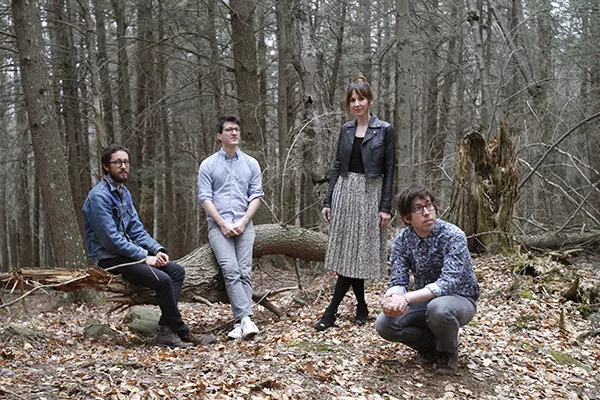 Matt Petricone
Bishop Allen
August is shaping up to be a big month for Bishop Allen. The once-Brooklyn-now-Kingston-based indie rock band is about to embark on a 40-show national tour, its first since frontman Justin Rice moved upstate six years ago. The tour will promote the group's latest album, Lights Out, which is slated for an August 19 release under the label Dead Oceans. (Chronogram's Peter Aaron sat down with Rice to talk about the record.) What's more, the band gives its new home some love by kicking off the tour on Saturday, August 16 at the second annual Chronogram Block Party.
It's not the first time Rice has honored Kingston. Earlier this month, he and his band released a video to accompany "Why I Had to Go," a song off their new record. The video was shot in the back of BSP Kingston and features several of Rice's friends and neighbors, as well as those who helped produce Lights Out. Look out for Eddie Mullen, Kingston filmmaker and director of Doomsdays (Rice was in the cast); One Mile Gallery owner Janet Hicks; Jacques magazine publisher Danielle Leder; and Mercury Rev guitarist Sean "Grasshopper" Mackowiack. The video is meant to capture its subjects' innate personalities and most natural expressions, which is why they're hula hooping—Rice wanted them to feel comfortable in front of the camera.
Check out the new video, and stop by the Chronogram Block Party at 9:30pm on Saturday to hear the band premiere some of its latest songs.