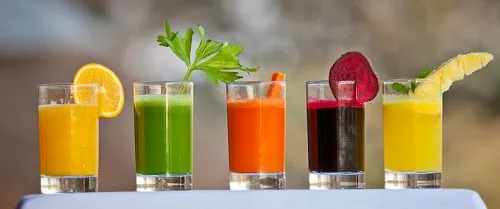 When it comes to fresh vegetable juices and healthy smoothies, the Hudson Valley is no desert. Juice bars and cafes have been sprouting up in our area like countertop wheatgrass. Storefronts are abuzz with the whir of commercial-grade pulpers and cold-press juicers, and they're flowing with a rainbow of liquids, from beet red to kale green.
Why juice? Do it for the infusion of vitamins, minerals, and live enzymes that your body will soak up and use for every vital function. When juiced, a raw vegetable's nutrients are absorbed quickly and easily. The benefits range from detoxifying to hydrating to energizing.
Stop in and cool down at healthy pit stops like these:
Main Squeeze
144 Fishkill Ave, Beacon
The menu at this Beacon hot spot includes six fresh juices, six smoothies, and three daily specials - plus build-your-own options. They also peddle coffee and soup ("We do liquids," the owner tells me).
Juice Headquarters
71 Liberty St. Flats, Newburgh
New this year is this healthy, friendly oasis in Newburgh, offering a variety of fresh-made juices, smoothies, shakes, and shots. Try the Soul Glow (beet, carrot, apple, and ginger) or the Green Hornet (kale, spinach, apple, cucumber, celery, and lemon).
Karma Road Organic Cafe
11 Main St., New Paltz
This hippie-chic, college-town eatery hawks a full range of fresh vegetable juices, plus healthy smoothies and shakes to which you can add "improvers" like kale, spirulina, and hemp seed. Their solid food is worth the trip, too (don't miss the crave-worthy Kalecado Salad).
Glow on the Go
41 E. Market St., Rhinebeck
Owner Kimberly Santoro is passionate about cold-pressed juices - which are perhaps the king of the crop, since cold-pressing preserves the most of the veggies' live enzymes and other nutrients. Find a rainbow of options for green juice, beet juice, citrus juice, and smoothies. Glow also offers three-day cleanse programs, and even home delivery service.
Sunfrost Juice Bar & Cafe
217 Tinker St., Woodstock
Belly up to the bar at this neighborhood favorite. Lunchtime can be madness here - so get your juice on the off hours. The Starburst (kale, apple, lemon, and ginger) has a cult following.
Little Apple
21 Tinker St., Woodstock
You'll find a cooler full of bottled, cold-pressed juices: Try the Skinny Greens or the Ravishing Ruby. Even better, grab one of their made-to-order smoothies, such as Buddha Love (almond milk, banana, coconut meat, goji berries, almond butter, vanilla, and agave).
Maggie's Crooked Cafe & Juice Bar
6000 Main St., Tannersville
Tucked into the Catskill highlands, this friendly eatery offers a full menu of juices, smoothies, and vegetable cocktails, including create-your-own and blend-in options. Beat the summer heat with a Grapefruit Cooler, Ginger Hopper, or Date Shake Smoothie.