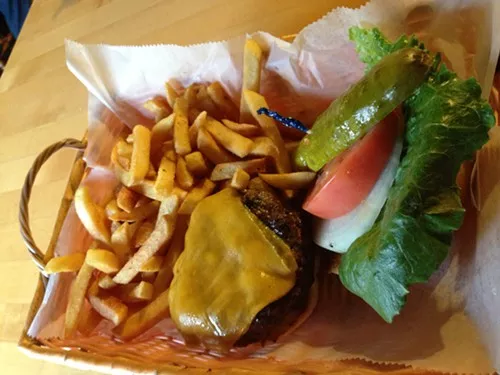 Mabel Burger at J Rocco's Steakhouse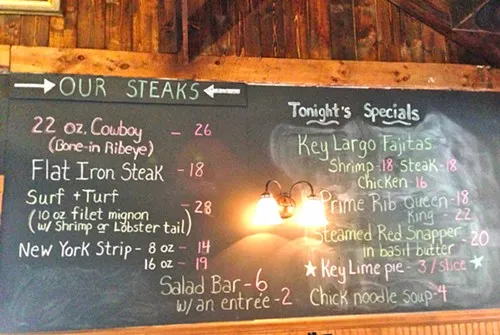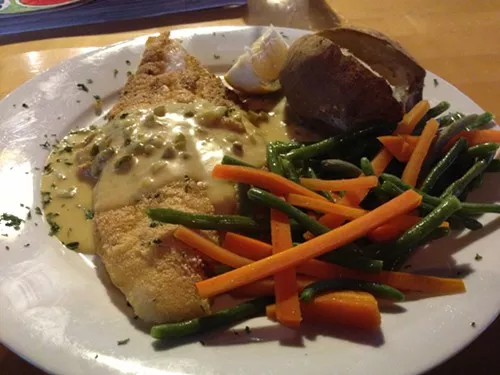 Pan-seared catfish at J Rocco's
I have been curious about J Rocco's Steakhouse & Speakeasy since I first noticed it on Route 28 in Shandaken about a year ago. (It opened in 2010). I had a hunch that it would be Hudson Valley Good Stuff-worthy. When we stopped in around 5pm one Sunday, it was quiet. There was a party of three sitting at a table. The bar belongs in a country song. It's a sturdy weathered bar with a motorcycle hoisted above it for decor. I'm always a sucker for a chalkboard with specials like "Cowboy Steak" and "Key Largo Fajitas" "Key Lime Pie" scribbled on it.
We started with the mango salsa and chips. The salsa was very good though not very spicy. I had Mad Mark's $13 special, a pan-seared cat-fish, which came with lemon butter, green beans, and baked potato. It was very tasty. Tom ordered the Ceasar salad with steak. My daughter enjoyed a Mabel Burger with cheddar cheese. We didn't have coffee or dessert as we were full from dinner, and as we were finishing our meal a party of 13 arrived along with a few other unrelated parties.
We had a nice dinner, and I love the Catskill flavor here! J Rocco's Steakhouse is a very kid-friendly. Our server was very friendly and helpful.
Get more Hudson Valley Good Stuff recommendations at Vanessa Ahern's blog, HudsonValleyGoodStuff.com