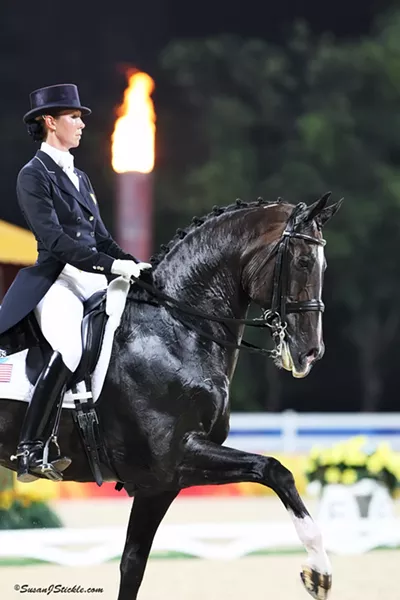 It happened quickly: A horse tripped and fell to the ground. And Courtney King Dye, who had been riding it, fell too. She was not wearing a helmet. Two years after representing the United States in the 2008 Beijing Olympics, the dressage champion spent four weeks in a coma and three months in rehabilitation—relearning to walk and talk.
On Sunday, August 3, King Dye will become the first annual recipient of the $5,000 Charles Owen Equestrian Role Model Award on behalf of Riders4Helmets. The nonprofit organization works to make equestrians sports safer, primarily by emphasizing the importance of wearing a helmet, and King Dye has tirelessly supported it since her accident. She will receive the award at the Millbrook Horse Trials Benefit Luncheon.
Now in its 14th year, the Millbrook Horse Trials (MHT) are a triathlon of equestrian sports, consisting of dressage, stadium, an cross-country jumping. The event is particularly popular because it hosts both local amateur riders and Olympic-level competitors every summer. Organizers strive to keep it challenging and relevant; as the standards of the sport change, so do the events at the trials. This year, for example, more obstacles will require that horse and rider jump over them at an angle. While certain events are becoming more demanding, the trial's designers maintain that safety is their number one priority.
This summer's Trials will see the return of its "WaterView" tent, a VIP venue situated above the grounds' upgraded water complex, and will be offering $25,000 in prize money to competitors. Food vendors and a trade fair of horsewares will also be available. MHT will be held at Coole Park Farm in Millbrook from Thursday, July 31 to Sunday, August 3. Tickets can be reserved online.