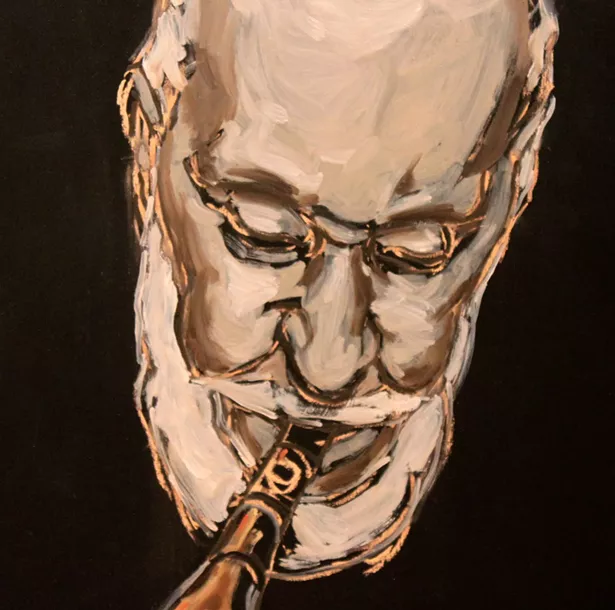 "My hope is that the viewer will see and feel this emotion and somehow share in the excitement of recognizing these truly remarkable artists or, even better, that I managed to capture some of their notes on my canvas."—Thomas Cale
Rhinebeck resident and artist Thomas Cale brings 52nd Street back to life with his new show, "Blue Notes." Inspired by Cale's recent exposure to jazz music and history, the series is a tribute to some of the genre's greats: Charlie Parker, Louis Armstrong, and Chet Baker, to name only a few.
Known for previous collections such as "Village People," portraits of Rhinebeck locals, and "Infamous Mugs," a series of painted celebrity mug shots, Cale paints with a distinctive style of striking outlines and bold brushstrokes against vibrant backdrops. Many of his paintings feature alternative media, including chalk, photographs, and spray paint. "Blue Notes" is also the work of an artist inspired by what he sees in his own local environment; the show will feature not only the big names of blues, swing, and bebop, but the faces of non-celebrity musicians who bring jazz to the streets every day.
Thomas Cale's "Blue Notes" kicks off at the Church of the Messiah Parish Hall in Rhinebeck on June 27, with an opening reception from 6-9pm. The show will remain open and free to the public through the weekend. (845) 750-5808.