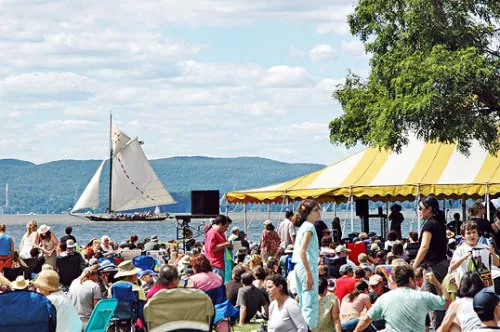 Pete Seeger—beloved American folk icon and writer of such classic songs as "If I Had a Hammer" and "Turn, Turn, Turn"—founded the Clearwater Festival with his wife Toshi Seeger in 1966. The festival's goal was simple: to use music, storytelling, and other entertainment as a means of promoting environmental education, encouraging a sustainable lifestyle, and cleaning up the Hudson River.
The 2014 Great Hudson River Revival (the official title of the festival) will feature special musical tributes to honor the memory of its two founders, who passed away this past year. Tributes will include performances by the Clearwater Family Band, a group of banjo players led by Tony Trischka, and two of Pete's former bands, The Weavers and the Almanac Singers. Celebrating its 49th consecutive year, Clearwater also welcomes to its stage such diverse performers as Rufus Wainwright, Jay Ungar and Molly Mason, Buckwheat Zydeco, and Puss N Boots (featuring Norah Jones).
As always, the Revival offers concertgoers additional attractions such as a Handcrafters' Village, showcasing the handmade items of over 50 crafters and folk artists, an Artisanal Food & Farm Market of specialty items from all over the Hudson Valley, and the opportunity to ride the famous sloop Clearwater or schooner Mystic Whaler.
The Clearwater Festival returns to Croton Point Park in Croton-on-Hudson, Saturday, June 21 and Sunday, June 22. It will be wheelchair accessible and staffed with American Sign Language Interpreters. Tickets are $56 for members, $70 for nonmembers. Children under 12 free.