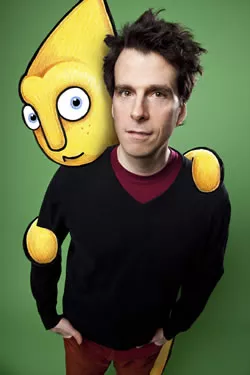 Gustafer Yellowgold - local kids' favorite musical space alien - will perform this Sunday, April 27, at Mountaintop School in West Saugerties. Described by the
New York Times
as "a cross between 'Yellow Submarine' and Dr. Seuss," Gustafer is the bright yellow avatar of Woodstock-based singer-songwriter Morgan Taylor. In addition to music and all-around merriment, the show will engage kids with a "make your own felt Sunpod" craft and homemade Gustafer cookies.
At just $5, this is a great chance to see a national family-stage talent in a down-home local setting. All proceeds will benefit Mountaintop School, a mixed-aged kindergarten and preschool inspired by Waldorf education. Beginning in fall 2014, the school will be expanding its offerings, which will include a new on-site building.
DETAILS:
Gustafer Goes to Mountaintop
Mountaintop School
West Saugerties, NY
Sunday, April 27, 2014
10am-12pm
$5 per person
For more info call (845) 389-7322 or e-mail mountaintopschool@gmail.com.
Find Gustafer at www.gustaferyellowgold.com.