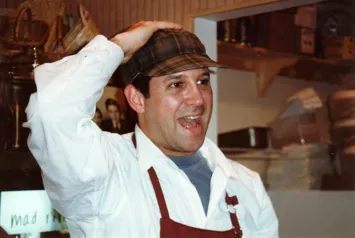 On Friday, April 4, Ira Gutner, founder of Samuel's coffee shop in Rhinebeck, passed away at the age of 57. He was born on June 16, 1956 and grew up in New York City and Westchester. He started out in the family business, textiles, at Fabricland Inc. with his father Lawrence Gutner and his Uncle Samuel Gutner, whose memory inspired the name of Ira's business. Uncle Samuel heavily influenced Ira's character as well. While I never met Ira in person, I had the pleasure of interviewing him on the phone about a month ago about Samuel's 20th anniversary, which takes place on April 30th.
The 450-square-foot coffee shop is what Ira called "the opposite of Starbucks"—heartfelt, old-fashioned, and kid-friendly. The setting is not at all modern. There is a "throwback" wooden front counter furnished with stools, accompanied by benches, giving an overall small-town feel to the shop. Ira said that people come to Samuel's not just to enjoy the atmosphere, but because many customers claim it's the best coffee within a 30-mile radius.
The shop, however, is not just limited to beverages. The childhood nostalgia of penny candy lives on in Samuel's with old-fashioned choices (remember pulling your braces out while eating a Sugar Daddy?) and exclusively made chocolates. Ira identified the most popular choices as the dark chocolate cherry almond sea salt bark, along with the dark chocolate sea salt caramels—they fit current chocolate trends, with an added Samuel's twist. More often than not, parents in search of a coffee buzz bring their children to the shop, where the kids immediately jump with excitement upon eyeing the treats. Ira claimed the sweet choices "speak to the kid in all of us."
In addition, the entire community of Rhinebeck is embodied in Samuel's. The small store has a cultivated client-base of loyal customers, based largely upon Ira's staff of local high school students. He hired his young employees usually in the summer between their freshman and sophomore years, allowing them time training behind the counter until feeling completely comfortable to begin serving. Samuel's is in walking distance from Rhinebeck's high school, creating a social space where friends are welcome and relationships are formed with customers. The business has been sustained for the past 20 years by Ira and Rhinebeck's youth, remaining an inviting hangout long after graduation day. Current manager John Traver, for example, was hired at age 16 and has been working at Samuel's for 12 years.
As a final comment on the 20-year anniversary, Ira explained, "20 years is a long time to do something well, especially in a bad economic climate." To Ira's credit, Samuel's has thrived in an increasingly competitive landscape for coffee bars in Rhinebeck. Samuel's sustainability rests upon its old school ambiance, youthful, friendly service, outstanding coffee, and delicious treats. Ira also stressed the importance of giving back to the community, fundraising for Northern Dutchess Hospital. Samuel's continues to capture the spirit of community, carrying on the dream of beloved son, husband, and businessman, Ira Gutner.